14 Home Remedies for Dry and Damaged Hair
14 Home Remedies for Dry and Damaged Hair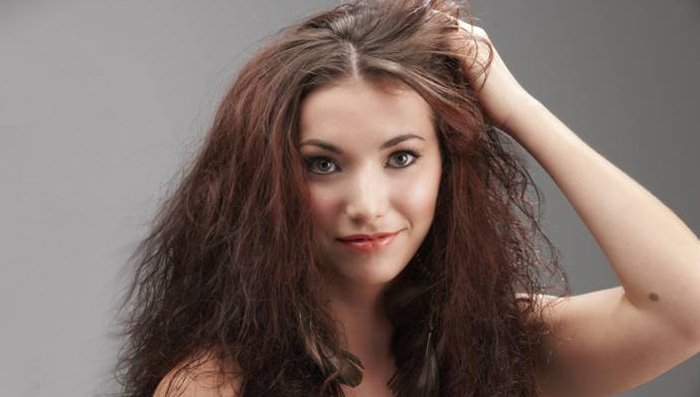 Can't figure out why you have such damaged hair? Hair loss, believe it or not, is directly proportionate to stress, tensions, erratic lifestyle and poor diet. As the general lifestyle of people is catching pace, maintaining healthy hair seems to be a thing of the past for many women these days. Having said that, many modern women are increasingly giving in to new hair trends and styles. These experimentations always include chemicals etc., that can further damage your mane and cause distress over an unhealthy head.
Video:
Benefits of Almond Oil for Hair / Fix Damaged Hair with Dabur Almond Hair oil
Following Are The Common Causes Of Dry And Damaged Hair
Heredity problem
Loss of elasticity or strength
High porosity
Certain medical conditions
Cuticle damage
Excessive use of blow dryers
Anorexia Nervosa
Underactive parathyroid
Excessive hairstyling
Excessive washing of hair with harsh alcohols and soaps
Dry and hot climate
Underactive thyroid
Malnutrition
Exposure to sun
Swimming in chlorinated water
Menses kinky hair disease
Lack of moisture in hair
Using excessive chemical treatments, like dye, relaxers, etc.
Using cotton pillow while sleeping
Dehydration
Skipping conditioners
If you are suffering from damaged hair, you are sure to encounter a couple of the following symptoms damaged hair
Tangled hair
Overly porous
No elasticity
Unmanageable rough hair
Split ends
Hair breakage
Hyper-absorption
Itchy scalp
Dull hair
Lack of lustre and shine
Brittle or harsh texture
The solution is not to stop flaunting your hair. The solution is to take the following natural hair care tips and learn the how to take care of damaged hair and keep your tresses healthy and beautiful.
Go Organic To Treat Damaged Hair
The market is overloaded with all kinds of hair care treatments. From shampoos, serums, conditioners, to all kinds of oils and creams, there is no dearth of products that ensure beautiful natural hair. But the best way to combat hair fall and baldness is to go the natural and organic way, since natural remedies and treatments always offer long term solutions and not just temporary fixes.
Out of all the products that we use for our hair, shampoo is perhaps the most important since we use that on a regular basis. And therefore opting for the right shampoo is extremely important. Dabur Vatika Premium Naturals Henna and Olive Shampoo is an all-natural formula that includes henna and olive extracts. Apart from these two potent ingredients, it also includes green almonds that nourish the hair from the roots. Vatika's Henna and Olive shampoo provide you with lustrous, strong hair, without using any harsh chemicals.
You can also try the following home remedies for dry and damaged hair to get quick relief
Sandalwood Oil for Dry and Damaged Hair
Mix a few drops of sandalwood oil with few drops of jojoba oil and rub the mixture to your scalp and hair to help damaged hair.
Henna for Dry and Damaged Hair
Henna has been known as a natural remedy which reduces hair fall and repairs damaged hair right from the roots. Henna conditions the hair, provides a richer, natural colour and strengthens the roots as well.
How to make Heena Hair Pack-
take two tablespoons of henna powder. Now brew 2 amlas in boiling water. Then mix the henna powder in the amla water and apply it to your scalp. Leave it on for about 2 hours and then wash it off with warm water.
Coconut Oil for Dry and Damaged Hair
Coconut oil easily penetrates deep into the hair shaft, in turn preventing the cuticle from becoming damaged and making your hair healthy.
How to Apply Coconut Oil – Massage your scalp every day, or at least 3 times a week, for about 5 minutes with warm coconut oil. Leave it on overnight. Wash your hair the next morning with a mild shampoo.
Olive Oil for Dry and Damaged Hair
These fruits are approximately 5000 years old and are known for treating hair fall and baldness. Whether you consume them or apply the oil to your hair, olives are rich in anti-oxidants and vitamins that encourage new hair growth, and reduce hair fall.
How to Make Olive Oil Hair Pack-
Mix 2 tablespoons of olive oil with one teaspoon honey. Now add 2 tablespoons of warm water and apply this to your hair. Leave it on for about an hour or two and then shampoo
Tea to Get Shine and Damage Free Hair
To give a natural shine to dry, damaged hair, use a quart of warm, unsweetened tea (freshly brewed or instant) as a final rinse after your regular shampoo.
Avocado to Get Damage Free Hair
Avocados are rich in vitamins, essential fatty acids and minerals that help restore lustre to your hair.
How to Make Avocado Hair Mask-
Mash a ripe avocado with one egg, then apply this to wet hair. Leave on for at least 20 minutes, then rinse several times. Repeat once a week to get damaged free hair.
Vinegar to Repair Damaged Hair
Infuse some life into your limp hair by combining 1 teaspoon apple cider vinegar with 2 tablespoons olive oil and 3 egg whites. Now rub the mix into your hair and leave it on for about a half hour and then shampoo and rinse.
Raw Milk for Dry and Damaged Hair
To heal damaged hair, soak a cotton ball in unboiled milk and apply it directly on hair and scalp. After one hour, wash your hair thoroughly.
Butter to Treat Dry and Damaged Hair
Try this natural beauty tips for hair to treat dry, damaged hair. Use a small amount of butter for a glossy shine. Massage it into your dry hair, then cover your hair with a shower cap for about a half hour. Shampoo as usual, and rinse all the butter out.
Egg Mask to Treat Dry and Damaged Hair
Mix one egg with a small amount of shampoo, then apply to your damaged hair for five minutes and rinse well. This treatment helps to enhance the protein in your hair.
Aloe Vera to Repair Damaged Hair
Aloe vera contains enzymes, amino acids, and vitamins C and E that are good for the hair and help with repair work.
How to Make Aloe Vera Hair Pack -
Apply some aloe vera juice directly on your damaged hair. Leave it on for 10 to 15 minutes, then wash it off with warm water. You can also mix the same with yogurt to make a hair pack.
Curry Leaves Pack to Repair Damaged Hair
Curry leaves are enriched with calcium, vitamins, phosphorous, and iron. Heat two tablespoons of coconut oil and add 5-6 curry leaves in it. Heat it for a few minutes and then apply it on the scalp and hair. Wrap a warm towel on the head for 15 minutes.
Banana Hair Mask to Repair Damaged Hair
The high potassium, fortifying vitamins, natural oils and moisture content in bananas can help soften your hair and improve its elasticity. Mash 1 ripe banana and work it thoroughly into your hair. Allow it to sit for 1 hour, then rinse it off with lukewarm water.
Honey and Yogurt Hair Mask for Dry and Damaged Hair
Honey is a nourishing product for hair. Prepare a paste of two tablespoons of honey, one tablespoon of buttermilk or yogurt, and one tablespoon of coconut oil. Apply this mixture on your strands. Cover your hair with a shower cap. Rinse off your hair after 20 minutes.
You can also pay heed to the following preventive measures to save your hair from further damage:
Wrap up your damaged hair after a head bath in a cotton towel and let the cotton absorb the moisture for a few minutes. This helps protect against further damage.
In winters, room heaters tend to make the air dry and cause hair damage. Use air humidifiers as putting moisture back into the air will help your hair from becoming more dry and damaged.
Wear your hair down for some part of the day and avoid pulling your hair back tightly. Also, never sleep with any sort of accessories in your hair.
The intake of borage oil, evening primrose oil or flaxseed oil helps cure damaged hair. All are rich in omega-3 fatty acids like gamma-linolenic acid, great for keeping hair moisturised and damage free.
Take a filtered shower as the water you use for shampooing your hair, contains a large amount of chlorine, which may damage the hair and causes several problems, like hair loss, split ends, dry hair, and itchy scalp. Filtered shower reduces the contents of sulphur and chlorine.
Rinse your hair with cold water.
Do not wash your hair frequently.
Do not tie your hair tightly.
Protect hair from UV rays by applying suitable sprays, creams, and serums.
Consume walnuts, salmon, eggs, sweet potatoes, spinach, lentils, oysters, and blueberries.
Wear a hat while stepping out in the sun.
Use a satin or silk pillow while sleeping.
Avoid smoking.
Avoid using the flat iron on wet hair.
Do not use a comb with plastic bristles.
Avoid combing wet hair.
Trim your hair regularly.
Avoid using hair dryers.
Drink plenty of water.
Maintain a proper diet.
Practice stress-relief and relaxing activities.
Massage your hair before shampooing.
Avoid harsh chemicals.
Use a conditioner after hair wash.
The above given hair care tips play a very vital role in maintaining the health of your hair. Make sure your pay heed to all the information shared above and don't let any stress or new trends have after effects on your precious tresses!
Also read
Home Remedies For Dry Hair
How To Remove Dandruff
Home Remedies for Silky Hair
Hair Oil
Home Remedies for Healthy Hair
Hair Growth Tips
*
Fields are required. Make some cool noise, please don't spam and your voice will be heard.
Was this Article helpful?