10 Homemade Beauty Tips for Hair
10 Homemade Beauty Tips for Hair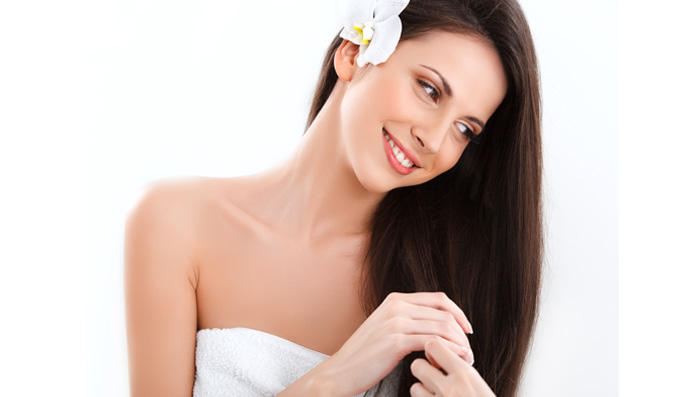 Strong, shiny, silky hairs is dream of every of women on the planet. Hairs matter a lot in an individual's personality and give a strong appeal to the whole personality. Those long and shiny hairs of the colleague or friend must have made you jealous many times. But don't worry; even you can have those sexy, long hairs by going out for some homemade beauty tips for hair. Hundreds of people take up hair treatments from doctors and expensive clinics every day across the globe. But at the end, they are either not satisfied with the results of the treatments or it has just made a big hole in their pockets. So, if this case sounds familiar to you or you just don't want to get fooled with false promises of the hair treatment centers, then take the path of homemadenatural therapy.
Homemade natural therapy consists of natural ingredients, which are full of proteins and vitamins that are good for health and hairs too. Everyone knows that getting long and healthy hairs is not an easy job, but whatever comes easy doesn't stay long, isn't it? So, rather than torturing the hairs with the commercial products' chemical properties, give a delightful natural therapy love to the hairs. And for sure, if you'll love your hairs, it will love you back. So, get ready to discover the magic of nature's wonderful ingredients and some kitchen items on hairs below:
Yogurt for hair

Yogurt, a very common dairy product is easily available in the kitchen or sweet shops down the street. One might don't use it much in its eating regime but can use it happily and often in its hair care regime. Yogurt is a cheap ingredient and could be made at home. No tough practice is associated with yogurt mixture for deep conditioning of hairs. Just one egg and yogurt mixture will deeply condition and cleanse the hairs. Take three tablespoon of yogurt mixture and massage it in whole head and roots of hair. Now, allow the mixture to sit in for 15-20 minutes and then do hair wash with mild shampoo. For healthy hairs, repeat this practice twice in a week.


Lemon Juice for hair

Lemon is well known for various health and skin benefits. And in the race of homemade beauty tips for hair, lemon is never behind or less than any other natural ingredient. This juicy fruit washes off the itchy scalp and also fights dandruff very well. So, if anyone is troubled with itchy scalp or those white flakes of dandruff falling off on shoulders then give a lemon treat to hairs. The very basic lemon treatment includes olive oil, water and two tablespoons of lemon juice. Massaging the hair scalp with this mixture will get rid of dry and itchy scalp and the olive oil will help in moisturizing the scalp. So, ultimately the lemon will give strong and healthy hairs by repairing the poor scalp condition.


[Read: Tips for Dry and Damaged Hair ]



Avocado for hair

Avocado, this rare Mexican fruit has high reputation in the world of hair care remedies. The rich protein and oil contents of this fruit enhance hair quality by deeply moisturizing and smoothening thehairs. To take the advantage of Avocado, cut down half piece of the fruit and mash it properly. Add any essential oil like peppermint essential oil for aroma and apply the mashed avocado mask over hairs. Keep the mask over hairs for 15-20 minutes and then wash it off with mild shampoo. Remember to wash hairs before applying the mask. Apply the mask at least once in a week for a month to get smooth and soft hairs.

Banana for hair

Yes, the evergreen fruit banana, which is available in all seasons, is always there to help out in hair treatment. Coming straight to the point, banana has great potential to help grow healthy and strong hairs. Loaded with rich contents like Vitamin A, E and C, the fruit works amazingly for healthy and strong hair growth. Many people being diet conscious avoid bananas due to its high calorie factor. But in this consciousness, they forget that their hair needs some benefits of this fruit. Start with the basic banana therapy; take one banana and one tablespoon of olive oil. Mash the banana properly and mix the olive oil and mix it till it becomes smooth puree. Massage the hair and scalp with banana puree gently and wash it off with shampoo after 30 minutes. The practice is very easy and can be repeated twice in a week to keep the hairs strong and smooth.
[Read: Natural Beauty Tips for Healthy Hair]



Pumpkin for hair

Pumpkin is one such nature's wonder that is full of qualities like beta-carotene, potassium, zinc, vitamin A and C. All its qualities are extremely beneficial in natural hair treatment. Before starting off with the pumpkin mask preparation, make sure you have a shower cap to hold the mask. To make the pumpkin mask, make one cup pumpkin puree by mashing or grinding it thoroughly. Now, add a natural humectant and 1 or 2 tablespoons of honey to the puree and mix it well. Put on the mask or cover the head with pumpkin mask as much as you can. Now, cover the mask with shower cap and leave it for 15 minutes. Wash off the mask with mild shampoo or simply rinse the head with water.

Apple Cider Vinegar for hair

This kitchen item is widely used for various purposes like natural cleaning, facial toner, oral health, foot odor and hair rinse too. Apple Cider Vinegar helps in managing the pH scale of hair scalp and removing product build-up. Also, it helps in bringing back shine to dull hairs. Enjoy the benefits of apple cider vinegar by pouring one tablespoon of apple cider vinegar in half cup of water. Pour this vinegar solution over damp hair and comb the hairs gently. Keep the vinegar solution over hairs for 15 minutes and then wash it off.

Egg for hair

Egg is the oldest and most common natural as well as home ingredient for hair nourishment and many other hair treatments. Egg is combined with various other natural ingredients in making some awesome homemade beauty tips for hair. Talking directly about its qualities or benefits to hair, it has high protein and fat value helpful in extensive moisturizing of hairs. Keeping it straight and simple, take an egg and beat it well until it becomes frothy and bubbly. Gently apply the egg paste over hairs and in the scalp properly. Keep it over hairs for 15 minutes and then rinse the hairs with light shampoo. Following this homemade tip once in a week will keep hairs shiny and fluffy.
[Read: Homemade Hair Remedies for Shiny Hair]



Potatoes for hair

Presence of potatoes in weekly vegetable purchase is a common affair. The world of vegetables is incomplete with potato. Potato is the only vegetable, which is easily and almost always available in every kitchen across the globe. Yeah, everyone knows that potato carry lots of fat but on the other hand potato has some other amazing benefits that are not available in other vegetables. Application of potato mask gives shiny and healthy hairs. To prepare the potato mask, grate one potato and squeeze out its juice in a bowl. Ahead of this, add some curd and one egg in the potato juice and beat it well. Now, put on the potato mask on hairs and everywhere in the scalp and keep it on for 15-20 minutes. Clean the hairs with warm water using mild shampoo. Do this practice once in a month to keep the hairs strong and shiny.

Aloe Vera for hair

Aloe Vera is popular for skin treatments and is used in various beauty creams and products. And beyond the skin treatment, it is widely used in natural hair treatment. Aloe Vera comes first when it comes to the rescue from major hair problem called hair fall. Hair fall becomes a bad nightmare for people who are suffering from it from long time. The pH level of the hair scalp also gets balanced with the usage of Aloe Vera in the homemade hair remedies. Kick off the hair fall problem by making Aloe Vera mixture. Start off with taking some Aloe Vera gel in bowl and then mixing half tablespoon of lemon juice and two tablespoon coconut oil to it. Apply this mixture over hairs and on the scalp. And take a head wash after 20 minutes. Nothing is better than Aloe Vera in fighting hair fall and cleansing the scalp.


Coconut Oil for hair

Last but not least, the grandma's old and favorite hair nourishment remedy is coconut oil. Almost half of the hair problem occurs due to less oiling and nourishment of hairs. If, proper massaging of hairs with Vatika Coconut Oil is done twice or thrice in a week, half of the hair problems will run away by this only. A hot coconut oil massage will deeply nourish the hairs and strengthens them. Hence, it is advisable that oil the hairs with coconut oil at least twice in a week to give them enough strength and proper growth.
Beyond these homemade therapies or homemade beauty tips for hair, one has to take out some time for
natural hair care
. As the hairs are not so good at resistance to various elements in the environment like dust, pollution, changing weather and other factors, it's the duty of individual to give some care to hair. As mentioned earlier, hair is an integral part of every individual's personality; it deserves proper attention and care from every individual. It's usual with many people that they don't get time from their busy schedule to take up or practice these remedies regularly. But if once in a month, you take out time from the busy schedule for hair care, then the hair condition wouldn't get worse with the passage of time.
Also Read:
How To Make Hair Silky
Long Hair Tips
Hair Oil
How To Remove Dandruff
How to Stop Hair Fall
​
*
Fields are required. Make some cool noise, please don't spam and your voice will be heard.
Was this Article helpful?