Keep Glowing This Winter with These Amazing Banana Home Remedies for Hair & Skin
Keep Glowing This Winter with These Amazing Banana Home Remedies for Hair & Skin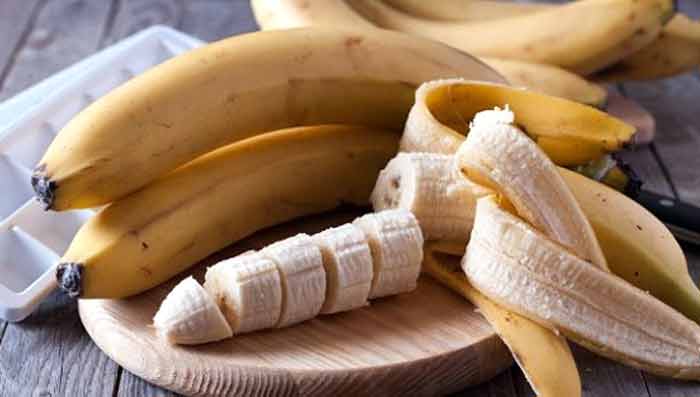 Banana is among the most popular and versatile fruits, easily available round the year. Mix it with milk and a delicious milk shake is ready; add it to your muffin batter or as a topping for pancakes- a super healthy and yummy breakfast treat is ready. The reason why bananas are considered to be an ideal breakfast or a between-the-meals-snack is because they are extremely healthy, provide an instant boost of energy, keeps your blood pressure in check, help build healthy bones and enhances digestive abilities among other things.
Rich in potassium, calcium, zinc & iron and nutrients like vitamin A, B, C & E; bananas provide you with every reason to go bananas for them!
But there is more to bananas than meets the eye. As much as they are good for your overall health, bananas have qualities that can make your skin glow and add strength, thickness & beauty to your hair.
Benefits of banana for skin:
Contains significant amount of vitamin C & B6 and anti-oxidants
Adds elasticity to the skin
Makes it look young & fresh
Repairs damaged, dull & dry skin
Provides instant glow
Moisturises it from deep within
Help get rid of pigmentation
Rejuvenates & refreshes the skin
Lightens the complexion
Gives an even skin tone
Benefits of banana for hair :
Moisturises & deeply conditions the scalp
Adds natural elasticity to stands
Help in prevention of split-ends & hair breakage
Make hair soft & silky
Adds natural shine
Prevents hair loss
Repair damaged hair from within & encourages growth of thick, healthy & beautiful tresses
Still wondering how to incorporate bananas in your everyday beauty regime to get awesome results for hair & skin? Fret not! We have got you covered few homemade remedies using banana as the key ingredient that will free you from all your skin and hair woes and instead leave you shine bright like a diva.
Home remedies with banana for skin :
Banana face pack for glowing skin :

Mash 1 ripe banana and mix it with 1 tablespoon of sandalwood powder, ½ teaspoon of honey and 1 teaspoon each of Dabur Gulabari Rose Water and lemon juice. Apply all over the face and neck and let it rest for 20 minutes before rinsing it off with lukewarm water. If you have oily skin, this banana face pack is just perfect as sandalwood powder will stop formation of excess of sebum oil on the surface of the skin and banana will cleanse & moisturise the skin from deep within.

Anti-ageing banana face pack :

Bananas are a rich source of nutrients that help fight wrinkles and maintain youthfulness of the skin. To make this super easy and effective banana face pack, mash 1 whole ripe banana and avocado, add 1 teaspoon of honey and apply all over your face and neck. Let the mix rest for 20 minutes before washing it off with lukewarm water. For better results, apply the face pack at least once a week.

Banana face mask for acne :

A banana face mask made using the peel of banana is an effective remedy to combat the problem of acne, skin breakouts and pimples. Just cut a small piece of the peel, mash it and add ½ teaspoon of Dabur Gulabari Rose Water. Rub the mix on the affected area for 5-6 minutes and then let it rest on your face for 10 minutes before washing it off with lukewarm water. Repeat the use of this banana face mask at least thrice a week to get rid of acne & pimples.
Home remedies with banana for hair :
Banana mask for dry hair:

Banana and honey mix is as good for your hair as it is for your skin. Honey prevents the hair from drying out and bananas nourishes and conditions the scalp from deep within thus keeping your hair soft and healthy from root to tip. Mix 3 teaspoons of honey with 1 ripe banana, apply all over your scalp and hair and let the pack sit for 20 minutes before rinsing it off with a mild shampoo.

Banana hair mask for damaged hair :

Infuse life in your dull and damaged hair with this amazing easy-to-do at home hair treatment. Mash one ripe banana and add 2 teaspoons of . Apply and let it rest for 15-20 minutes before washing it off with a mild shampoo. Enriched with natural almond extracts and vitamin E, almond oil will add strength and natural shine to your hair thus making them look healthy & beautiful.

Banana hair mask for hair fall :

Stop your hair from falling by regularly applying this hair mask. Mix the pulp of 1 ripe banana with ½ cup yogurt and let it rest on your scalp for 15-20 minutes before rinsing it off with a mild shampoo.
Also read about
banana benefits for skin
and how
banana is useful for hair
---
*
Fields are required. Make some cool noise, please don't spam and your voice will be heard.
Was this Article helpful?