How to Make Natural Moisturizers At Home for Different Skin Types
How to Make Natural Moisturizers At Home for Different Skin Types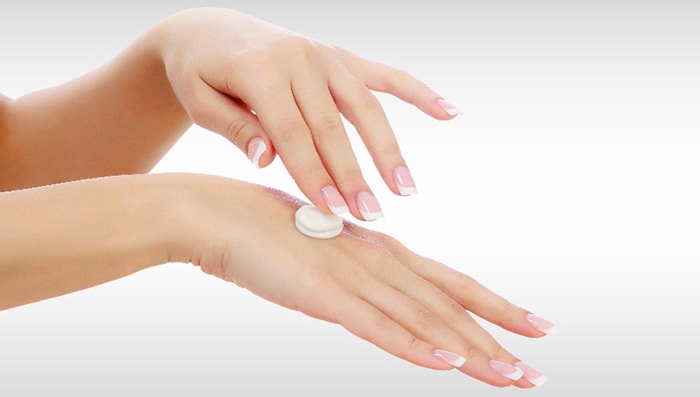 A human body if not given proper food, may lead to its weakening and be prone to damage. A regular and balanced diet stands as the necessity for proper functioning of a body. Similarly, for a healthy skin it is essential to hydrate it, moisturize it, and provide it with the essentials, which become a base for its glow and softness.
Video:
Dabur Moisturising Cream For Glowing Skin In Winter
Amidst the multiple expensive options available in the market, we bring to you some easy DIY homemade skin care moisturizers that will help you achieve results in a faster manner.
Homemade Moisturizer for Dry Skin:

The essential therapy for dry skin-Out of all skin types, dry skin is at the maximum risk when it comes to losing out moisturizer and the moisture of your skin. It becomes rough, dull and aged. The skin starts showing fine lines, around the mouth and under the eyes. It is essential to take care of dry skin to avoid such any skin issues. You can also read about how to remove tan uing aloevera. Here's an easy home remedy for dry skin moisturizing.

Ingredients:

Brown Sugar-Skin softening and shining agent
Water-hydration of skin
Aloe Vera Gel-Soothes your skin
Almond Oil (Sweet)-Rich in vitamin e
Refined sunflower oil

Method:

Boil a quarter of water in a saucepan add a tablespoon of sugar, aloe vera gel, 2 tablespoon of sweet almond oil and 2 table spoon of sunflower oil
Stir until the sugar gets dissolved in the mixture
Remove the mixture and put it in a bowl and after cooling off apply the mixture gently on your skin
After the application you will feel a velvety soft skin
Get rose like radiance and soft – supple skin by using Dabur Gulabari Moisturising cream every day. The natural rose extract along with Vitamin E, Rose Oil and Glycerin will enhance your skin.

Read more fairness tips for dry skin in winter at our blog.

Homemade Moisturizer for Oily Skin:

Say goodbye to oily skin with this homemade moisturizer that you can make within a blink of your eye. Pimples, acnes, black heads, white heads are some of the most common problems that we hear amongst people having oily skin. The major reason is the overactive sebaceous gland which produces more oil than required. A proper moisturizer helps remove excess oil from the skin and maintains the right moisture that ultimately leads to soft and supple skin.

Ingredients:

Honey- Skin softening and hydrating agent
Glycerin-Skin hydration
Green Tea Water- Necessary Nourishment
Lemon Juice-Tightening of skin

Method:

Mix a tablespoon of honey, 2 tablespoon of glycerin, 1 tablespoon of lemon juice and 2 tablespoon of warm green tea water.
Combine all the ingredients well and massage this moisturizer on your skin
Leave it overnight and see the result. Follow this for some time to get a better result

Read more on how to use homemade face packs for oily skin at our blog.

Homemade Moisturizer for Sensitive Skin:

Sensitive skin has its own problem when it comes to irritations and infections. Such skin is prone to inflammations. Here's a mild homemade moisturizer which can help the skin to regain its moisture and avoid any irritation.

Ingredients:

Shea Butter-Natural Moisturizer
DaburGulabari-Pure extracts of rose
Baby Oil-For soft, smooth and supple skin

Method:

In a pan melt some shea utter on a low flame and mix 2 tablespoon of baby oil.
Remove the pan from heat and let it cool. Add 2 tablespoon of Dabur Gulabari Rose Water and apply it with full coverage on face and neck
Notice the dryness reducing on application
For a refreshing feel every time just dab a cotton ball in DaburGulabari on your face and neck areas. The natural extracts of rose will cleanse your skin giving you a fresh glow every time.

Homemade Moisturizer for Normal Skin:

A normal skin is one which has a good balance of oil and moisture. It requires a very basic regime to take care of it. Here's a complete DIY moisturizer for you

Ingredients:

Vaseline petroleum Jelly- it helps in making your skin silky smooth
Sweet almond oil- For nourishing and smoothening of your skin
Lemon juice- For lightening and giving that subtle fairness to your skin

Method:

Melt a tablespoon of Vaseline in a saucepan and heat it over a low flame
After it melts remove it and add 2 tablespoon of sweet almond oil and 1 tablespoon of lemon juice
Mix it well and your moisturizer is ready

Homemade Moisturizer for Mixed Skin Type:

Wondering what mixed skin type is? Well many of us have a dry T-zone and slight oil around the cheek area. Well! here is a quick homemade moisturizer for you that will help manage the excess oil and help your skin with the perfect sheen that it deserves.

Ingredients:

Green Tea Water
Glycerin
Vitamin E oil

Method:

Mix 1 tablespoon of Green tea water , 1 tablespoon of glycerin and 1 table spoon of vitamin E oil
Wash your face with lukewarm water and pat dry
Apply a layer of the mixture on your skin and you can experience soft supple and glowing skin on application
You can take an easy way to moisturize your skin by using DaburGulabari Moisturising Cream. The goodness of natural rose extract, Vitamin E and Rose oil will moisturize your skin naturally making it soft and beautiful. Green tea also boosts hair growth resulting into thick hair. Learn how to use how to use green tea for hair growth.

Nourishing Face and Body Cream:

Since winters are coming, it becomes extremely important for everyone to keep themselves loaded with winter moisturizers and creams and protect your skin from all the dryness. Nourishing your body becomes essential which also includes taking good care of your skin. Here's an ideal DIY that will become your skin's best friend.

Ingredients:

½ cup Shea butter- Skin moisturized and nourished
2 tablespoon almond oil - Skin moisturized and nourished
5 drops rosemary oil-Antiseptic properties that heal infections
10 drops lavender oil-Skin healing properties
3 drops tea tree essential-Prevents skin damage
3 drops carrot essential-Keeps skin moisturized and nourished

Method:

Melt shea butter in a pan and add almond oil and let it cool
Add the essential oils in the mixture and whip it well
Scoop the mixture and apply it on your face and body

Homemade Moisturizer for Dull And Dry Skin:

Ingredients:

3 tablespoons of sweet almond oil
1 tablespoon of avocado oil
3 teaspoon beeswax
2 drops lavender essential oil
2 tablespoon mineral water
1 drop peppermint essential oil

Method:

Melt the beeswax and all essential oils in a pan
Warm some mineral water and add it to the beeswax and oil mix
Keep the mixture stirring and let the mixture cool
Add the essential oils and whip it vigorously
Scoop out the cream and keep it in a jar. Use it as a day cream on daily basis and check the results.

Read more on homemade natural moisturizer for dry skin in winter at our blog.
---
*
Fields are required. Make some cool noise, please don't spam and your voice will be heard.
Was this Article helpful?