8 Fairness Tips For Dry Skin In Winter - Keep Your Skin Bright And Fresh
8 Fairness Tips For Dry Skin In Winter - Keep Your Skin Bright And Fresh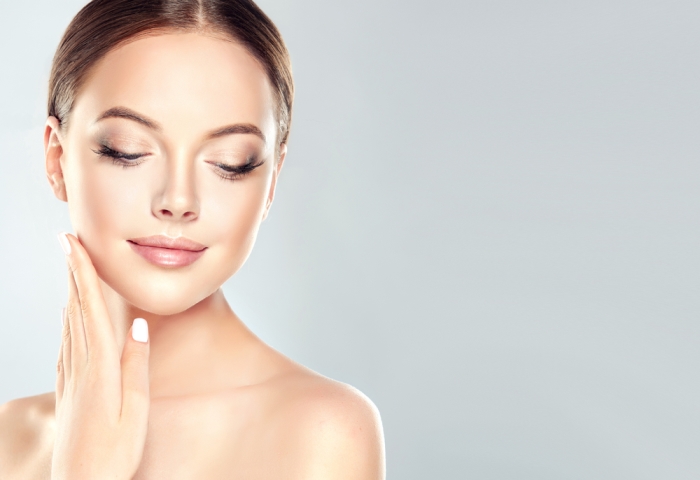 Is the texture of your skin dry and coming in the path of you getting a fair and glowing skin? Dry skin come with its own set of challenges. Be it any weather, winter or summer, those with dry skin can been seen whining about the quality and texture of their skin. But does it mean if you have dry skin you should learn to live with skin problems and accept the fact that no matter what you do, skin troubles like acne, dry patches, flakiness and stretched skin will follow you like a curse no matter what you do? Definitely no! Yes, dry skin can be quite a task to tame but with little help and dependence on natural remedies, you can easily have soft and fairer looking skin and bid adieu to dry skin woes. We know now you must be thinking what are the fairness tips for dry skin? The answer lies ahead.
Video:
Dabur Moisturising Cream For Glowing Skin In Winter
Things That Makes Your Skin Dry

Before straight away jumping to knowing fairness tips for dry skin or learning about effective skin care tips for dry skin, know the reasons why your skin gets dry despite you trying everything under the sun to avoid it.

Dry skin is an uncomfortable thing that is often followed by itchy, scaling and cracked skin. But what really causes your skin to become dark, patchy and dry? Read more:

Excessive use of chemicals and other harsh skin related products
Dry air, constant weather change and too much exposure to heaters or air conditioning. This often robs the skin of its natural moisture and disturb its pH balance
Long hot showers. Hot water spells bad news for those with already dry skin as it can further damage the cells and make the skin feel dehydrated and stretched
Too much use of soaps or shower gels is another reason for your skin to feel dry and flaky
Medical or skin conditions like cancer, psoriasis, eczema or diabetes can cause your skin to become dry
Lack of water in the body can cause not only the problem of dehydration but also dry skin. The skin needs to remain moisturised and nourished all the time and water is a natural agent the provides both to the skin.

Fairness Tips For Dry Skin In Winter

While both internal and external factors are responsible for making your skin feel dry, there are few fairness tips for dry skin that you can follow to get rid of the problem form the root. To help simplify your search for fairness tips for dry skin, we have listed down few points that you can easily include in your everyday beauty regime and feel fresh, soft and rejuvenated at any time of the day.  

Consume Healthy Food For Glowing Skin

Consuming fresh fruits and juices is among the best fairness tips for dry skin. A healthy diet is important for fairer skin, else skin starts appear dull, dry and flaky. Consuming fresh fruits and vegetables rich with nutrients is necessary to protect skin from drying out.

Detox With Antioxidants

Wondering what are the fairness tips for dry skin? Start on a detoxification diet right away! Detoxification of your skin is important for flushing out toxins from your body. Also, consuming enough antioxidants is necessary to keep that glow on your face. Make sure you have green tea and consume foods loaded with antioxidants to get that bright glow. The antioxidants in green tea helps your skin as well as your hair. Try these green tea hair mask and get long hair.

Prevent Use Of Chemicals

As an important fairness tip for dry skin in winter, we suggest banning the use of chemically treated products from your beauty regime.  While moisturising lotions are good for us, they contain high amounts of chemicals. Facial skin is more susceptible to irritation from toxins and chemicals in these moisturisers. Instead, try to use natural ingredients and remedies to make your skin glow. You can opt for mild yet nourishing and moisturising cream like Dabur Gulabari Moisturising Cold Cream to add radiance and rose like natural glow on the face. Enriched with vitamin E, it keeps the skin soft and supple for long when applied regularly.

Hydrate With Water

What are the fairness tips for dry skin? Start drinking water! Water is very important for your skin and it helps to hydrate and moisturise it from within. Water flushes out the toxins from the body helping to maintain fair and healthy skin.

Exercise

Exercising is a great way to keep you healthy internally and reduce stress levels giving you younger looking skin.

Don't Touch Your Face Often

Your hands can be a major source of germs. Touching the face often can transfer these germs to the face, causing it to become dry and dull. This can also speed up the aging process. Try avoid touching your face often and if you have to, make sure your hands are clean.

Don't Wash Your Face With Hot Water

Washing face with hot water makes it dry, flaky and dark. Instead wash your face with lukewarm water thus retaining it moisture and glow.

Use Natural Fairness Pack For Dry Skin

Thinking how to become fair for dry skin? Change your beauty regime and start including usage of natural homemade face pack for fair skin. Regular use of fairness packs for dry skin which make use of natural ingredients is helpful for fair and supple skin. Below are provided some easy to prepare fairness packs that can be great remedies for dry skin.

Fairness Packs For Dry Skin In Winter

Fairness Tips For Dry Skin In Winter - Milk Powder Face Pack For Skin Whitening

As a fairness tip for dry skin, application of this pack will not only make your skin feel soft and supple but also make it glow with health. True, this is an ideal face pack to get rid of the dryness and get an amazing face glow.

Ingredients:

1 tbsp milk powder
2 tablespoons of water

Method:

Make a paste of milk powder along with some normal tap water and rose water
Apply all over the face
Keep for 20 minutes then wash off with warm water.
Repeat twice a week for effective results

Fairness Tips For Dry Skin In Winter - Saffron & Milk Fairness Pack For Dry Skin

Saffron is an important ingredient for skin tone lightening and adding natural glow to it. Milk is considered suitable for dry skin as it deeply nourishes and moisturises it.

Ingredients:

2 tablespoons of warm milk
A pinch of saffron

Method:

Make a mixture of the milk and saffron by soaking saffron strand in it. Let the strands soak in the milk for a few minutes.
Apply on your face with a cotton ball.
Keep for 15 minutes then wash the face with water.
Repeat daily to get rid of dry skin and reveal fair and fresh-looking skin over a period of time

Fairness Tips For Dry Skin In Winter - Banana Fairness Pack For Dry Face

Banana is very moisturizing in nature thus you can use banana whitening pack to make your dry skin feel nourished and soft from deep within.

Ingredients:

A piece of banana
1 teaspoon of milk

Method:

Take a piece of banana and mash it
Add warm milk to it and make a smooth paste
Apply evenly all over the face and neck area
Wash after 30 minutes and repeat at least twice a week to retain your skin's fresh found glow.

Fairness Tips For Dry Skin In Winter - Almond And Milk Face Pack

Does the question of which fairness pack for dry skin works best in winters? The answer lies in almond and milk face pack. This pack is not only one of the best fairness tips for dry skin but will also give your skin that perfect glow and radiance.

Ingredients:

2-3 almonds (soaked and peeled)
1-2 teaspoon Warm milk

Method:

Soak the almonds overnight and make a paste of those almonds with some milk in the morning.
Apply this almond paste on your face and gently scrub the face with it for 5 minutes. Thereafter leave it on to dry for another 5 minutes
Wash it off with warm water and apply a moisturising face lotion
Repeat twice a week to reveal fresh and rejuvenated skin

Fairness Tips For Dry Skin In Winter - Honey And Cucumber Juice Face Pack

Honey is a natural moisturizer and cucumber juice can smoothen the skin, give it an even tone and lighten its complexion by up to few shades.

Ingredients:

1 tablespoon honey
2 tablespoon cucumber juice

Method:

Make a mixture of the honey and cucumber juice and apply on face.
Keep it for 15 minutes before gently washing it off

Apply a moisturizing cold cream/lotion to stop the skin from feeling dry and stretched
Repeat twice a week for desired results

Fairness Tips For Dry Skin In Winter - Milk And Gram Flour Pack For Dry Skin

This pack is one of the best ways to get fair and soft skin at home

Ingredients:

2 teaspoons gram flour
2 teaspoons warm milk

Method:

Take 2 teaspoons of gram flour and mix with 2 teaspoonfuls of milk.
Apply this paste evenly all over the face and wash off after 20 minutes.
Repeat the process twice a week for effective results

Fairness Tips For Dry Skin In Winter - Curd And Turmeric Fairness Face Pack

Turmeric is known to have antiseptic properties which keeps the skin healthy and bright

Ingredients:

2 teaspoons curd
¼  teaspoon turmeric powder

Method:

Mix 2 teaspoonful of curd and ¼ teaspoonful of turmeric powder in a bowl
Make a smooth paste.
Gently massage this paste on the face for 5-10 minutes and then leave it on to dry
Wash it off after 15 minutes.
Repeat thrice a week for fair and radiant skin
Read Also:
Home Remedies For Glowing Skin
Glycerin For Skin
How To Use Rose Water
Home Remedies For Hair Fall
How To Remove Dandruff
​​​​​
---
*
Fields are required. Make some cool noise, please don't spam and your voice will be heard.
Was this Article helpful?