7 Diet Tips & Top Foods for Healthy Glowing Skin
7 Diet Tips & Top Foods for Healthy Glowing Skin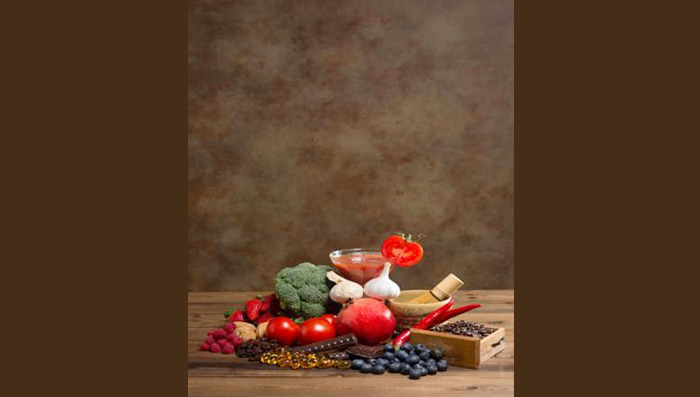 You don't need to be a rocket scientist to know that eating healthy is good for you. An antioxidant-rich diet is not only good for your health; it also works wonders on your skin –think of it as an internal skin care regime! And the best part is that these "skin foods" are delicious too! Let's look at the main diet
tips for healthy and glowing skin
:
Dark Chocolate

We'll start with the yummy things first – chocolate! Reports prove that eating dark chocolate can boost antioxidant levels. The same doesn't hold good for normal milk chocolate, mind you! Dark chocolate is high in Epicatechin which is an antioxidant known as a flavonoid. Studies have proved that people who ate dark chocolate, had a 20% increase in blood plasma levels of antioxidants.

Red Wine

Yes, a glass of red wine a day increases the antioxidants levels in your body but that doesn't mean you can OD on it. The flip side is that alcohol has a dehydrating effect on your skin (plus there are other health hazards too). But having said that, red wine has high amounts of a powerful antioxidant called Resveratrol. So go on, enjoy red wine in moderation and get an healthy glowing skin.

Apples

All apples are high in antioxidants, but apparently red ones have the highest amount. Apples are rich in Polyphenols, an antioxidant. And the key skin care tip to follow is to make sure you consume the skin of apples, because the skin has five times more antioxidants than the inside pulp.

Green Tea

Green tea is high in antioxidants called Catechin Polyphenols which is very beneficial to the body. Make sure you follow this skin care tip to get healthy and glowing skin and include 2-4 cups of green tea to your diet every day. It also helps promote hair growth. Read more about green tea for hair growth. Caution: always check the label to see if the pack has caffeine or not, a caffeine-free option is always a better option!

Pomegranate

And if you thought green tea was the best way to inject a dose of antioxidants into your body, wait till you hear about pomegranate. This seed-bearing fruit isn't just rich in Polyphenols, it also has vitamins C and B5, potassium and anti-aging properties. All in all, great for healthy glowing skin! Make a mental note of this skin care tip.

Yoghurt

It's not just an antioxidant in itself, yogurt also complements the antioxidant Gluthathione and kickstarts your body's antioxidant activity. Yogurt is also high in Riboflavin which is an important vitamin. So include yogurt in ample quantities in your diet – with your breakfast cereal, as a smoothie, or as a raita – the options are plenty!

Tomatoes

Apart from being yummy and a very versatile vegetable, tomatoes are also super rich in Lycopene, another healthy antioxidant. But the thing with Lycopene is that it needs fat for optimum absorption, so make sure you cook your tomatoes in olive oil to boost antioxidants in your system and flaunt your healthy glowing skin.
Off The Shelf
While antioxidants inhibit the oxidation of other molecules, there's a product that infuses oxygen and helps you have glowing skin –
OxyLife Crème Bleach
. It also bleaches the skin to remove suntan making the skin fairer and cleanses the skin by removing dirt, bacteria and dead cells. This plus a diet rich in antioxidants is bound to nourish your skin from inside and outside!
Click to read more about glowing skin diet.Read various tips on how to become fair and how to get glowing skin at home.
---
*
Fields are required. Make some cool noise, please don't spam and your voice will be heard.
Was this Article helpful?