Top Amazing Hibiscus Oil Benefits & Home Remedies of Hair
Top Amazing Hibiscus Oil Benefits & Home Remedies of Hair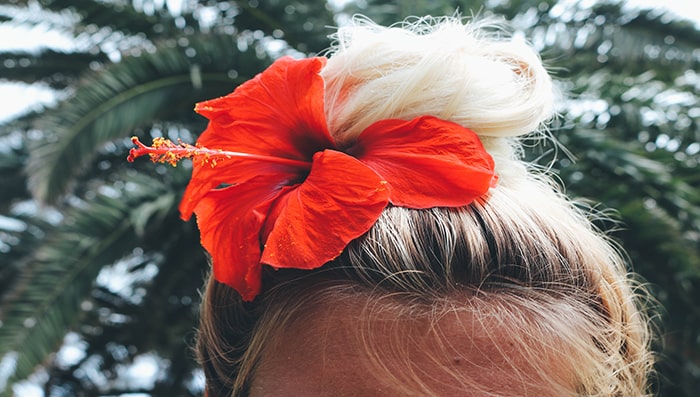 There is more to hibiscus than just pretty looks.
Is your hair losing its natural shine? Are you suffering from the problem of hair loss? Is the fear of damaged and dull hair giving you sleepless nights? Try the power of hibiscus to put an end to your hair miseries and instead give you hair that are strong, thick and beautiful.
Hibiscus oil benefits:
Hibiscus, as a power flower, is among the best known herbs for hair. The oil extracted from the hibiscus flower is rich in vitamin A & C, alpha hydroxy acids & amino acids among others. The minerals and vitamins present in the oil cater to multiple problems relating to hair.
Including hibiscus oil in your hair care regime will help:
Fight premature greying
Regenerate fresh & healthy crop of hair
Prevent excess hair fall
Reduce dandruff
Promote hair growth
Deeply nourish scalp & hair
Strengthen hair follicles
Add natural sheen & shine
So, how can you make the most of hibiscus oil benefits to infuse a new lease of life in to your dull and dry hair? Worry not, as we have got you listed few of the most-effective and easy-to-try natural homemade hair treatments that you can make a part of your regular hair care regime.
Note: Vatika Enriched Coconut Hair Oil with Hibiscus is widely recommended in all the below mentioned remedies. Fortified with natural goodness of coconut oil and hibiscus extracts, this hair oil frees you from hair problems by adding nourishment and strength to them. Hibiscus extracts help control hair fall and maintain the natural colour of the mane while coconut deeply-nourishes the scalp to encourage healthy hair growth.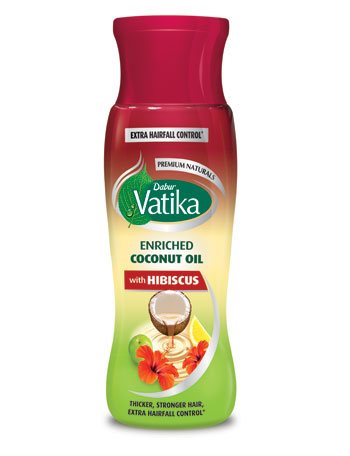 Hibiscus oil massage for hair growth:

Hibiscus oil for hair growth is among the most popular and well-known treatments. The hair oil easily gets absorbed by hair shafts and keeps the scalp moisturised and nourished for long. Thus stimulating fast growth of healthy and hydrated hair strands. Take 3 tbsp of hibiscus hair oil and heat it to moderate temperature. Massage the oil in to your hair and scalp in circular motion and let it rest for 40 minutes before rinsing it off with a mild shampoo. Repeat the process at least once a week for desired results.

Hibiscus & curd hair mask for strong hair :

If the problem of brittle and thinning hair is adding stress to your life, switch to applying this amazing curd and hibiscus hair mask at least once a week to see the difference. To make this effective hair remedy, to 4 tbsp of curd add a paste of 5-6 freshly ground hibiscus leaves and a teaspoon of hibiscus oil. Apply the mix all over your scalp and hair and leave it to rest for 40 minutes before rinsing it off with a mild shampoo like Vatika Hair Fall Treatment Shampoo to make your hair less prone to breakage and fall.

Hibiscus & henna anti-dandruff hair pack:

Hibiscus oil benefits for hair also include fighting dandruff. By keeping the scalp moisturised and hair nourished from root to tip, it aids in keeping the problem of dry and itchy scalp miles away thus controlling any scalp condition that arises due to dryness.
Add a paste made of 7-8 freshly ground hibiscus leaves to a pre-prepared mix of 4 tbsp of henna powder and 2 tsp each of lime juice and hibiscus oil. Apply and leave it to dry for 40 minutes before rinsing it off with a mild shampoo. Apply this pack at least once a week to keep your scalp shielded from dandruff.

• Hibiscus, fenugreek & amla mix for premature greying: While hibiscus oil hair benefits include giving your tresses a natural shiny. Adding amal and fenugreek to it will double the effect as well as give you thick, black and lustrous hair. Soak 2 tbsp of fenugreek seeds in water overnight and ground them into a thick paste the next day. Now, to 2 tbsp of amla powder, add the fenugreek paste and 2 tsp each of hibiscus oil and buttermilk. Apply the mix all over your hair and scalp and leave it to dry for 30-40 minutes. Wash it off with a mild shampoo. Repeat, at least once a week, for better results.
Also read about various benefits of amla for hair .
Also read about various
benefits of hibiscus for hair
.
Read More Tips On:
Tips for Dry and Damaged Hair
How To Make Hair Silky
Healthy Hair Tips
How to Stop Hair Fall
How To Remove Dandruff
Hair Care
Long Hair Tips
Hair Oil
​
*
Fields are required. Make some cool noise, please don't spam and your voice will be heard.
Was this Article helpful?