How To Stop Hair Fall Naturally
How To Stop Hair Fall Naturally
24 May 2018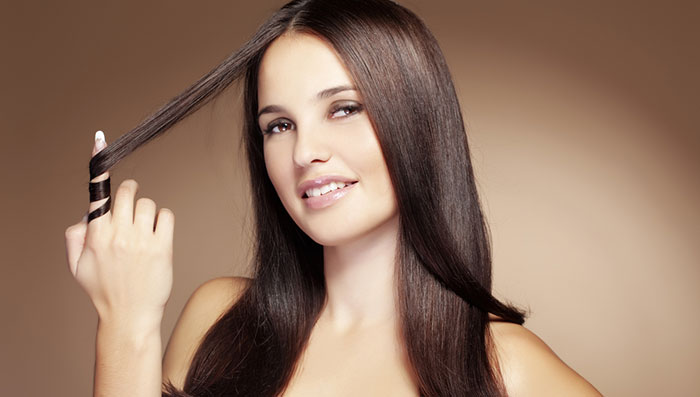 Nothing is as alluring as beautiful luscious hair that gleams with health. But hair fall is a problem that affects both men and women. While genes play a very important role, there usually are other aspects, including: hormonal imbalances, ageing, stress, an under-active thyroid gland, nutritional deficiencies and insufficient blood circulation in the scalp area. Out of the 100,000 strands of hair on your scalp it is considered very normal to lose 50 to 100 strands a day. But if things get a little out of hand, it's time you to take some action so it doesn't lead to baldness or bald spots. So, let nothing keep your hair from shining out by following these
hair care tips
that we've put together to help you understand how to stop hair fall naturally.
Hair Oil Massage
A quick and effective way to reduce hair fall is massaging your scalp with Dabur Vatika Enriched Olive hair oil. A proper hair and scalp massage will not only increase blood flow to the hair follicles, but it will also condition the scalp resulting in increased strength of your hair's roots.
Recipe to stop hair fall:
Add a few drops of rosemary essential oil to Dabur Vatika Enriched Olive hair oil to nourish your hair even more
Massage the mixture onto your hair and scalp by applying light pressure with your fingertips
Do this at least once a week to reduce hair fall
Indian Gooseberry (Amla)
Maintain a healthy scalp and naturally beautiful hair with the anti-inflammatory, antioxidant, antibacterial, and the exfoliating properties present in Indian gooseberry. Rich in vitamin C, it makes hair grow long and healthy naturally.
Recipe to stop hair fall:
Mix one tablespoon each of Indian gooseberry or amla pulp with lemon juice
Massage your scalp with the mixture thoroughly and cover your hair with a shower cap
Leave it on overnight and shampoo your hair in the morning
Fenugreek (Methi)
Highly effective in treating hair fall, Fenugreek seeds contain hormone antecedents that enhance hair growth and help rebuild hair follicles. They also contain proteins and nicotinic acid that help you maintain a healthy scalp and make hair long and luscious.
Recipe to stop hair fall:
Soak one cup of fenugreek seeds in water overnight
In the morning, grind them to make a paste
Apply this paste to your hair and cover with a shower cap
After about 40 minutes, rinse your hair
Follow this remedy every morning for a month
Onion Juice
Easily available and highly efficient for hair growth, onions are a great way of making your hair beautiful and healthy. Onion juice when applied on the scalp alone or in combination with other hair fall remedies provides wholesome nourishment. The Sulfur content in onions further enhances hair growth by increasing the blood supply to scalp and the strength of the hair.
Recipe to stop hair fall:
Mix together three tablespoons of onion juice and two tablespoons of aloe vera gel.
Add one tablespoon of olive oil.
Apply this mixture onto your scalp and leave it on for at least 30 minutes.
Shampoo your hair and rinse it off thoroughly.
Repeat either of these remedies two or three times a week for several weeks.
Aloe Vera
Aloe Vera is a simple and great answer to "how to stop hair fall" question. It adds strength and lustre to your hair. Not only does it contain enzymes that directly promote healthy hair growth but its alkalizing properties also help bring the scalp and hair's pH to a more desirable level, which vastly enhances the
growth of hair
. Using it regularly can relieve you from scalp itching, reduction in scalp redness and inflammation, adding strength and lustre to hair, and
reduced dandruff
.
Recipe to stop hair fall:
Apply aloe vera gel or juice onto the scalp
Leave it on for a few hours
Wash it off with lukewarm water
Repeat the process three to four times a week
You can also consume one tablespoon of aloe vera juice daily on an empty stomach to enjoy better hair growth and see the change. Once you try these simple home remedies you will be able to see the change and hence understand how to reduce hair fall with these home remedies which you can choose to do from the comfort of your house without any extra effort required .Read more on tips &
home remedies for hair fall
.
Also read
Reasons For Hair Fall
How to Treat Dry Hair
Hair Fall in Monsoon
How to use Coconut Oil For Hair Growth
Hair Fall due to Dandruff
Olive Oil for Hair Loss
Home Remedies for Healthy Hair
Hair Oil

*
Fields are required. Make some cool noise, please don't spam and your voice will be heard.
Was this Article helpful?