How To Oil Your Hair 5 Simple Steps
How To Oil Your Hair 5 Simple Steps
24 May 2018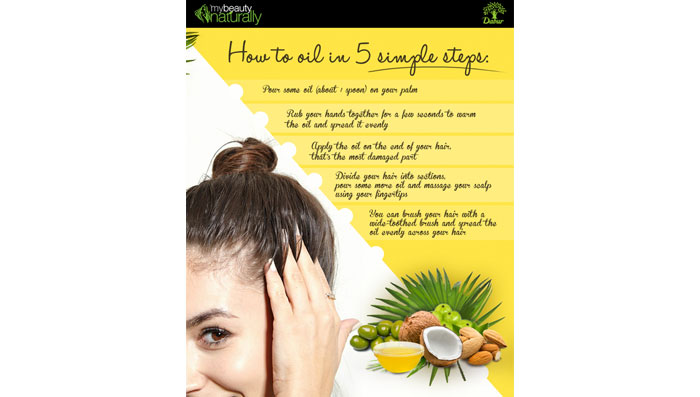 Oiling hair is a tradition long followed by women in many cultures, and more so in India. The fact that it has been a practice that's popular for generations tells us how beneficial oiling really is.
Oil nourishes the scalp
Oil stimulates hair growth
Oil prevents hair breakage
Oil promotes a healthy scalp
Oil moisturises dry, rough hair
Oil gives shine and softness to the hair
Oil prevents split ends
Oil delays greying of hair
Oil combats damage caused by pollution
And the best part is that oiling is an all-natural way to make your hair healthy from root to tip!
However, it is important to pick the right oil for your hair, use the right quantity and apply it the right way. Read on to know how.
Now, for a more detailed step-by-step instruction on hair oiling:
First, choose the hair oil that suits your hair type and hair needs.
Pour a couple of drops of oil onto the palm of your hand, rub your hands together to warm up the oil and then spread it evenly over your hands.
With the oil in your hands, scrunch the ends of your hair. Hair care tip – typically, the ends of your hair are the most damaged part of your hair, and need utmost care.
Next, divide your hair into sections and start massaging the oil on to your scalp with your fingertips. Follow our hair care tips – be gentle, use circular motions, don't use the palm.
Now pour some more oil on your hand and gently run your hands down the length of your hair to give it the nourishment it needs.
You can run a wide-toothed brush along the length of your hair to spread the oil evenly. Caution: be extremely gentle, don't pull or tug your hair, else you will have a lot of hair fall.
Now let the oil soak and penetrate through your scalp and hair for maximum nourishment. The more you let the oil stay, the more shine and lustre you'll see in your hair. Overnight soaking is the best!
You can even wrap around a warm towel around your hair like a turban to help your scalp absorb the oil better.
Lastly, wash the oil off using Vatika Premium Naturals Shampoo in lukewarm/cold water for a healthy shine.
For more on hair oiling, refer to the other articles on the series (I,II,III) and get a complete guide on natural hair care tips using oil. And don't forget to drop in a comment to tell us if you found this series useful.  
 Oiling hair before washing, also known as "champi" is an Indian practice that has been followed for centuries. Our mothers, grandmothers and great grandmothers have all used this technique and never complained of hair damage the way our generation does today. But with so many fancy hair styling options and chemical treatments available in the market and trendy salons, experts are of the opinion that going back to the basics would be best for us. After all, staying close to nature has long term benefits! The age old natural hair care tips have given our grandmothers and mothers the locks that they treasured. It's time to learn from them and realise that nothing beats the love of nature, because nothing helps our hair shine more than natural oils. Oiling can be a god-send to those with severely damaged, over processed, and heat styled hair. Here's why: Oil works brilliantly in reconditioning dry and damaged hair by moisturising it and penetrating the hair shaft, getting past the cuticle, repairing and preventing damage from inside out. All of this helps increase the hair's strength, thereby preventing breakage, split ends and hair fall. Apart from damage, oiling also prevents protein loss, and restores nourishment, thus making your hair shine! With nourishment, hair has lesser tangles, gets more manageable, grows faster and gets thicker. Healthy hair also has lesser chances of dandruff, lice and premature greying.
Also Read
How To Get Silky Hair
Healthy Hair Tips
Tips for Long Hair
How To Remove Dandruff
How to Get Shiny Hair
Tips for Dry and Damaged Hair
How to Stop Hair Fall
Hair Oil

*
Fields are required. Make some cool noise, please don't spam and your voice will be heard.
Was this Article helpful?