How to Get Thick Hair
24 May 2018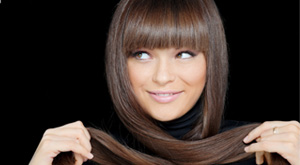 Long, bouncy and shiny hair is a head turner! While these are the kind of tresses every girl would die for, unfortunately, not many of us are blessed with the same. Age, pollution, mishandling and hormonal changes are some common factors that harm hair growth. Follow these hair care tips below to ensure hair fall control and enhance the beauty of your hair.
Avoid Frequent Washes: You must be careful about the way you wash your hair. Washing them daily is harmful. Two to three times a week is all it needs. Also, do not tie your hair into a messy bun as soon as you step out of the shower. Hair, when wet, is more prone to breakage and this act can give the hair more reasons to fall off. Instead, to ensure hair fall control, be very gentle with your hair, pat it dry with a towel and allow it to dry naturally.
Wet Hair is Always Brittle: The best hair care tip anyone can ever give you is to leave your hair alone when it's wet. However, if there is an emergency and you do need to comb your hair while it's still wet, use a wide-tooth comb to gently work through the tangles. Save the brush for when your hair is dry, since its less fragile in that state.
Nourish Your Scalp: Nourish your brittle tresses with a good massage of New Dabur Vatika Enriched coconut oil with hibiscus. This oil is especially designed to enhance the strength of your hair and make it silkier.
Eat Well: well-balanced diet is a sure way to start growing thicker, healthier hair. Make sure you get plenty of protein. Eat nuts, avocados, and olive oil. Vitamin B is also important when it comes to nourishing the hair. Also, include plenty of fruits and vegetables in your diet.
Stress No More: Stress can be a cause of hair loss. De-stress with the help of yoga and meditation and watch it have a positive effect on your precious mane. Also get regular exercise and plenty of sleep for a healthy mind and beautiful hair.
The hair care tips given above are tried and tested methods by various experts and conscious women like us. However, if none of the given tips seem to work for you and hair fall becomes a serious concern, we suggest you visit a doctor and take prescribed care.
Also Read
Home Remedies for Shiny Hair
How to Treat Dry Hair
Home Remedies for Healthy Hair
How To Remove Dandruff
Long Hair Tips
Home Remedies for Silky Hair
Hair Fall
Hair Oil

​
*
Fields are required. Make some cool noise, please don't spam and your voice will be heard.
Was this Article helpful?