Guava for Hair - How to Use Guava Leaves for Hair Growth
Guava for Hair - How to Use Guava Leaves for Hair Growth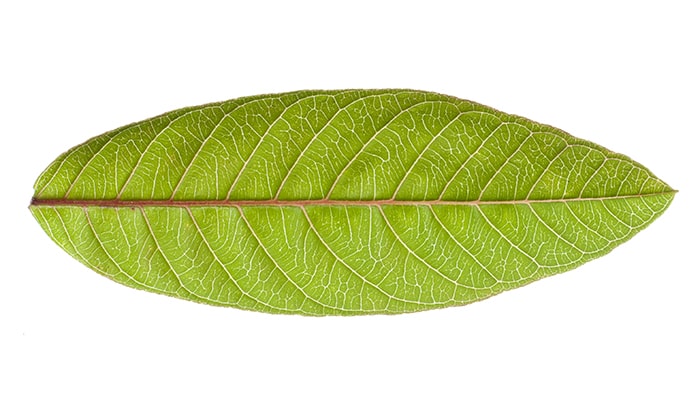 Guava or Psidium guajava, is a delicious green fruit that is found in almost entire south east Asia. I am sure many of your best child hood memories would include enjoying this wonderful fruit along with some salt and chili powder. The aroma and taste are so great that you just want to smack your lips! But did you know the leaves that you never pay heeds to also has great medicinal properties? Amazed? I am sure you are. Lest find out how we can use Guava leaves for hair problems.
Video:
Vatika Enriched Coconut Oil For Hair – Reduce Hair Fall By 50%| MyBeautyNaturally
Guava Leaves for Hair Benefits:

Guava leaves are loaded with Vitamin C, which helps boost collagen activity. It not only enhances hair growth but also makes your hair strands healthier and softer.
The antioxidant properties present in guava leaves prevent hair damage by fighting against free radicals causing your hair damage.
Guava leaves protects your hair from the harmful ultraviolet rays of the sun.
Massaging the crushed guava leaves into your scalp improves blood pressure and also helps the follicles receive more nutrition. This definitely results in enhanced hair growth.
It also helps remove dirt and other impurities from your hair and unclogs your follicles which results in preventing oiliness and dandruff.
The removal of dirt from your hair not only smoothens your hair shafts but also makes your hair shiny and soft.
There are several easy and cheap ways for how to use guava leaves for hair care and promote the overall health of scalp. Let's de brief on the research we did so far and understand how guava leaves are helpful in dealing with hair problems. One at a time! In this article, we are going to de brief about how to use guava leaves for hair fall reduction and other hair and scalp related problems.

Guava Leaves for Grey Hair:

Due to all the nutrients that the Guava leaves consist of are helpful in stimulating proper blood flow to the scalp and follicles and also stimulate melanin production, the pigment which actually gives our hair its natural color, and although the natural color of your hair depend upon the set of genes that you have received from your parents, premature Graying that is caused by external factors could be reversed by using Guava leaves, making guava leaves for hair graying a perfect solution.

How to Use Guava Leaves for Grey Hair:

Take a handful of fresh guava leaves and soak them in water for a few hours.
Grind Guava leaves to make a paste out of it.
Apply this paste to your scalp and to your hair from roots to tips and let it sit for one or two hours.
Wash your hair with a mild shampoo and repeat this process a couple of times a week for best results.

Guava Leaves for Hair Fall:

Hair fall is a condition where the hair re-growth is slower that the scalp loosing hair. We lose around 50 to 100 strands of hair everyday during our routine activities. Problem arises when the new hair growth is slow or non-existent, which is mostly due to the lack of nutrients. Guavas being rich in Vitamins like C, B, B2, B5, Manganese and copper aids hair growth and reduce hair fall by strengthening existing strands.

How to Use Guava Leaves for Hair Fall:

Grind a handful of guava leaves with some water to make a thick paste.
For added benefits like soft and shiny hair add The New Vatika Enriched Coconut Hair Oil enriched with 7 ayurvedic herbs like Amla, Brahmi, Henna, Kapur, lemon, bahera & Harar. The goodness of coconut in it helps you in rejuvenating your scalp health & strengthens your hair from roots to tips. Say hello to the bouncier, softer and silkier hair with Dabur vatika coconut hair oil and bid farewell to your hair problems.
Apply this mixture thoroughly on your head and to the entire length of your hair.
Keep it on for anywhere between two to three hours or maybe overnight, whatever is convenient to you
Wash it off with a natural mild shampoo.

Guava Leaves for Hair Growth:

The anti oxidants and vitamin C have a cleansing effect on the scalp and thus on the follicles. By removing excess dirt and chemical residue from store bought shampoos and conditioner from the hair follicles promotes hair growth. Also the anti oxidant content in Guava leaves can help in stimulating blood flow and boosting hair growth.

How to Use Guava Leaves for Hair Growth:

Make a paste of guava leaves by grinding them with water.
Apply it to your entire scalp, making sure that you cover your entire scalp and absorb all the nutritional benefits.

Guava Leaves for Hair Loss:

Guava leaves also have a lot of anti inflammatory properties which not only make them an excellent solution for dental aches but also for curbing hair loss permanently. Since most of the hair loss problems occur due to scalp infections, the anti inflammatory properties of these magical leaves help relieve scalp inflammation and promote hair growth.

How to Use Guava Leaves for Hair Loss?

Grind a handful of guava leaves with some water and tbsps. of Shikakai powder.
In this thick paste, add a few drops of coconut oil.
The penetrating power of coconut oil would make sure that all the nutrients from this mixture is sent to the roots.
Apply this mixture for around 2 to 3 hours and wash off with a mild shampoo.
So now you know all the guava leaves benefits for hair, what are you waiting for? Go try some DIY recipes and boost your confidence with silky, shiny and smooth flowing hair or you can also try the new range of Dabur's hair oils and let it enhance your growth and add shine and softness to it, naturally!
Read Also:
Benefits of Curd for Hair
Aloe Vera for Hair
*
Fields are required. Make some cool noise, please don't spam and your voice will be heard.
Was this Article helpful?