Benefits & Tips on How to Use Jasmine Oil for Hair
Benefits & Tips on How to Use Jasmine Oil for Hair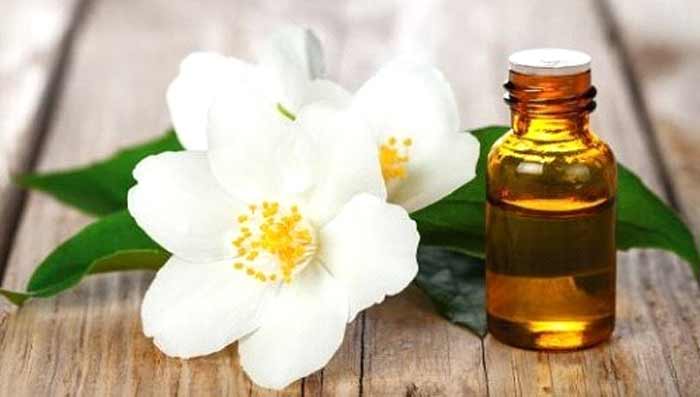 Jasmine oil for hair might sound like a once-in-a-while exotic hair therapy that one should indulge in, but the fact is making it an essential part of your regular hair care regime will make your hair smooth, manageable and lustrous apart from making them look and smell gorgeous.
Benefits of jasmine oil for hair :
Extracted from the highly fragrant and aromatic flower of jasmine, the benefits of this oil has rightly been put to use in the cosmetic industry. From hair oils to perfumes to aromatherapy—jasmine oil's multiple natural properties and benefits makes it a power house performer in the essential oil family.
So, what does this warm, exotic & sweet smelling oil bring to the table for hair care? Here's sharing with you a gist of benefits that it comes packed with:
As an essential oil, it has the ability to soothe your mind and nervous system.
Massaging it gently in to your scalp makes you feel stress free and create a conducive condition for hair growth.
Aids in taming unruly, unmanageable, coarse, curly & frizzy hair
Adds strength to hair follicles thus ensuring that your hair strand is tensile, grows long and non-brittle.
A non-sticky and non-greasy hair oil, it adds smoothness to the strands and can easily be washed off easily. It can also be used as a natural alternate to hair styling products.
Because of its anti-bacterial, anti-microbial and anti-fungal properties; it helps in keeping skin and scalp conditions like dandruff, eczema, lice, dryness & itchiness etc. at bay.
A wonderful moisturiser, it hydrates the scalp from deep within and aids in restoring the natural oil of the scalp.
It helps in adding natural radiance, bounce and volume to the otherwise unruly, dry and dull hair.
Strong and gorgeous hair require a bit of care and nourishment. While jasmine hair oil can give you the desired results, but to reap its benefits you would be required to do a little bit of hard work. Trust us when we say the work requires no expensive ingredients or hours long treatment. Just everyday basic kitchen ingredients and few minutes is all you need to make your hair flow with radiance and lustre. Here are few easy and effective home remedies that will help you know how to use jasmine oil for hair.
Note: The home remedies recommend use of Vatika Jasmine Hair Oil . Packed with natural and triple goodness of coconut, jasmine and silicone oils; it nourishes the hair from root to tip; and aids in taming frizzy & unmanageable hair by restoring the natural pH balance and moisture of the scalp. A non-sticky formula, it adds natural shine to the hair while keeping them strong and gorgeous.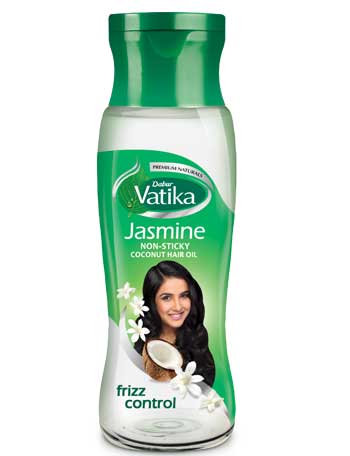 Jasmine oil anti-lice hair pack :

Jasmine oil is known to have antimicrobial properties which keep the scalp healthy and free from any skin condition. The fragrance from the oil can help inhibit the proliferation of lice and its eggs.
Take 2 tablespoons each of jasmine and olive hair oil. Slightly heat the mix to a lukewarm temperature and gently massage it on your scalp and hair. Leave it for 20 minutes before washing it off with a mild herbal shampoo.

Jasmine oil & amla pack for thinning hair :

One of the many jasmine oil benefits for hair include adding strength to the strands. Combined with amla in the form of a natural homemade hair pack, it aids in preventing your hair from falling and stimulate the growth of new thick hair. To 3 tablespoons of amla powder, add 2 tablespoons of jasmine hair oil and apply all over the scalp and hair. Let it dry for 30 minutes before rinsing it off with a mild shampoo like Vatika Hair Fall Treatment Shampoo .
Also read about benefits of amla for hair .

 

Jasmine & coconut oil hair pack for smooth & silk hair :

Jasmine oil helps in strengthening of the hair roots. If frizzy hair is giving you bad hair days then you must mix equal quantities of jasmine hair oil with coconut hair oil and heat it to moderate temperature. Use the mix to gently massage your hair with it. Let it rest for 40 minutes before rinsing it off with a mild shampoo. Repeat the process at least once a week to get smooth, silky and frizz free hair.
Also read about benefits of coconut oil for hair.

Jasmine oil for natural conditioning :

The reason your hair puffs post wash, especially during winters, is because they lack moisture in it. Applying jasmine hair oil on a regular basis not just nourishes and moisturises your scalp and hair but also deeply conditions them from inside to keep them smooth and beautiful on the outside.
Mix 2 parts of jasmine oil with one part each of almond oil, olive oil and anyone essential oil like argan or grapeseed oil. Take tiny bit of it in your palm and run your greased fingers through wet hair. Cover your head with a shower cap and leave the oil mix to rest in your hair overnight and wash it off with a mild shampoo the morning after.
Need to know more on the jasmine oil benefits for hair? Keep following our blog.
Read More Tips On:
Tips for Dry and Damaged Hair
How To Make Hair Silky
Healthy Hair Tips
How to Stop Hair Fall
How To Remove Dandruff
Hair Care
Long Hair Tips
Hair Oil
​
*
Fields are required. Make some cool noise, please don't spam and your voice will be heard.
Was this Article helpful?