Ayurvedic Treatment & Remedies for Hair Loss and Regrowth
Ayurvedic Treatment & Remedies for Hair Loss and Regrowth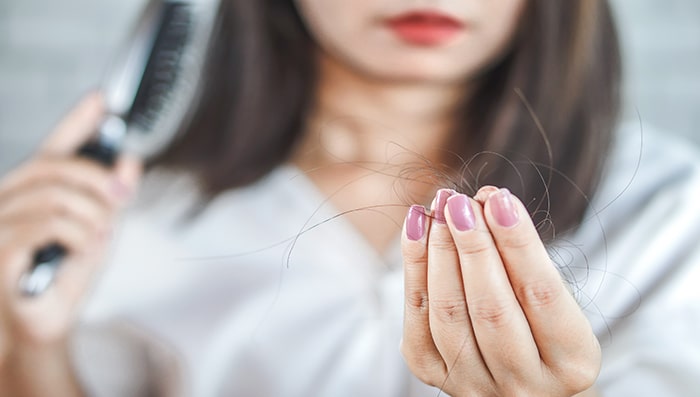 The world is slowly recognising the true potential of Ayurveda as a life science. Now even commercial products are packed with the goodness of Ayurvedic ingredients. Although there is still time left when we can say with certainty that Ayurveda is beneficial in treating major physical ailments but we can be sure about the benefits of Ayurvedic remedies for hair fall.
Ayurvedic Remedies for Hair Fall
Additionally You Can Curb Your 'Pitta Dosha' By The Following Tips
Hair fall is one of the most rampant hair problems among all ages and genders. Everyone wants a Shiney mop on their head but only a few are lucky enough to receive strong and good looking hair genes from their parents, but you don't have to worry about that today, well not at least if you finish reading this article. You don't need biology to help you get rid of bald spots or hair loss when there are effective Ayurvedic treatment for hair loss and regrowth.
Ayurveda is one of oldest textures that discusses life science and achieving a healthy you by just the use of all natural ways, the below mentioned Ayurvedic remedies for hair loss will do the same for you.
There is not just one reason that has an adverse effect on our hair health especially for the Urban citizens, factors multiply due to the fast paced lifestyle and stress, Some of the factors that have an adverse effect on our health are listed below:
Not Following Your Body Clock:

Our bodies were made to function in a certain way, the sedentary lifestyles and being a night owl really takes a toll on our bodies. The science behind it says that our bodies can only reverse the tissue damage and other repairs when body enters a state of REM (Rapid Eye movement) sleep and most of it happens between the duration of 11 PM to 3 AM.

Too Many Chemical Products:

People now days are fascinated by the idea of using store trough products everyday because it's a notion that has been put in their head that using a certain shampoo everyday can actually help them achieve the beautiful hair that they want. Unfortunately the reverse happens, the sulphates and other chemicals that these shampoos contain hinders hair health and strips your scalp of the essential oils that it is supposed to nourish the hair follicles.

Stress:

This is the culprit behind most cases of heart diseases, diabetes, cardio vascular disorders and guess what hair fall. When we are stressed our body naturally produces a combination of stress hormone, including cortisol, which is harmful and toxic for our bodies. Our jobs have made sure that this cortisol is regularly secreted in our system leaving us with a variety of health problems.

Sedentary and Non Active Lifestyles:

A relatively new term that has been introduced to this problem: 'Couch Potatoes' our hectic and busy daily schedule and seated jobs has left almost no room for physical movement. This affects our bodies in more than one ways. It reduces the blood Flow, which is intern responsible of most of our hair problems.
But since we have discussed a lot about problems, its time we seriously start looking at solutions. Luckily a solution has been shared with us, around a thousand year back. Ayurveda! Below you would find easy to find and DIY Ayurvedic treatment for hair loss and regrowth.
Ayurvedic Treatment for Hair Regrowth.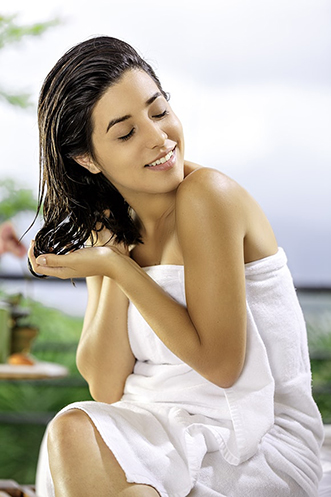 Ayurveda is the ancient scripture that talks about keeping our physical self-health with natural remedies. It has discussed how to take care of our entire bodies by the using herbs and shrubs that are naturally available, and while doing so our very thoughtful writers of Ayurveda have not missed out on hair. They have mentioned various techniques to use Ayurveda for hair loss and other hair problems. Even the use of Ayurveda for hair regrowth is suggested for people that are suffering from bald spots or rapid hair fall.
Ayurvedic Remedies for Hair Fall: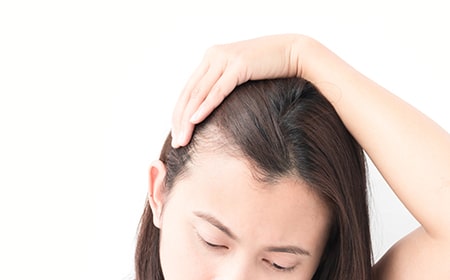 Ayurveda divides all the factors that are responsible for physical ailments into three major categories :
Out of which all our hair problems are caused due to the 'Pitta' which governs our metabolism and digestion. A bad pitta can be caused by many issues, bad eating habits, oily or spicy food, a lot of junk food consumptions, consumptions, consuming large amounts of tea and coffee, meats and alcohol.
Lets discuss how we ca give you a stronger gut and a full hair line by curing your Pitta through easy Ayurvedic remedies for hair loss.
Ashwagandha(Indian Winter Cherry):

The name literally means 'smelling like a horse'. This magical horse like smelling bushes have legendary stress relieving and body cooling properties making it a great Ayurveda for hair loss solution. It helps you to keep your blood sugar levels stabilised and keeping stress levels low by helping keep cortisol level in check. But since we are talking about Ayurvedic remedies for hair loss, here's your treat:

Ashwagandha Ayurvedic Solution for Hair Fall:

Ashwagandha can improve blood circulation in the scalp, thus strengthening the hair and making this herb one of the best available Ayurvedic treatment for hair loss and regrowth
It's a great Ayurveda for hair loss treatment for dandruff
It stimulates melanin production thereby reversing premature greying.

How to Use Ashwagandha Ayurvedic Treatment for Hair Regrowth:

You can buy capsules that contain Ashawgandha power or buy dried Ashwagandha from store and grind it. Ashwagandha is also available in powder form in local stores. You can opt to consume it as capsules or powder or make a hair pack by mixing it with a good carrier oil, like coconut oil. Try this Ayurveda for hair loss treatment and let your hair flow!

Amla (Indian Gooseberry):

Another miraculous and much anticipated in any article that discusses Ayurvedic treatment for hair loss and regrowth, it's a powerhouse of vitamin C and antioxidants, which boost hair growth and help keep the hair problems at bay. This is a great ingredient for almost all Ayurvedic remedies for hair fall.

How to Use Amala Ayurvedic Treatment for Hair Loss and Regrowth:

Simply take the flesh off of a fresh Amla, make a fine tase out it. You can use Reetha and Shikakai powder to enhance the benefits of this Ayurvedic treatment for hair loss and regrowth even more.

Methi or Fenugreek seeds:

This is a very common ingredient that is used in many south asian households. A very essential ingredient in Ayurveda for hair loss treatments, these small yellow seeds have the power to keep dandruff at bay and promote an overall scalp health. This is a great Ayurvedic treatment for hair regrowth.

How to Use Methi Ayurvedic Treatment for Hair Regrowth:

Soak a couple of seeds in water overnight and make fine paste out of it.
Apply this paste to your scalp like a hair mask and wash off after an hour or so. With a mild shampoo. You will be amazed by the efficiency of this Ayurvedic treatment for hair regrowth.

Mustard Oil:

The anti fungal and anti microbial properties of mustard oil are imperative for keeping the scalp infections at bay and boost hair health generally.

Regular oil massages can ensure that your scalp is receiving proper blood flow and the nutrients that the hair require. This is a great Ayurveda for hair loss treatment, take my word for it!

How to Use Mustard Oil as an Ayurvedic Treatment for Hair Regrowth:

Heat a little bit of mustard oil in a pan, do not heat it to its smoking point. We want to keep the nutrients intact. Apply this slightly warm oil to your scalp. I suggest you dab a little amount on your fingers to be sure that the oil is not too hot.
Additionally You Can Curb Your 'Pitta Dosha' By The Following Tips:
Drink a lot of water, it instantly cools your body and improves digestion.
Have a glass of lukewarm water half an hour before to activate your digestion
Take regular walks, even if you have a desk job take a short walk after every hour or so.
Meditate regularly to keep your stress levels in check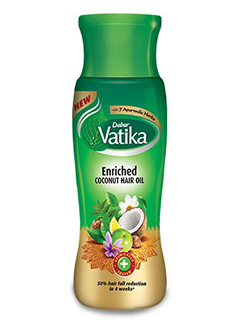 Also, you can cut the usage of chemical laced hair products and use more natural products like the New Dabur Vatika Coconut Hair Oil . It is enriched with 7 ayurvedic herbs like Amla, Brahmi, Henna, Kapur, lemon, bahera & Harar along with goodness of coconut. processed by Tel Pak Vidhi, which helps in rejuvenating scalp health & strengthens hair from root to tip and only Dabur Vatika coconut Hair Oil is clinically proven to reduce hair fall up to 50% in 4 weeks.
Read Also:
How to Use Curry Leaves for Hair Growth
How Do You Take Care of Colored Hair
Amla, Brahmi, Bhringraj Hair Pack
*
Fields are required. Make some cool noise, please don't spam and your voice will be heard.
Was this Article helpful?