6 Ways To Use Egg For Shiny Hair
6 Ways To Use Egg For Shiny Hair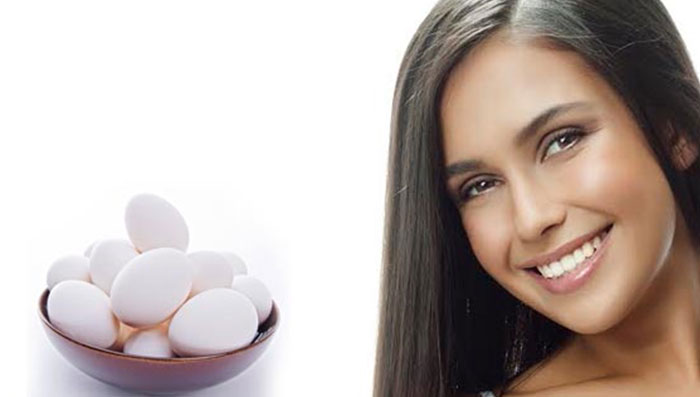 Tired of having rough unmanageable hair? Want your hair to have that glossy shine that you see in movies and advertisements? Believe it or not, but you can achieve it, sitting comfortably at home. You don't have to invest a lot of money buying hair sprays, conditioners or different kinds of shampoos - you can make your own shampoo, at home! Yes. Want to know how? So here comes the role of an egg and how it can be used in making homemade shampoos.
Egg Shampoo #1
Mix 2 or 3 eggs in the bowl and wash your hair with it as if it was your usual shampoo. Apply conditioner to get rid of the egg's smell and to make your hair softer. You can also use a homemade rinsing substance instead of conditioner, if you decide to go "all natural". To prepare great rinsing water:

Mix 2 tablespoons of vinegar (or lemon juice) with…
1 liter of water and 3 drops of aromatic oil that smells great
Rinse your hair after you wash it off
Your hair will become shinier and healthier looking

Egg Shampoo #2
Take 3 egg yolks and mix it thoroughly with 3 tablespoons of honey. Then apply this "shampoo" on your wet hair while massaging it well onto your scalp and spreading it along the lengths of your hair. You will experience a pleasant sensation due to this natural homemade mixture. You can use your usual conditioner after this shampoo or just leave it as is after you've rinsed your hair very well.
Egg Shampoo #3
Here is a recipe of homemade shampoo for oily hair: mix 2 eggs thoroughly, add 2 teaspoons of Vodka (or cognac) and 3 drops of lemon juice. Then wash your hair with it and rinse well with warm then cold water.
Egg Shampoo #4
If your hair is dry: mix 2 or 3 egg yolks depending on your hair's length with a little bit of warm water. Add 3 (or more) drops of Vatika Enriched Olive Hair Oil. Wash your hair with this mixture and you will notice an instant difference in the way your hair looks. Every time you use it, don't forget to use a conditioner or rinse with the mixture of "vinegar + water".
Egg Shampoo #5
Another simple way to make a great natural homemade shampoo:

Mix 2 eggs with 2 tablespoons of lemon juice
Add 1 tablespoon of honey
Add 3 drops of olive oil
Massage this "shampoo" into your scalp and spread it on the hair
Rinse with lukewarm water

This is a very easy and simple way to get your hair clean, shiny and healthy, using only natural ingredients. This nourishing and moisturizing shampoo is good for all hair types.
Egg Shampoo #6
This is one of the easiest ways to make How to Get Thicker.

Mix one tablespoon of powder gelatin with some water and leave it for 30 minutes
After 30 minutes heat this mixture on a warm bath till gelatin dissolves completely in the water
Let it cool a little bit and then add 2 egg yolks
Mix it all very well and wash your hair with this homemade shampoo (you can keep this mixture on your head for 10 minutes for better results)

This homemade shampoo is good for normal and oily hair. If you get everything right, your hair will look dazzling as ever.
There may be countless number of shampoos that you can make at home but the key is to find the one that suits your specific needs and makes your hair feel healthy and good.
Tell us how these
hair care tips
worked for you. And if you have your own homemade shampoo recipe, please share the hair care tips with us in the comment section below.
Also Read
How to Treat Dry Hair
Home Remedies for Healthy Hair
How To Remove Dandruff
Long Hair Tips
Home Remedies for Silky Hair
Hair Fall
Hair Oil

*
Fields are required. Make some cool noise, please don't spam and your voice will be heard.
Was this Article helpful?