Your Head To Toe The Ultimate Beauty Guide
Your Head To Toe The Ultimate Beauty Guide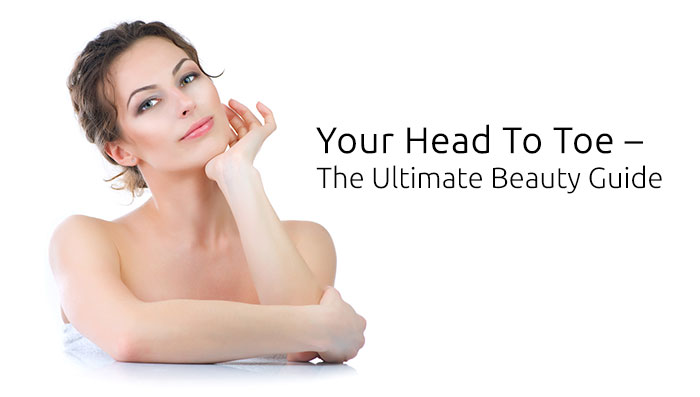 Wish for skin that is healthy, smooth and radiant? Whether it is summer, winter, autumn or spring, exfoliating your skin from head to toe will get you glowing. Exfoliation helps you get rid of dead skin cells, leaving your skin radiant and smooth. But while exfoliating, many women focus on their faces, forgetting about other body parts. Here's a simplified
skin care
regime on how to exfoliate your skin, from head to toe.
Scalp



Minimize your embarrassing flakes and make your scalp healthy by exfoliating. Even though you might've considered exfoliating your body, you might not have ever thought about your scalp. The truth is that your scalp is just an extension of your skin. Most people suffer from dry scalp issues from time to time. Exfoliating your scalp is as easy as rubbing Epsom salts onto your scalp a couple times a week which will help you renew the skin on your scalp. That's a proven way to exfoliate your skin naturally!
Face



No matter what your skin type, exfoliating is the key to good skin. Even if your skin is dry, exfoliating helps get rid of the flaky dry skin. If you have oily skin or combination skin, exfoliating helps reduce breakouts by breaking through the dead skin cells which causes buildup and acne and bringing fresh new skin to the surface. Here's a proven way to exfoliate your skin naturally – scrub your skin two to three times a week at most using a facial exfoliator or even a simple washcloth and don't forget to soothe your skin by dabbing some Dabur Gulabari Rose Water over it.
Lips



If you just can't seem to keep your lips from peeling, there's one way to get those soft pink lips back in shape. How to exfoliate the skin on your lips? Use a soft toothbrush with some petroleum jelly on it to gently scrub your lips. By doing this, you can regain the natural colour that will show from stimulating the blood flow to your lips.
Body



Your body sheds dead skin cells very rapidly and taking a bath is just not enough. Since most of your body isn't as thin and sensitive as the skin on your face, you can let loose and have some fun when it comes to exfoliating it. You can make your own fun body scrubs to rejuvenate your skin using natural home-made ingredients. And while you're at it, exfoliate your entire body, but concentrate longer on areas such as your knees and elbows which are prone to dry skin.
Feet



Unlike the rest of your body, your feet go through a lot throughout the day and they deserve to be pampered. Exfoliate them by giving yourself an at-home scrub or simply do it in the shower with your body scrub. Since your feet are harder to exfoliate and get worn out faster than the rest of your skin, you can use a scrub on them 3 to 4 times a week or more depending on your results.
So go and treat your skin to a much needed rejuvenating experience with these easy tips on how to exfoliate your skin, and share the results with us in the comment section below.
---
*
Fields are required. Make some cool noise, please don't spam and your voice will be heard.
Was this Article helpful?