How to Get Glowing Skin Naturally With Homemade Strawberry Face Packs
How to Get Glowing Skin Naturally With Homemade Strawberry Face Packs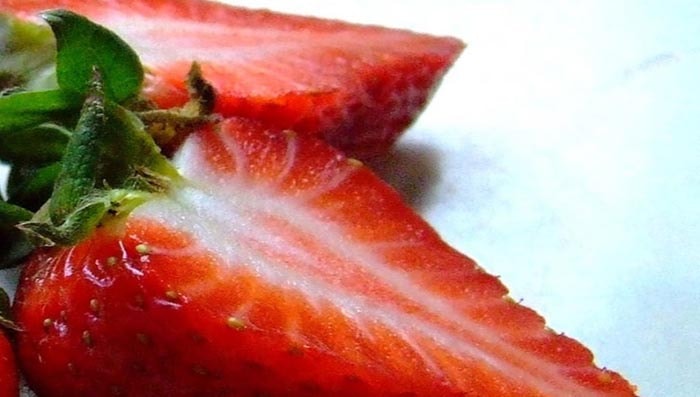 It is the queen of fruits! It is refreshing to eat! It is a rich source of anti-oxidant. It is strawberry. This surprisingly delicate, plump and juicy fruit is rich in Vitamin C, polyphenols, and alpha-hydroxyl acids (AHA's) that works wonders for skin. Its anti-inflammatory nutrients deliver amazingly bright, glowing and youthful skin.
Video:
Oxylife Crème Bleach works on 5 skin problems to give you flawless fairness
There are multiple ways by which the sweetness of strawberry can be benefitted for skin, by various strawberry face pack. This is one of the fruit, which can help in skin whitening from outside and skin clarity from inside. Read on to find out how to get fair skin using strawberry at home.
Benefits Of Strawberry
Rich in anti-oxidant: This fruit is extremely rich in anti-oxidant, astringent, and anti-inflammatory properties, which helps in slowing down aging process and provides a shield against the UV rays.

Removal of Dead Skin: It is rich in alpha-hdroxylic acid, which in turn can help in removal of dead skin.

Anti-Acne Solution:The high proportion of salicylic acid in them makes it a good cure for treating acne.

Fights dark spots

: It is rich in vitamin C content, which helps in boosting up collagen production and minimizes fine line and wrinkles.
Note: In case your skin is allergic to strawberries then it is always recommended to do a patch test before you use strawberry as a face mask.
Homemade Strawberry Face Masks
Let's look at the various strawberry face masks beneficial for skin, which are a complete do-it-yourselfer and can help you get a radiant and a glowing skin.
For Oily And Acne Prone Skin -

Now get an instant aromatic strawberry face pack with pro skin essentials.

Ingredients: Lemon grass powder, honey and strawberry

Method: Mash a ripe strawberry with the back of the spoon and add a tablespoon of lemongrass powder and a tablespoon of honey. Apply the mask for 10 minutes on your face and start rubbing with wet fingers and later rinse it with cold water. Notice a change of your skin tone on constant use.

For Dry And Sensitive Skin

- Give your skin the necessary moisture and ultra-care by this creamy face pack made of strawberry

Ingredients: strawberry, honey and milk powder

Method: mash a strawberry, add a tablespoon of honey and 2 tablespoon of milk powder, and make it a smooth consistency. Apply the mixture, leave it for 20 minutes, and rinse it off.

For Oily And Normal Skin Type

- This strawberry facemask will benefit the skin in its best way possible.

Ingredients: Strawberry and yoghurt

Method: Crush a ripe strawberry and mix a tablespoon of thick yoghurt. Apply it on your skin to get rid of wrinkles and fine lines.

For Dry And Flaky Skin

- A dry and flaky skin is surely a concern for many of us. Especially with winters approaching us, it is necessary to make sure that the skin gets its necessary moisturizer. Here is a quick way of getting rid of such an issue.

Ingredients: Banana, strawberry and oats

Method: Grind few slices of banana along with 1 ripe strawberry and 2 tablespoons of oats. Apply the strawberry rich face pack on your face for 20minutes, rinse it off with water, and say hello to a soft glowing skin.

Strawberry Face Pack With Goodness Of Dabur Gulabari Rose Water

– No points for guessing that strawberry face pack can help you get the sheen that you always wanted.

Ingredients: Dabur Gulabari Rose water, wheat powder and strawberries

Method: Take two ripe strawberries, 1 tablespoon of wheat powder and 4 tablespoons of Dabur Gulabari Rose water. Mix everything, apply it on the face for 20 minutes, and rinse it off with lukewarm water.

For All Skin Types

- No matter, whichever type your skin belongs to, this amazing strawberry face pack for face will give you the flawlessness that you always coveted.

Take one tablespoon of strawberry, along with 1 tablespoon of honey and one tablespoon of aloe vera gel. Mix all the ingredients and apply it on your face. Massage it gently with wet fingers for two minutes and let it dry for another 15 minutes. Rinse it with cool water.

De-Tan Face Mask

- Now say good bye to those nasty black pigmentation on your skin with the goodness of strawberries and lemon. Mash a ripe strawberry and add one tablespoon of lemon juice. Apply it all over your face and rinse it off after 15 minutes. Read more home remedies on how to remove tan at our blog.

Yum Chocolate With Strawberry Mask

- As good as it tastes to our palate, this amazing face pack of chocolate and strawberry is necessary for a glowing skin.

Mash 2 ripe strawberries with 1 tablespoon of cocoa powder and honey. Apply it on skin for 15 minutes on face and then wash it off with water. Feel the softness immediately. Read more chocolate face pack home remedies at our blog.

Toner

- Which your skin would love: Many a times, when we follow our beauty regime we tend to forget the importance and usage of toner. Amidst the multiple options available, it is always suggested to get your own home made toner and what's better if you get one made out of strawberry. This will help your skin fight the signs of early ageing.

Ingredients: Strawberries and Dabur Gulabari Rose Water

Method: Grind 10-12 strawberries and add 100 ml Dabur Gulabari Rose Water and keep this solution in refrigerator. Replace your usual toner with this and experience the magic.

An ideal foot scrub

- Surprising is not it! Strawberry is beneficial not only for skin but also be used as an amazing foot scrub as well.

Ingredients: Strawberries, oats and glycerine

Method: Crush 7 to 9 strawberries with grounded oats and add half spoon of glycerine and make a paste. After soaking your feet in warm water apply the paste and rub it gently and wash it with cold water. It will remove the dead skin and will leave a fresh skin.

Apple Mixed Strawberry Mask - A Skin Beautification Booster

- Take half apple, add 2-3 ripe strawberries with some honey and make a paste out of it. Add it in a jar such that it pulp gets out. Apply it evenly on face and wash it with water after 20 minutes. Notice the freshness in skin after the first use itself.

Strawberry has got a perfect blend of vitamins, anti-oxidants, and natural astringent properties which make it a must for skin.
Try these amazing natural homemade tips for glowing skin and give your skin the goodness of getting a beautiful and glowing skin naturally. Read more on fairness face packs, glowing skin tips and various beauty tips for skin.
Read Also:
Flax Seeds Benefits For Skin
---
*
Fields are required. Make some cool noise, please don't spam and your voice will be heard.
Was this Article helpful?