Skin Care Tips For Teenagers
Skin Care Tips For Teenagers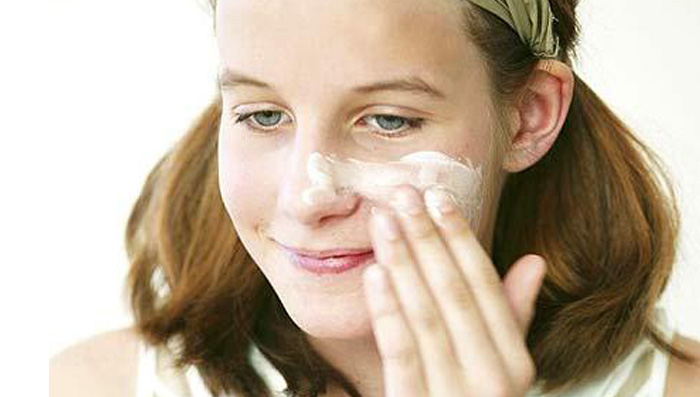 Skin care is important no matter what your age is. And as we change, our skin changes as well. To look flawless and fabulous at every age, its time to rethink your skin routine. If you wish to maintain a glowing skin and look just as radiant every decade in your life, then these skin care tips will help your or your daughter start early. And remember, the earlier you start, the better it is for your skin.
A good skin care regime is essential for beautiful glowing skin, free from pimples, blackheads and blemishes. During your teen years, you are especially prone to these kinds of problems. But don't worry, there's a natural and easy way to combat these problems with these simple and effective skin care tips:
In the morning when you wake up, use a gentle cleanser such as Dabur Gulabari rose water to clean up the bits of oil and dirt that might have accumulated over the night. Follow up with a mild face wash.
Use a light moisturiser with SPF 15 or plus to protect yourself from the sun and help you retain your skin's moisture. Look for a product that contains Zinc Oxide, Titanium Dioxide, Avobenzone or Mexoryl to block UVA rays as well. For more information about protection form sun, read our article Demystifying SPF.
After you have freshened up and are ready to leave home, apply lip balm. Lips are more prone to parching than any other area. Keep them smooth and pink using a good quality lip balm.
If you have dry skin on your hands, put some hand cream on in the morning. Just make sure that you don't put on too much, since it will make your hands oily and slippery.
After you come back home, immediately wash your face using rose water and follow up with a face wash. This will clean all the remains of pollution and dust that you might have collected over the day.
At night, cleanse wash your face again. If there are any pimples, use a product containing salicylic acid or benzoyl peroxide.Aslo apply a homemade night cream for glowing skin.
Last but not the least, thoroughly moisturise your skin with a moisturiser that suits you. It may or may not be a light one, depending on your skin type. You can try Dabur Gulabari pearl fairness moisturiser which comes with the goodness of saffron and turmeric. Night-time is the best to leave the skin with a moisturiser on as there's plenty of time to absorb the cream without it being washed away. This is the most important step as it leaves you with a soft and glowing skin.
Make sure you follow these skin care tips for yourself or your daughter because good habits are best inculcated early. The softness of glowing skin in these years is worth saving for the future.
Read Also:
---
*
Fields are required. Make some cool noise, please don't spam and your voice will be heard.
Was this Article helpful?