Secret Skin Fairness Tips For The Summer
Secret Skin Fairness Tips For The Summer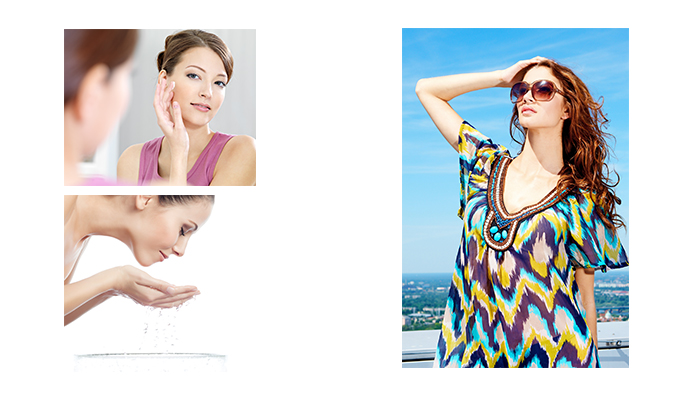 As the summer rages on, protect your skin so you don't have to suffer from the season's skin problems. Every season has its effects on skin, some good and others damaging. With the change in season, your skin goes through a lot of changes, for instance, the summer heat strips your skin off the much needed natural oils making it uneven and dry. But your skin needn't take the brunt of the heat this season. We have some special
beauty tips
and neat ways to tell you how to keep skin healthy, even as the mercury continues to rise.
Freshen up your face.

 

 

It's important to keep your face dirt and grime free by keeping the pores of your face closed by using a toner, freshener or rose water. Try Dabur Gulabari Premium Rose Touch Face Freshener. Its natural cooling properties make it an excellent toner and homemade tip for glowing skin especially for the hot season.

Keep yourself hydrated.

Due to the excessive heat, your body loses a lot of moisture. And in order to replenish that moisture, it becomes extremely important to drink a lot of water. You can also eat fruits and vegetables which have high water content. These will not only keep you hydrated but will also nourish your body and skin

Avoid the sun.

 

 

The sun's harmful rays can have a very harsh effect on your skin, so try to stay indoors between 11am and 3pm. That's when the sun's rays are the strongest and can have an adverse effect on your skin. In case you have to step out, make sure that you put in some sunscreen with an SPF 15 or above. Make sure that you apply it 20-30 minutes before you step out and if you've been out in the sun for a long time, re-apply it within every 3-4 hours for a continuous protection.

Say no to aerated drinks.


In summers people get hooked on to grabbing a soda or a nice chilled cold drink to quench their thirst. However, it's always better to keep in mind that these drinks are full of sugar and are not good for your skin and health. If you ever feel thirsty, drink some water, fresh lime, fresh fruit juices, aam panna or coconut water to stay hydrated. It's the best homemade tip for glowing skin that also helps avoid those unnecessary sugar and caffeine that only reduce water from your system.

Don't forget to moisturise.

 

 

If you thing that it's important to moisturise your face in summers, you're making a big mistake. Moisturising plays a vital role in keeping your skin soft supple and hydrated, all summer long. Try Dabur Gulabari Moisturising Lotion.

Clean your face twice a day.


Whenever you step out in the sun, the heat and pollution accumulate over your skin and make it look dull and unhealthy. Even if you've been home all day and feel like your skin is clean, it's very important that you cleansing and moisturising your skin before sleeping. This is very important if you want to know how to be fair naturally.

Eat. Exercise. Sleep!

To make all the tips above work more effectively, don't forge t to main a balanced diet, work out for 45 minutes every day and get 7 to 8 hours of sleep.
Now that you know that the secret behind having a healthy summer skin is so easy to follow, make sure that you try these out and enjoy the summer glow this season! Also read about
summer skin care tips
and
how to get fair skin at home
.
---
*
Fields are required. Make some cool noise, please don't spam and your voice will be heard.
Was this Article helpful?