How To Treat Different Types Of Acne
How To Treat Different Types Of Acne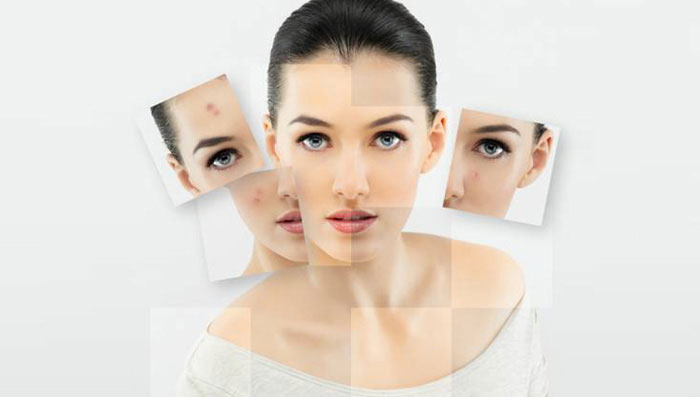 sky skin problems always seem to have bad timing! They come up unannounced when you least expect it. If it's your forehead, you cover up with a fringe but what do you do when it's on your cheek or nose or chin? Different types of acne need to be dealt with in different ways. Yes, not all acne can be treated the same way. Read on for skin care tips and natural solutions that help you combat these everyday situations effectively. Let's start from the top:
Forehead
One of the very common types of acne, forehead acne can be of different types – pesky red spots, blackheads, bumps, etc. All of which occur due to clogged pilosebaceous glands that still continue to produce oil. A common thing that people do when they have a sighting on their foreheads is that they scrub. And that's a big no-no, because this only aggravates the situation. What you need is a gentle cleaner (check if the ingredients list retinoids) and the abundant use of simple, natural, herbal face pack. Here's one you can use – multani mitti and Dabur Gulabari Rose Water. It's safe, can do you no harm and super effective too!
Nose
Again a very common are where pimples pop up, the nose, being a part of the T-zone is notorious for acne. Difficult to get rid of, this type of acne tends to swell up fast, but they also disappear just as fast. Our skin care tip to you is to refrain from picking and pricking, you don't want to be left with an almost permanent acne scar!
Cheeks
Breakouts of your cheeks are pretty common on teens going through the sebaceous puberty cycle and men. These can be treated like forehead acne. Apply a homemade pack made of multani mitti, sandalwood powder, lemon juice and Dabur Gulabari Rose Water. Just follow these skin care tips and steps:

Step 1 – Mix all the ingredients to make a smooth paste.
Step 2 - Apply this mask on your face
Step 3 - Leave it on for 15 minutes
Step 4 - Wash it off with cold water

Not only with this mask cleanse your skin, it will cure pimples and give you glowing skin.
Chin
Pimples on your chin can only mean one thing – your hormones are acting up! This could also mean that your acne is genetic. So you can't do much to prevent it, but you can follow our skin care tips to keep your skin in check. Stuff like drinking more water applying tea tree oil to control the breakout and maintaining a clean diet.
Back & Chest
Acne on these areas tends to be more widespread and difficult to treat. There are many reasons why this kind of acne pops up. Before checking with a dermatologist, it's important to rule out all causes and try to sort it yourself. Firstly, if you have dandruff or a flaky scalp, it could be brushing off its bits on your skin and causing breakouts. The other reason you have zits on your back and chest could be because you might be allergic to the fabric you wear. There are many other reasons, but how does one treat this issue? Avoid soap and use a body ubtan made of multani mitti and turmeric, and continue it even after your skin clears up. Also remember to keep your skin dry and oil-free. If the problem still persists, see a skin specialist.
---
*
Fields are required. Make some cool noise, please don't spam and your voice will be heard.
Was this Article helpful?