How to get a perfect look for Valentines Day
How to get a perfect look for Valentines Day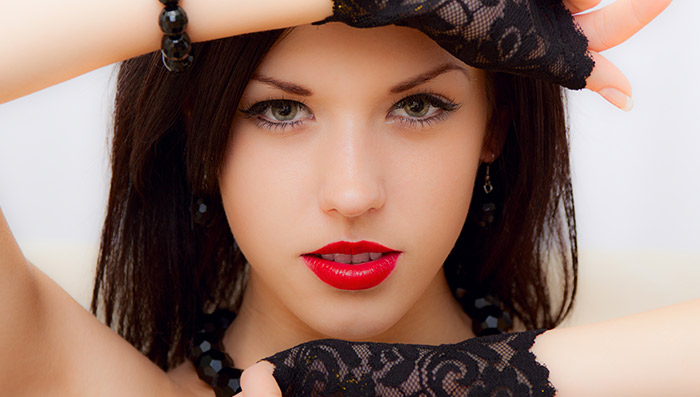 Stepping into the love month; everyone gears up to take some special look. And if there is someone special a lady wants to impress, then the preparations get double. Well! There is no such occasion where ladies miss a chance to look great but Valentine's Day holds a special place in every lady's heart. If there is someone special in the girl's life then surely she want to look perfect on the Valentine's Day. And off course the thought of how to get a perfect look for Valentine's Day will start making rounds in head as soon as the love month starts. But worry not ladies; there are hundreds of simple and
natural beauty
ideas that will always prove magical.
Every bit matters a lot on the special day but the skin takes the lead in the list of beauty care. Flawless skin is very important to give the right confidence and make a jaw dropping impression on the partner. Skin is the most important and the first thing to be looked after in taking a perfect look. Being the first and most important job; skin pampering is a difficult task. Wondering why dealing with skin is difficult? It is because skin is the only thing, which suffers most of the harm of environment and exposed to various harmful particles in environment. Good skin is a must thing to look good on any occasion. As there are a lot of natural problems that have to be faced by skin on regular basis, a disciplined skin care regime is must for every girl. Hair removal is an every month expense for every lady. Rushing to the parlor for getting skin waxed is a pain for every girl.
Instead of rushing to parlor to get flawless skin, there are several ways which can make the skin look perfect for any occasion. One easy idea to get rid of unnecessary hair over skin is hair removal cream. Hair removal creams are easy to use and could be used anytime at home. There are plenty of hair removal creams available in market but very few offers the option of anti-darkening. One good option available in the category of anti-darkening hair removal cream is
Fem Anti Darkening Hair Removal Cream Turmeric
. And if someone is a real follower of natural ways then worry not; there are natural ways too for hair removal.
Some quick and easy natural ways to remove hair at home are:
Sugar, Honey and Lemon Mix: All the ladies are very much familiar with parlor wax tins used to wax skin. The mixture of sugar, honey and lemon is no different than the wax used in beauty salons and parlors. The mixture of all three ingredients forms a sticky paste similar to parlor wax. So, don't think that something has gone wrong. To prepare the mixture in right way, take one tablespoon of sugar and one teaspoon of honey and lemon juice respectively. Add all three ingredients together in a vessel and heat the mixture until it obtains a smooth texture. Now to start waxing, powder the skin with either cornstarch or plain flour. After this use butter knife or waxing spatula to apply the warm wax mixture over skin. At the end, cover the wax applied skin with cotton cloth strip or waxing strips with some pressure and pull it with force in opposite direction of hair growth.
Camphor and White Pepper Mix:Camphor and White Pepper are some of the rarely found kitchen ingredient. But if someone loves to get rid of unwanted hair at home then this is a great mixture. Both the ingredients are strong in nature. Hence, the user could feel burning sensation while using this mixture. People with sensitive skin should avoid going by this way to remove unwanted hair. Now to start preparing the mix of white pepper and camphor, grind two tablespoons of white pepper to powder. Now mix two tablespoons of camphor and add few drops of almond oil in it. The mixture is healthy to apply over the skin of hands and legs. Now apply the mix over hands and legs and leave it for 15-20 minutes. At the end, wash off the skin with lukewarm water. At close observation, one could see that with the removal of paste, the hairs over skin are also getting removed.
Ahead of hair removal headache, there are many other tasks to be performed over skin to get a perfect look on Valentine's Day. The other tasks involve removal of dead skin or exfoliation, cleansing and moisturizing skin. To do so there are several
homemade face packs
and
beauty tips
, which can do magic over skin. Below are few face masks to give glowing look by doing the job of exfoliation, cleansing, and moisturizing of skin:
Potato Juice and Gram Flour Exfoliation Mask: Both gram flour and potato are common kitchen ingredient and easily available in kitchen. Together the ingredients works as an amazing exfoliation mask for any skin type. Potato on one side is a good bleaching agent for skin and gram flour on the other side is a great exfoliater for skin and an excellent skin lightening agent. The mask helps in removing dark spots, acne, and even unwanted facial hair. To prepare the face mask, take 4-5 teaspoons of gram flour (Besan) in a container and little amount of potato juice in it. Mix the ingredients well to get smooth paste. Now gently apply the mask over facial skin and neck and leave it to dry for 20 minutes. At the end, scrub off the mask from skin gently and wash skin with normal water.
Rosewater and Sandalwood Powder Cleansing Mask: Rosewater is famous as a natural skin cleanser in beauty world. Many people use it alone to clean off the dirt and impurities from skin on daily basis. And sandalwood powder is used for the purpose of getting glowing skin. Together the ingredients work well in deep cleansing of skin and giving glowing look. To prepare this cleansing face mask, take two tablespoons of sandalwood powder in a container and add enough amount of Dabur Gulabari Rosewater or homemade rosewater to get smooth paste. After mixing both the ingredients thoroughly, apply the mask over facial skin and neck. Now, let the mask dry naturally over skin and then wash skin with cool water. Usage of this mask will give clean skin and refreshing experience to the user immediately after single usage.
Honey and Avocado Moisturizing Mask: To moisturize skin deeply with nature's power, there is nothing better than avocado. Avocado is famous in home remedies world for its moisturizing properties. And above that it is rich in antioxidants, vitamins and amino acids which are highly beneficial for skin. And to double the power of moisturizing, honey is a great companion of avocado. The moisturizing mask of honey and avocado could even turn the dry skin to normal skin texture. To prepare this mask, take out the pulp of half avocado and mash it thoroughly using a spoon's backside. Now add one tablespoon of raw honey to avocado pulp and mix it properly. The paste is ready and is to be applied over face and neck. After its application, leave the mask over skin for around 20 minutes. At the end, rinse off skin with normal water. Did you know that honey is one such ingredient that helps in tan removal? Read more on how to remove tan using honey.
After handling the major affair of skin, it's time to focus on hair to complete the perfect look. Hair is another important issue in looks which leaves many ladies puzzled all the time. And yes how can one get perfect look without pampering her hairs. To repair the damaged hair and to bring some extra shine, putting some extra efforts is very much needed.
Below are some quick home remedies for hair, which will add some shine and repair the damaged hair:
Almond Oil, Banana and Butter Mask for Shiny Hair: Everyone loves to add extra shine to their hair and if it is required instantly than nothing is better than butter, banana and almond oil mix. All three ingredients have their own benefits such as butter adds moisture and softness to hair, banana repairs damaged hair and almond oil adds shine and restores moisture to hair. To prepare this mask, mash one ripe banana and add three tablespoons of Dabur Almond Oil and two teaspoon of unsalted butter in it. Mix all the ingredients well to get a semi-smooth paste and apply the mixture over hair gently using hands. Now let the paste work over hair for around 20 minutes and then do hair wash with a mild shampoo.
Avocado and Egg Mask for Damaged Hair: Though repairing damaged hair is not a onetime process, using avocado and egg yolk hair mask will give dynamic result in first use. Avocado is highly beneficial ingredient for hair with the richness of protein, essential fatty acids, fat, natural oil, and vitamins. It softens the hair and helps in prevention of free radical damage to hair. To prepare this mask, mash one ripe avocado and add one egg yolk and little amount of coconut milk to get thin paste. Apply it on hair and massage the scalp in circular motion for 5-10 minutes and let it work over hair for an hour. At the end, rinse hair with lukewarm water first and then do mild shampoo.
So, ladies the biggest myth of
how to get a perfect look for Valentine's Day
is clear now. The only thing left is to put on your favorite dress and impress the special one.
---
*
Fields are required. Make some cool noise, please don't spam and your voice will be heard.
Was this Article helpful?