Fem Anti Darkening Hair Removal Cream-Turmeric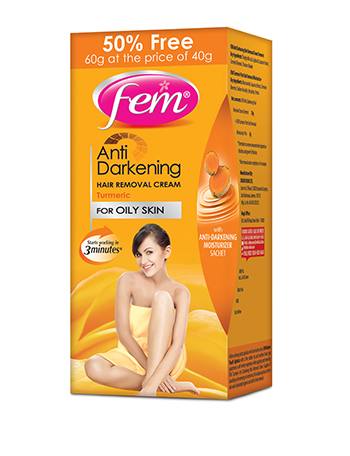 Fem Anti Darkening Hair Removal Cream-Turmeric
Dare to show off your smooth and flawless skin!
Ideal for oily skin, the Turmeric FEM Hair Removal Cream is enriched with Turmeric Oleoresin and Liquorice Extract. Its natural herbal properties control excess secretion of oil and make it the best hair removal cream to give the skin a natural healthy glow.
Benefits of Fem Hair Removal Cream
Anti-darkening effect with every use
Liquorice extracts prevents darkening
Suitable for dry skin
Fem Anti Darkening Hair Removal Variants
Fem Hair Removal Cream - Gold
Fem Hair Removal Cream - Rose
Fem Hair Removal Cream – Sandal
How to use Fem Hair Removal Cream
Make sure that you do a patch test if you're using the product for the first time.
Apply the turmeric hair removal cream evenly using the new FEM Velvet Touch Spatula.
As soon as the hair removal cream's action starts, the hair can be removed in 3-6 minutes (depending on the thickness and growth).
Do not keep the cream on for more than 6 minutes.
Remove the cream with the spatula, rinse thoroughly with plain water and pat it dry.
Gently apply the FEM Anti Darkening Post Hair Removal Moisturiser. Enriched with special skin anti-darkening ingredients, it makes the skin radiant and gives it a silky smooth touch.

---