How To Be Beautiful Naturally
How To Be Beautiful Naturally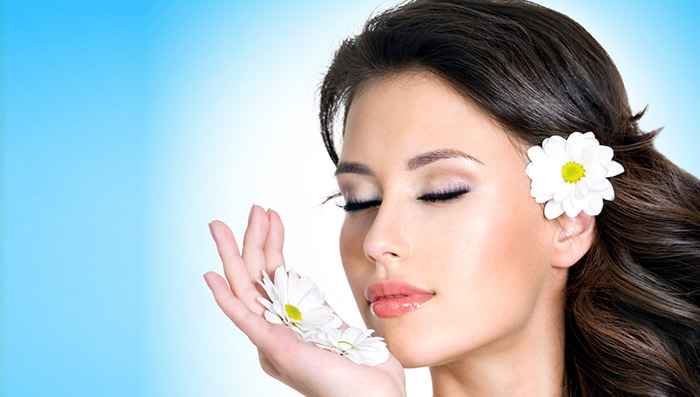 Which woman doesn't desire for effortless natural beauty? The fact is that no two women have the same complexion and skin type. Therefore, no two skin regimes are exactly alike either. But thankfully, there are a few natural products that have the same effect on every skin type and tone, like rosewater.
You may not be a stranger to using a plethora of beauty products; some of which use skin-enhancing chemical products and are contrary to helping you be beautiful naturally. Constantly experimenting with multiple products usually ends up frustrating women with the not-so-satisfactory results after large amounts of investment (time-wise or money-wise). But when it comes to natural skincare, the story is different. That's why homemade beauty tips have survived for generations and is still highly recommended among women. Women have been using and recommending Dabur Gulabari Rose Water because it has always been regarded natural.
For instance – women are using this routine in their daily skin regime: Cleansing their face with Dabur Gulabari Rose Water before going to bed every night. Instantly, they experience freshness and with increased daily use, the face glows more and more, and soon they get the radiant look.
Does natural beauty only happen with a product like Dabur Gulabari Rose Water?
Using natural ingredients to become beautiful is completely a natural way to give you positive and long lasting results but along with that, there are certain things one should keep in their mind. These essential things are some positive thoughts, daily habits and precautions toward skin. Such as:
Think Positive: The first thing to be beautiful naturally is to think positive and believe that you are beautiful. This will put positive energy in mind and body and you will feel more confident about yourself.
Eat healthy: To stay healthy and beautiful naturally, one should first emphasize on their daily diet. It is very important to eat food which is rich in vitamins, proteins and nutrients. This doesn't mean that one can't eat what they want to but yes, the main focus should be on minimizing the intake of sugar, fat and calorie rich food. Healthy food for skin includes fruits and vegetables like orange, apple, banana, cucumber, spinach, carrot, tomatoes etc. Also, eating food which is rich in antioxidants is very beneficial for skin.
Drink plenty of water: Water is good for body in every sense and especially for skin. It keeps the skin as well as the body hydrated and gives a special glow to the skin. Hence, one should drink minimum of 8 glasses of water in a day. Water also pushes out toxins and makes skin clear and glowing.
Nap up: In the hustle tussle of daily life, one barely manages to get good sleep. To be beautiful naturally, it is important to give complete rest to the body as well as skin. Good sleep helps in repairing and correcting the dysfunctions in body happening on daily basis. During the sleep hours, the body stimulates blood flow to skin and the collagen production also increases. Try and take at least 6 hours of sleep and touch to 8-9 hours for a healthy sleep. You can also apply a homemade night cream for glowing skin.
Exercise regularly: Exercise is a key to healthy body and mind. Beyond mind and body, exercise is very beneficial from beauty point of view too. Any kind of exercise like jogging, dancing, cardio or anything one likes can help maintain a good body and skin. Exercise helps rejuvenate the body and pulls out toxins from skin through sweating and other mechanisms depending on the type of exercise. Hence, try to be regular to exercise and maintain healthy body and beauty simultaneously.
Follow a personal beauty regime: Apart from all the good habits one should incorporate in their lives, following a personal beauty regime is a great action plan. Understanding the needs of your skin and then preparing a beauty regime to fill up the gaps in requirement is very important. Tasks such as exfoliation, moisturizing, cleansing etc with as many natural beauty products is the best personal beauty regime.
Spare makeup: Using make up occasionally is fine but using it on regular basis is harmful for the skin. Makeup contains certain chemicals and every time one applies makeup, it is a chemical torture to skin. Hence, spare makeup as much as possible and try to go by some natural tip to get makeup glow. Also, always remember to clean makeup before going to sleep.
Now that you have covered the goodwill tips for a healthy body and beautiful skin, it's time to dial into the abundant natural remedies and beauty tips that can bring glow and radiance over skin, naturally. One universal favourite with any woman of any age across India is the homemade face pack. Below are some homemade face packs that use natural ingredients and can be combined with the powerful natural rosewater (we recommend Dabur Gulabari Rose Water). Some of these you probably use or have tried:
Tomato face pack: Did you know the common kitchen vegetable tomato, is very good for skin, especially oily skin complexions. The acidic nature of tomato and its inherent vitamin A and C helps in reducing pimples, acne, shrinks the widened pores of oily skin and enhances the overall health of the skin. To prepare this multiple benefit face pack of tomato, make a paste of one tomato and mix half tablespoon of lemon peel powder and few drops of lemon juice in it. Now, apply the pack over facial skin and let it dry for 15 minutes. In the end, use lukewarm water to rinse face and pat the face dry with Dabur Gulabari Rose Water to tighten the skin pores and leave a sense of freshness.
Oatmeal face pack: For complete cleansing and exfoliation of skin, there is nothing better than an oatmeal face pack. Oatmeal is a natural exfoliator which is very powerful in removing dead skin cells, impurities from clogged pores and acne and pimples over face. To make an amazing oatmeal pack, take half tablespoon of oatmeal and soak it in water for some time. After taking out the soaked soft oatmeal, mash it in sufficient quantity of milk to get granular texture paste. Apply the pack over face and let it dry for around 15 minutes. Use cold water to rinse face in the end. Wait 10 minutes and use Dabur Gulabari Rose Water to refresh the skin.
Mint (Pudina) face pack: Everyone knows that mint is filled with menthol and it has a cooling and refreshing effect. When combined with Dabur Gulabari Rose Water, this homemade facepack is the ultimate refresher pack perfect for the summer season. Apart from refreshing experience, menthol has anti-bacterial properties, which is beneficial in controlling excess of sebum production and removing extra oil from the skin. Presence of vitamin A in mint helps in improving the skin texture and strengthening skin tissues. Using mint face pack has various benefits such as it reduces scars, itching and skin infection. It also smoothen the skin and reduces oiliness. To make a mint face pack at home, dry handful of mint leaves for a few days and obtain it in powder form. Now add Dabur Gulabari Rose Water in to the powdered mint leaves. Now apply the face pack over facial skin evenly and leave it for 2 hours. In the end, use normal water to clean skin.
Yeast face pack: Yeast is rich in vitamin B, selenium, proteins, and chromium which are very healthy for skin. Yeast helps in protecting skin from sudden weather changes and especially in autumn season. To make yeast face pack, take two tablespoons of milk cream and mix one tablespoon of breweries yeast in it. The pack is ready to apply over face. Make sure to keep the pack over face for 20 minutes. Remember not to wipe or rub face with any towel or tissue unless it dries naturally. In the end, wash your face with lukewarm water first and then with cold water followed by Dabur Gulabari Rose Water to soothe the skin.
Sandalwood face pack: Sandalwood is an amazing natural ingredient suitable for all skin types. It helps in reducing sun tan, soothing sun burns and curing skin blemishes. All thanks to its anti-inflammatory and astringent properties. Combined with fenugreek and milk powder, sandalwood can make a face pack to fight blemishes. To prepare it, take one tablespoon of milk powder, sandalwood powder, and barley powder and half tablespoon of oatmeal, wheat germ and fenugreek powder. Now, let the oatmeal soak in water for about 10 minutes. After this, mix all ingredients properly to get an even paste and apply it over facial skin. Wash face after 15 minutes with lukewarm water. For the extra soothing effect, use Dabur Gulabari Rose Water as well. Read more here on how to remove tan using Sandalwood.
Homemade face packs are loaded with lots of goodness for every skin type and usually don't have side effects. Only thing one should keep in mind before using any face pack is that they are not allergic to any of the ingredient used in pack. If so, avoid using that particular face pack over skin or try and to find substitute of that ingredient.
Read Also-
How To Get Instant Fairness
Home Remedies for Glowing Skin
How to Get Fair Skin in Summer
---
*
Fields are required. Make some cool noise, please don't spam and your voice will be heard.
Was this Article helpful?