Avocado For Glowing Skin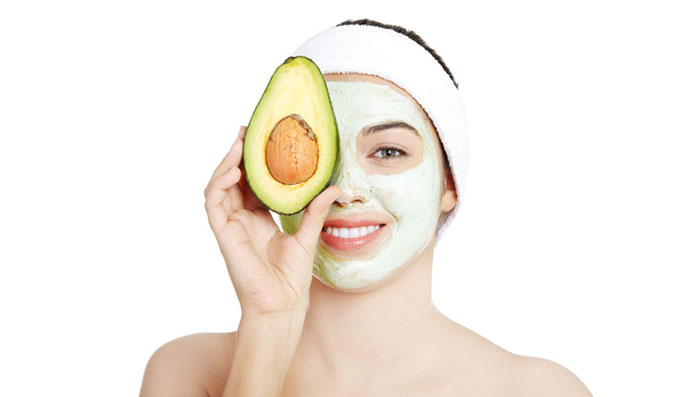 Avocado, butter fruit or alligator pear – call it whatever, this fruit is known for miraculous health and beauty benefits. With over 25 vital nutrients, essential proteins, fibres and phytochemicals, avocado works wonders for your skin and hair (check out our article on why
avocado is great for your hair
), read on to learn skin care tips using avocado:
The wonder fruit lightens age spots and marks, protects the skin from toxins that cause premature ageing, reduces wrinkles and gives your skin a lovely glow.
Avocado moisturises and hydrates dry skin thereby reducing the appearance of fine lines on the skin. As a natural source of good fats, avocado supplies fats to the skin, keeping it supple, radiant and glowing.
The butter fruit can be a natural sunscreen for your skin too. It helps in protecting your skin from the harmful UVA and UVB rays and acts as a remedy for sun burns.
Packed with antioxidants, avocados protect your skin from damage and improve your complexion by giving it a beautiful natural glow. Avocado will make your skin fair & glow from within. Learn more about how to get fair skin using avocado.
Avocado oil is a great skin nourisher! It penetrates deep into your skin, gets easily absorbed, leaving it well-nourished and baby-soft. The oil promotes circulation in the body and thereby accelerates new cell generation.
Regular intake of avocados can control breakouts on your skin and keep your skin soft, supple and smooth. It also removes dead skin by deeply penetrating into the skin to restore nutrients.
Now that you know how good avocado is for your skin, let's see how to use it in homemade beauty recipes.
Avocado facial cleanser: You can make a cleanser at home! Really, it's simple. All you have to do is mix half an avocado with egg yolk and half a cup of milk, beat it all together to form a smooth lotion-like consistency and use the mixture to cleanse your face. The mix doesn't just remove the toxins from your face, it also makes it look young and radiant.
Avocado moisturizing mask: The nourishing nature of avocado along with its antiseptic quality, make it a great ingredient for a moisturising mask. Add honey and yogurt to it and slather the mixture on to your face for skin that's soft, supple and devoid of dry spots. Remember to follow our skin care tip and rinse it after 20 minutes with trepid water.
Oily skin avocado mask: If you thought avocado was only for dry skin, here's a mask for oily skin. You'll need lemon, egg white and mashed avocado – blend it into a smooth paste and apply it on your face, keep it on for 15 minutes and rinse with warm water. The lemon in the mask acts as a natural astringent and controls oil secretion, the egg white nourishes your skin and avocado balances the mixture.
Avocado body butter: Why limit the usage of avocados to just your face, the nourishing fruit makes an awesome body butter. You'll need a very ripe avocado for this. Scoop it out, mash it up and apply the paste on rough areas of your body like knees, heels and elbows. Let it stay on for half an hour and then wash off with cold water.
Avocado hand scrub: Apart from being a good body butter, avocado could take care of your hand too! Mix lemon juice, oats and some avocado oil, use it to exfoliate your hand, wash and then moisturise with Dabur Gulabari Moisturising Lotion. You'll be left with smooth and soft hands.
Say yes to avocado and if you found this article on
daily beauty tips
with avocado useful, do drop in a comment below to tell us what you think.
Read More Tips On:
How to get glowing skin naturally at home

---
*
Fields are required. Make some cool noise, please don't spam and your voice will be heard.
Was this Article helpful?