Amazing Health Benefits of Coconut Oil
Amazing Health Benefits of Coconut Oil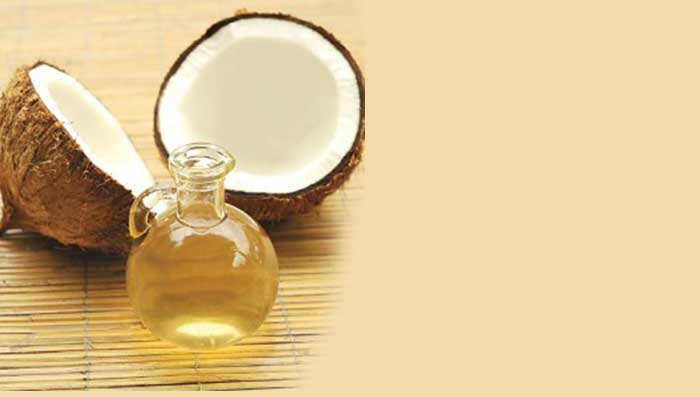 All coastal areas are familiar with the goodness of coconut and coconut oil. Not only as edible oil, but coconut oil is renowned as a hair tonic and skin softener A day in coastal areas is incomplete without the use of coconut oil in cooking, conditioning or health care. So let's find out the reason for it.
Composition of coconut oil
The ingredients of coconut oil contribute to its beneficial properties for the skin, hair and health. All of these magic components make it the hair and skin tonic that you all desire.
Saturated Fats: These fats help in minimising moisture loss through the pores on skin.
Vitamin-E: It is essential for healthy skin growth, repair of wear & tear on the skin, keeping skin smooth and protecting against cracking.
Capric/Caprylic/Lauric acid: These three fatty acids lend coconut oil disinfectant and antimicrobial properties. Moreover, they are easily broken into chains of fatty acids and hence release lots of energy. This means that it is great for weight loss.
Proteins: They keep your skin healthy and rejuvenated. Proteins also contribute to cellular health and tissue repair, along with a wide range of other essential activities within the body.
Another property of coconut oil that makes it so beneficial for the body is that it does not become rancid unlike other oils. This makes it last longer. Now let's see the uses of coconut oil for health, skin and hair.
Coconut oil for health and natural beauty
A healthy lifestyle is the key to natural beauty. And using gifts of nature for your natural beauty is sure to promote health and nutrition as well. Now we will learn the many benefits of coconut oil for our health and how to use it to enhance our natural beauty.
Use coconut oil as cuticle oil. Wash your hands thoroughly with soap and water. Apply coconut oil to cuticles. A pea size amount is enough per hand. Rub into cuticles until fully absorbed. It will make your nails lustrous and cuticles healthy.
Coconut oil can be used to treat eczema and other mild skin infections. Rub coconut oil over dry, inflamed patches of skin to soothe the itchiness and moisturise the area.
Reduce the appearance of scars and blemishes with coconut oil. Rub a liberal amount of coconut oil over your scar twice every day. Over time you'll see the scar reduce in size and blend in with your skin.
Coconut oil is highly recommended by beauty experts as an deep conditioning hair mask. Try it at home with Vatika Enriched Coconut Hair Oil.
You can use coconut oil as a massage oil. You can scent coconut oil with a few drops of essential oils like lavender or rose, and then rub it all over your body for sensual homemade massage oil.
If you use coconut oil in cooking, it helps in boosting your immunity and adds sumptuous flavours and aroma to the food as well
Also read
Best Hair Regrowth Oil for Indian Hair
Benefits Of Coconut Oil For Hair

---
*
Fields are required. Make some cool noise, please don't spam and your voice will be heard.
Was this Article helpful?