Amazing Benefits of Mango for Health and Skin
Amazing Benefits of Mango for Health and Skin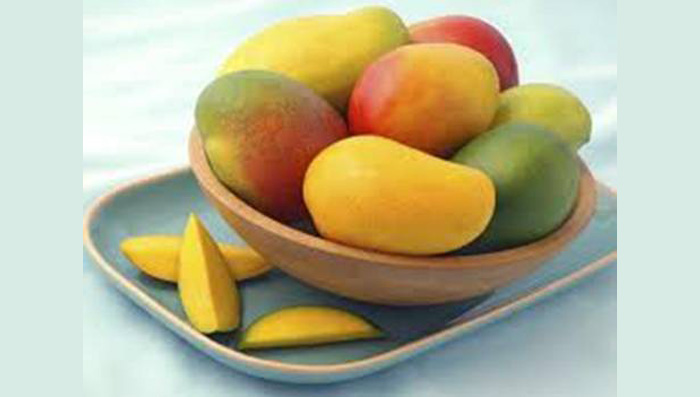 Mango is not just a delicious, juicy, fibrous and pulpy fruit. Its the king of all fruits. And it's only fair if it gets its due share of respect and fame. So today we'll give you some natural skin care tips related to glorious mangoes and explain how they can give us a glowing skin and flawless health.
Mangoes for Good Health:

It contains a high amount of fibre and Vitamin C which helps in bringing cholesterol levels down.
It contains a high dosage of Vitamin A or Retinol which helps protect eye sight.
Since it is fibrous, it helps in digestion and increases metabolic rate.
Mangoes contain a high amount of Vitamin C which helps maintain a healthy immune system.
It is an excellent antioxidant which helps in cell rejuvenation and repair. It detoxifies the skin from inside and prevents acne.
Mango is rich in folic acid which helps in improving fertility.
Mangoes for Glowing Skin:

Our mothers and grandmothers have always told us that eating mangoes can cause pimples. However, the surprise is that mangoes can be used to remove blackheads! Prepare a scrub by mixing one spoon of mango pulp, half spoon of milk, Dabur Gulabari Rose Water and honey. Rub it all over your face in a circular motion. This will help in removing dead skin and blackheads and will give you glowing skin as a result.
The antioxidants present in mangoes help in anti-ageing and removing dead cells. They also protect against harmful free radicals which can cause skin cancer.
Vitamin C helps in curing pimples and acne. When applied directly, it smoothens out your skin and acts as a natural moisturiser.
Vitamin A present in mangoes is a vital nutrient for maintaining a healthy skin and complexion. Mango skin is used for de-tanning. Rub your skin with mango peels and apply some cream of milk mixed with rose water on it. Wash off with cold water after 15 minutes. Follow this twice or thrice a week to reduce tanning drastically.
Mango is a great exfoliator. Prepare a mask by blending peeled mango, whole milk, powdered almonds, crushed oats and rose water in a blender. Apply on face and neck for 20 minutes and rinse with lukewarm water.
Go on and indulge in the goodness of mangoes while the season lasts. We hope that you enjoyed these natural skin care tips and will try out the recipes mentioned above for a healthy glowing skin.If you know of any other recipes, then please share it with us and several other ladies for good skin karma!
We hope that you enjoyed today's tips for beautiful skin and fairness tips. Now make sure that the moon sparkles all over the sky and no clouds can overshadow it!
---
*
Fields are required. Make some cool noise, please don't spam and your voice will be heard.
Was this Article helpful?