What Vitamins Are Good For Hair Growth And Thickness?
What Vitamins Are Good For Hair Growth And Thickness?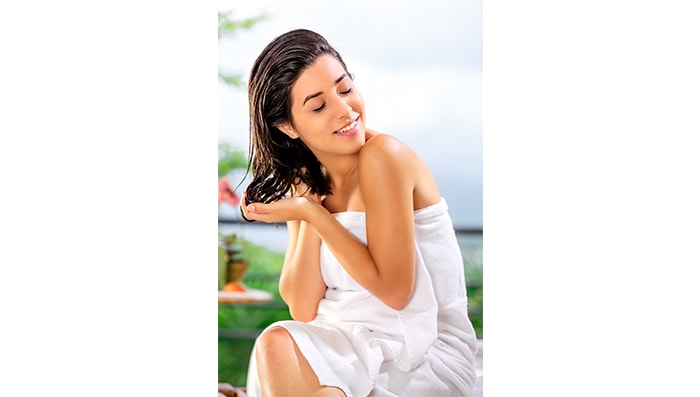 Hair is considered one of the decisive factors for beauty in the world over. For some, beautiful thick hair is the sign of good health and beauty. We cannot deny the fact that the whole world is obsessed with hair and that is why hair products are in demand all year long. The number of hair studios and salons are growing at an exponential rate and in the future, we will see more and more coming up. People take a lot of measures to have and retain thick lush hair. Well, to be honest caring for your hair is a tedious and elaborative task. You need to take care from inside and out. Just by going to the salon will not help, you need to have the right diet, sleep, an exercise regime and most of all, live tension free! For that, we need hair vitamins to have thicker healthy hair. You must have knowledge about some important hair growth vitamins.
Video:
Vatika Enriched Coconut Oil For Hair – Reduce Hair Fall By 50%| MyBeautyNaturally
The most important factors for a good healthy hair are taking the right kind of diet, which must include vitamins. You must know which vitamin is good for hair growth. And it all depends on how you are having thehair vitaminsfor thicker hair. You will be surprised to know that most hair vitamins are found in the natural products such as fruits, veggies, milk, fishes and eggs. Some of them can be more effective than supplements. Then again, it is always wiser to take natural products in order to avoid side effects. Biotin is known as best hair vitamins.
If you want to have a beautifully smooth hair, these hair vitamin enriched products can be handy. All these products are full of hair vitamins for thicker hair growth. Biotin is one of the best vitamins for hair growth. It is essential as it encourages the production of the protein, which stimulates new hair growth. Not only that, Biotin gives you a smoother and softer hair by protecting from dryness, dandruff and breakage. If you are worried about your thinning hair, Biotin can accelerate the growth and repair your hair damage.
In order to gain thicker hair, proper nourishment is required along with the best vitamins for hair growth. Listed here are some of the best vitamins for hair growth. Learn about them and apply the same to get a thick hair naturally.
Vitamin A for Hair

Our body cells need Vitamins for growth and it also includes hair, the fastest growing tissue in the human body. This vitamin helps in skin glands to make an oily substance called sebum, which moisturizes and keeps scalp and hair healthy.

Vitamin A is a good hair growth vitamin, which must be included in your diet, but be careful! Overdosing can cause hair problems also. Vegetables like sweet potatoes, pumpkins, spinach and kale are high in beta-carotene, which turns into Vitamin A. This particular vitamin can also be found in animal products such as milk, eggs and yoghurt. Even cod liver oil is also a good source of this vitamin for thicker hair growth.

Vitamin B for Hair

Biotin is one of the best hair vitamins. Biotin is known for its hair growing abilities. This is one of the vitamins for thinning hair. It repairs and improves the health and texture of the hair. Biotin is the wonder for gaining hair volume and thickness. It aids in the production of fatty acids within the cells and facilitates their growth. It works in the collaboration with amino acids, which are the building blocks of proteins.

Biotin is a water-soluble vitamin and when taken on a daily basis ensures healthy hair. There are many products available, which are rich in biotin. Proper intake and even external application can give you healthy and bountiful hair. For natural intake of biotin, you can avail mushrooms, avocados, eggs, salmon, peanut butter, cauliflower, raspberries, walnuts and almonds, you will get vitamins needed for hair growth.

For external usage of biotin, you can take Dabur Almond oil, which makes your hair thick and shiny. Dabur Almond oil protects hair from damage and deeply moisturizes your hair making it softer, smoother and shinier. It also strengthens hair from root to tip by nourishing the scalp. For thicker hair use Dabur Almond oil regularly. Read more home remedies for thicker hair at our blog.

Vitamin C for Hair

We all know that citrus fruits are rich in vitamin c and we are all aware that how much it is helpful for our health. Don't be surprised if we tell you that Vitamin C is one the best hair vitamins and daily intake can surely add some goodness in your hair.

Vitamin C is hair vitamin which prevents premature greying and hair dryness. It plays a major role in the production of collagen, a protein that is vital for hair growth and thickness. Vitamin C is a powerful antioxidant, which fights with free radicals and protects your hair from oxidative stress. Vitamin C also helps your body absorb iron and necessary minerals required for hair growth. You can avail vitamin C from strawberries, peppers, guavas, citrus fruits and even yoghurt. Have this vitamin for thicker hair.

Vitamin D for Hair

Hair follicles get sensitive to hormones and vitamin D is a plays an important role in calcium homeostasis, immune regulation and cell growth differentiation. Vitamin D is a vitamin for thinning hair. If you are low on vitamin D, you are likely to experience hair loss. Vitamin D helps create new follicles in the scalp where new hair can grow.It is one of the important hair vitamins.

There are many ways by which you can supplement vitamin D. You can take it through your diet or by exposing yourself to sunlight. Direct sunlight helps to absorb vitamin D quickly so if you are not so concerned of getting tanned, go out and soak some vitamin D. There are foods which are vitamin D fortified like fatty fish, cod liver oil and some mushrooms. Exposing to sunlight has multiple benefits though. You can detox your body and just by sitting in the sun for 15 minutes you can absorb 10,000 units of natural vitamin D. Vitamin D also have role-play in the restoration of the hair cycle. Thus it is an important vitamin for thicker hair.

Vitamin E for Hair

Vitamin E is another important hair vitamin. Vitamin E has a big role-play as an antioxidant, which can prevent oxidative stress. It repairs hair tissues making it essential for hair growth. It also battles free radicals and is one of the best vitamins for hair growth.

Vitamin E locks in the moisture and protects hair from drying out. It regulates blood circulation in the scalp and keeps it healthy. In a recent research, it is shown that a group of people who took vitamin E on a regular basis experienced more hair growth than who did not. Sunflower seeds, almonds, spinach, avocados, fish, peanuts and dried herbs are the main sources of this vitamin. These products will give you the required vitamins needed for hair growth.

Here we want to offer you information that Dabur Almond oil is also rich in vitamin E. Dabur understands the importance of this particular vitamin and thus incorporated its benefits in Dabur Almond oil. On regular application, you will see a noticeable change in your hair growth and texture. This oil will increase the volume and also make it smoother and softer. And who doesn't want to touch a smooth, soft silky shiny hair!

Thus we come to an end of our discussion about which vitamin is good for thick hair growth. Now you have a clear idea which vitamin is good for hair growth and which is necessary for you. We advise you to go natural as this way you will be benefitted more. Hair vitamins are necessary as they will accelerate hair growth and give you the thicker bountiful hair you've always desired.

Follow our blog to read more hair care tips on how to stop hair fall naturally.
Read Also:
flax seeds benefits for hair
Easy Home Remedies For Dandruff
*
Fields are required. Make some cool noise, please don't spam and your voice will be heard.
Was this Article helpful?