7 Home Remedies Using Flax Seeds For Hair
7 Home Remedies Using Flax Seeds For Hair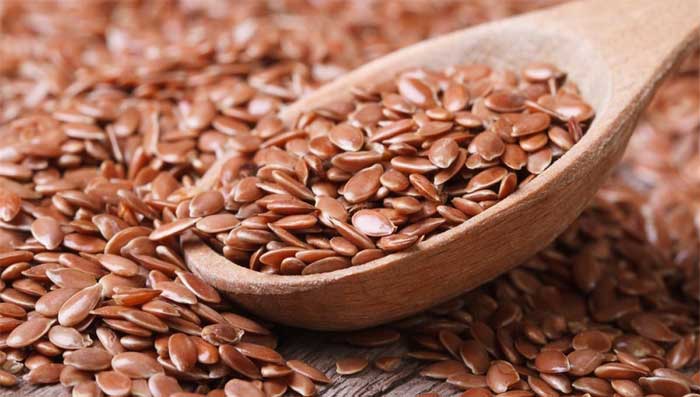 Want to have thick and long hair like Rapunzel? While many costly hair products may not provide you the hair growth quality, there is one natural and amazing hair care tip – using flax seed hair mask! Being super rich in omega-3 fatty acids, flaxseeds are a magic potion for dull and dry hair. They not just revive the health of your hair by boosting their quality but also increase their elasticity and nourish the scalp. Regular use and consumption of flax seeds help in reducing hair problems like dandruff, itchiness and hair breakage. In a nutshell, flaxseeds are natural and sure shot way to get rid of all hair-related problems. Flaxseed for hair also mean strengthened hair follicle and a natural and inexpensive cure to keep scalp infections caused by bacteria and fungi away.
Video:
Dabur Amla Hair Oil for Strong & Beautiful Hair
Flax Seeds Benefits For Hair

Flaxseed benefits for hair are innumerable and its regular inclusion in your hair care regime can give you surprising and really effective results.

Provides vitamin E

A daily dose of flaxseed can be your key to growing thick and strong hair. They are rich vitamin E, which is very important for healthy and naturally shiny hair. It also ensures prevention of thinning of hair, hair fall and breakage. Flax seeds are also a rich source of antioxidants that help in preventing premature hair graying.  

Nourishes hair

Flaxseeds for hair growth is an awesome idea! Wonder why? Because they are packed with nutrients like zinc, iron, omega3 fatty acids, protein and calcium. All of which effectively contributes towards nourishing the hair from deep within and encourage growth of healthy and problem free hair. The presence of all these essential nutrients also ensure nourishment of hair shafts and prevention of split-ends & breakage.

Conditions hair

Hair can be healthy once they are completely nourished and strong. But apart from that, the mane should also be conditioned properly, in a bid to make them manageable. Flaxseeds help in conditioning the hair, making them soft and shiny and ending dryness and frizz.

Moisturizes the scalp

Flaxseed use for hair also include giving you a head full of gorgeous tresses. Regular use of flax seeds helps in conditioning the scalp, keeping them soft and free of infection causing bacteria and free radicals. It also aids in controlling other scalp related problems like eczema & dandruff and prevent premature graying of hair.

Prevents baldness

Flaxseeds help promote hair growth and overcome baldness, especially in males. The seeds nourish the hair roots and follicles making the hair stronger and boost their volume as well. They help in generating new hair cells and repair the ones that have been damaged due to various reasons like pollution, improper diet, unhealthy lifestyle, stress or some underlying medical condition. Here are few tips for long hair.

Flaxseeds can be consumed directly, or used in various masks and packs. Flaxeed hair masks are sure and effective way to treat dull and dry hair conditions. There are few simple and quick hair care tips with home remedies that can be churned out using flax seeds for long and strong hair.

How To Make Flax Seed Gel At Home

Flaxseed gel is said to be the best solution for all kinds of hair problems. It is an inexpensive solution to dry and frizzy hair as it moisturizes and conditions them from the root to the tip and make them silky smooth and manageable.

Ingredients:

2 tablespoons flax seeds
1 bowl water

Method:

Overnight, soak two tablespoons flaxseeds in water
Next morning, in a pan heat 1 cup water
Add the soaked flaxseeds and keep stirring till the seeds have settled at the bottom of the pan
Once the seeds have settled, a thick layer of gel foam will appear on the top. Turn the heat off and let the mix cool down
Strain the seeds and keep the gel in an airtight container
Use this gel to apply on wet hair and keep it on for an hour

Wash it off with a mild shampoo and repeat the process weekly to tame fly aways and frizzy hair

Flax Seed Hair Mask 

Gram Flour And Flax Seed Hair Mask

Gram flour is known to strengthen the hair follicles and roots and with flaxseeds added to it, the hair mask helps in conditioning the scalp, making it bacteria free.

Ingredients:

1 tablespoon flaxseeds
1 tablespoon gram flour
1 tablespoons fresh yogurt

Method:

In a mixer, powder flaxseeds and gram flour together
Add two tablespoons fresh yogurt to the powder & make a thick paste
Apply on the scalp & hair
Cover with a towel or shower cap and leave it overnight
Next morning, wash it off with a mild shampoo
Repeat at least once a week

Coconut Oil And Flax Seed Hair Mask

Coconut oil is like a magic potion that adds lot of strength and shine to the hair while making them stay problem free for long. Follow this home remedies for thick hair:

Ingredients:

Method:

In a bowl mix the powdered flaxseeds along with coconut oil and few drops of fresh lemon juice
Mix it well and apply on the hair starting from roots to the tips, gently massaging the scalp for 10-15 minutes
Leave it on overnight and next day wash it off with a mild shampoo
Repeat the process weekly for thicker and stronger hair

Egg And Flax Seed Hair Mask

To boost your hair's protein power, a mix of flaxseeds and eggs work best. Eggs will add natural shine to them while keeping the scalp conditioned and nourished for long.

Ingredients:

1 egg
1 tablespoon flaxseeds powder
1 tablespoon olive oil 

Method:

In a bowl take flaxseeds powder and add egg and olive hair oil to it
Mix well and make a thick paste
Apply the mix on hair from roots to tips, gently massaging for 10-15 minutes.
Keep it on for 2-3 hours and wash off with cold water followed by a mild shampoo rinse
Repeat the process weekly

Lemon Juice And Flax Seed Hair Mask

Being a rich source of Omega-3 fatty acids and proteins, flaxseeds help in promoting thick hair naturally. Lemons help in keeping off dandruff and maintaining a clean and fresh scalp.

Ingredients:

1 tablespoon flaxseed powder
1 tablespoons fresh lemon juice
Few drops of water

Method:

To the flaxseed powder, add fresh lemon juice and mix
Add few drops of water to make a slightly runny paste
Apply on the scalp and gently massage for 20 minutes.
Keep it on for another 2-3 hours and wash off with a mild shampoo for best results
Repeat the process twice a week

Honey And Flax Seed Hair Mask

Flaxseeds uses for hair are many and among them is combining it with honey to deeply moisturize the scalp and encourage growth of soft and naturally shiny hair.

Ingredients:

Method:

In a bowl combine all the ingredients and make a thick paste
Apply on hair and scalp properly massaging for at least 10-12 minutes
Let it rest for half an hour and wash
Repeat the process once a week for best results

Vinegar And Flax Seed Hair Mask

While flaxseeds help in strengthening the hair roots vinegar aids in cleansing of the scalp and remove dandruff .

Ingredients:

1 tablespoon flaxseed powder
1 tablespoon apple cider vinegar

Method:

Combine apple cider and flaxseed powder in a bow
Apply the paste on hair and scalp and massage for 20 minutes
Leave it on for 2-3 hours before rinsing it off with cold water
Repeat once a week for problem free & beautiful hair
Need more tips on how to use flaxseeds for growth of silky smooth hair? Keep following our blog.
Read Also:
Fairness Face Pack At Home
Monsoon Hair Care Home Remedies ​
​​​​
*
Fields are required. Make some cool noise, please don't spam and your voice will be heard.
Was this Article helpful?