Benefits of Camphor(Kapur) for Hair: A Closer Look on Camphor Uses for Hair
Benefits of Camphor(Kapur) for Hair: A Closer Look on Camphor Uses for Hair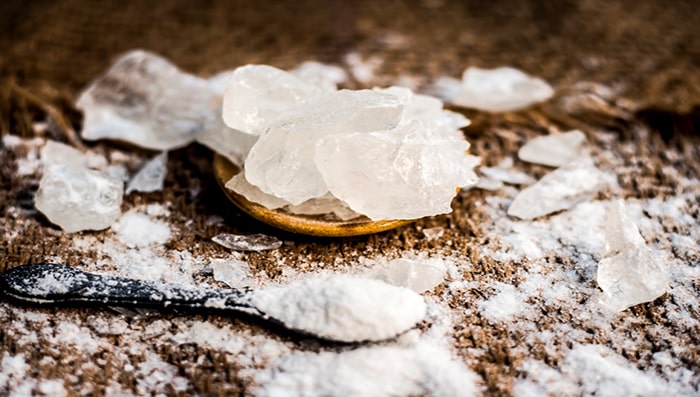 When we think of the word Camphor, the first thing that comes to our mind is small translucent squares that are easily flammable. Camphor is commonly used in the daily puja routines across the country and in all major ceremonies where a fire is lit, big or small.
Video:
Benefits of Almond Oil for Hair / Fix Damaged Hair with Dabur Almond Hair oil
But who would have thought that camphor for hair would be a vital ally to keep your hair healthy, silky and shiny? Another thing camphor is usually associated with is with preserving winter clothes and keeping them bug free.
But is camphor good for hair? Read on to find out several hair care tips and more about why camphor is good for hair.
Camphor for Stronger Hair

A lot of factors come in play when it comes to the deteriorating quality of our hair. Nutritional deficiencies, added stress and pollution can make hair weak, but camphor oil benefits us in the following way to lend strength to our hair.

How Do We Go About It?

Benefits of camphor for hair can be utilized best with a raw egg. Combine camphor oil and a raw egg and apply it your hair, especially the roots. Leave this concoction on for 15-20 minutes and wash it away with a shampoo and lukewarm water and experience the results for yourself.

Camphor and Coconut Oil for Hair Growth

Camphor for hair loss and balding is a godsend, as a receding hairline and thinning of hair does affect our self-worth and confidence. Coconut oil with camphor is the perfect combination to solve this problem. Massaging with camphor oil is very good solution to control hair fall and is a blessing to combat hair fall.

How Do We Go About It?

Mix equal amounts of Camphor and Coconut oil and use this concoction to massage deep into the roots of the scalp. Keep this combination in your hair for up to 20-30 minutes. After this, wash thoroughly with a shampoo and repeat this exercise regularly in the week to reap the benefits of camphor for hair. Read more on how to do oil massage for hair.

Camphor for Hair Growth

While the benefits of camphor oil assure to combat hair loss, camphor oil benefits also extend to accelerate hair growth. So flaunt your long hair and make heads turn, reap the benefits of camphor for hair with this easy to make and easy to use concoction.

How Do We Go About It?

Use essential oils along with camphor oil or your favorite Vatika Hair Oil variant and mix with camphor oil.

Massage this solution deep into your hair. Additionally, prepare a hair mask of camphor oil, yogurt and eggs. Use this hand concoction for at least once a week to get significant results.

You will notice while going through this piece that camphor and coconut oil go very well hand in hand. Camphor and coconut oil go even better when you choose Vatika coconut oil for your everyday needs.

Camphor for Softer Hair

There are so many ways because of which our hair get damaged. Pollution, sweating and neglecting hair care can lead to rough hair. But never fear, camphor for hair benefits is here.

How Do We Go About It?

Camphor oil and olive oil go well together and also go together very well. Ensure the two are mixed together well and apply generously to the roots towards the scalp.

Camphor for Dandruff

Those unwanted snowflakes on our shoulders are always an unwanted sight. But camphor for dandruff is the answer. Dandruff is caused because of many reasons, mainly because of undernourished scalp and other dryness problems cause the same. You can use camphor for dandruff in the following ways

How Do We Go About It?

Its as simple as eating cake, just apply camphor oil religiously and follow it up with healthy eating and lifestyle practices. Notice your shoulders being devoid of dandruff and the smile on your face getting wider.

Camphor for Itchy Scalp

When dandruff comes, it is closely followed by an itchy scalp. An itchy scalp never helped anyone but camphor for hair can solve that problem.

How Do We Go About It?

Be careful with this procedure as camphor has the tendency to burn when applied to a raw or a dry skin is or scalp. Make sure the skin is not inflamed as application of camphor will cool your scalp and reduce itching greatly.

Camphor for Lice And Bugs

Be it kids or grown-ups, the occurrence of lice is very clear and present in today's time. Thankfully, camphor benefits for hair also help in keeping lice and other bugs at bay.

How Do We Go About It?

Again a very simple solution to reap camphor benefits for hair. All you need to do is mix camphor oil in your bathing water and watch it cleanse and disinfect your scalp and body. It not only kills lice but also prevents their larval stage and stops the beginning of an infestation.

Camphor for Grey Hair

Have you spotted a rogue grey hair while styling them? Do they have partners around your scalp? Rest assured a camphor hair tip is all you need to stem the flow.

How Do We Go About It?

This solution is not as simple as it sounds so pay close attention. Gather some hibiscus flowers and use some virgin coconut oil. Ensure the virgin coconut oil is boiled and boil the flowers with them. After visible boiling, turn off the heat and put some camphor tablets (TWO to be specific). Wait for the solution to cool down and massage it thoroughly into the hair and scalp.
Follow this routine religiously and you will notice the slowing down in the growth of grey hair.
While camphor benefits for hair are aplenty, do ensure you have a quick fix which is available to you at every store and even on e-commerce platforms. It is your go to for hair problems,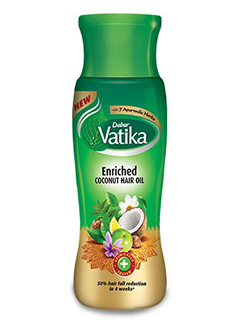 your go to for hair nourishment, it is none other than Dabur Vatika Hair oil and its range is made of one thing and one thing only, hair care.
Read Also:
How To Get Rid Of Dandruff
How to Grow Long Hair Naturally
*
Fields are required. Make some cool noise, please don't spam and your voice will be heard.
Was this Article helpful?