What are the Benefits of Almonds (Badam) for Health, Skin & Hair?
What are the Benefits of Almonds (Badam) for Health, Skin & Hair?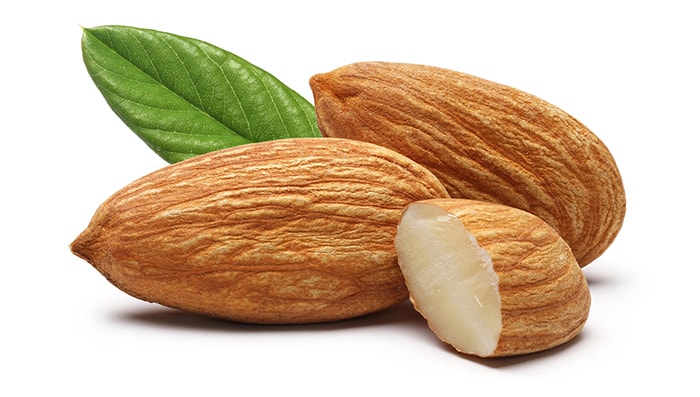 Almonds always have been luxurious in terms of its benefits and fortune. Not only almonds possess multiple benefits, but it also believed to bring good fortune in many countries.
Video:
Benefits of Almond Oil for Hair / Fix Damaged Hair with Dabur Almond Hair oil
Below are the Benefits of almonds divided into sections:
Health benefits of almonds, skin and hair. Even if we do not believe the later part but we cannot ignore the unlimited benefits of almonds provide. In Middle-east countries, Almonds are used in various food items. From bread to desserts, almonds remain the icing of every cuisine.
Almonds or Badam as it is known is rich in proteins, magnesium, potassium, calcium, zinc, fibre, omega-3 fatty acids, omega-6 fatty acid and Vitamin E. This nut helps in health, hair and skin at a great level. Almonds are used everywhere. They add colours and taste to your desserts. If you add almond to your regular milk, it will lift up the health benefit instantly. Make badam a part of your health and beauty regime and enjoy multiple badam benefits. They are small but play a significant role in your health.
The benefits of soaked almonds, the squishy version is 500 times healthier and it is wiser to eat soaked 4-5 almonds in a day. And if you want to know more, read the below benefits of almond does to your health, hair and skin.
Let us first tell you about almonds. It hails from Middle-East and North Africa and is considered as a super food for the presence of a high amount of nutrients.
Almonds are the most nourishing nut available in the market containing a variety of vital elements.

Almonds have a distinct and delicate flavor which lifts up the taste of any cuisine, be it sweet or savory.

You can have almonds in any form but benefits of soaked almonds are more. If you soak almonds overnight, it eliminates the toxic materials present in its coating, decomposes its gluten content and releases phytic acid.
The health benefits of soaked almonds are unlimited. It plays a major role in every organ of your body. Thus this nut is also called as a wonder food.
Health Benefits of Almonds:

Benefits of eating almonds are that it improves your brain function. Take 4-6 soaked almonds and it serves the purpose of a brain tonic which boosts the functionality of the central nervous system. It reduces cholesterol levels to a great extent.

Benefits of eating almonds are that it churns out the bad cholesterol and the vitamin E in the nut is also helpful in fighting against LDL.

It maintains your heart health as it is a good source of protein and other necessary elements required to keep your heart healthy.

The health benefits of almonds involve various parts of our organ. Being an antioxidant it also combats with fatal heart diseases.

It improves your blood pressure level and also treats acute hypertension. Benefits of almond nuts or badam are that, they are also good for diabetes.

Badam benefits in aiding weight loss and also treat constipation.

Here are some benefits of soaked almonds for health. The health benefits of almonds can be found from drinking almond milk also. And this is vegan milk, so you can reap many benefits of almond milk without feeling guilty.

Almond Benefits for Skin:

Talking about almond benefits for skin. On regular consumption and the proper external application of soaked almonds, you can have wonderful results for your skin.

Apply mashed soaked almonds or badam to your skin and it acts as a natural moisturizer. There are more badam benefits for skin which you can enjoy.

It nourishes and hydrates your skin thoroughly giving you a smooth, soft and supple skin. Get a natural glow with soaked almonds, it repairs the damaged skin tissues, accelerates the formation of new cells.

Almonds also enhance your skin texture and skin tone. Almonds antioxidant properties can eliminate the harmful free radicals and also prevent skin ageing.

Soaked almond can be a very good natural scrub and it also helps in treating skin inflammation, rashes or any kind of skin irritation. Have you ever thought about so many almond benefits for skin!!

Soaked almonds are not only beneficial for your health or skin it also does good to your hair. If it used in a proper manner almond can give you long and smooth hair. Let us have a look at the multiple benefits of almonds for hair. Read more skin care tips at our blog.

Almond Benefits for Hair:

Benefits of almonds as hair mask can be very useful. Soak a few almonds overnight, mash them and prepare a hair mask of by adding a fair amount of olive oil. Apply this mixture to your scalp and hair every day. Read more on how to grow long hair naturally at our blog.

Another benefit of almond milk is that, it is a wonderful natural conditioner that provides you with smooth and healthy hair.

The nutritive element present in the nut along with Vitamin E adds a luster and shine to your hair. The benefits of soaked almonds paste nourishes your scalp hence it is a very good way to revive the hair follicles.

Badam benefits in regulating blood circulation of the scalp which reduces hair fall and makes your hair stronger.

Almonds also repair severe hair damage and improve the hair texture. The presence of omega3 and 6 promotes healthy hair growth. It also controls frizzy hair and delays hair graying.

Almonds are also known as a cure for dandruff and inflammation. The presence of multiple vitamins nourishes the scalp eliminating any type of itchiness and dryness.

One can use almonds in form of oil also, of course, it will be used externally. Benefits of almonds in form of oil are very good for your hair.

Daily massage of almond oil can give you long, thick bountiful hair. You can also do a hot oil treatment with almond oil. Warm some almond oil in a bowl and apply the same to your hair then wrap with a towel. Leave the hair for 30 minutes and then wash it off with regular shampoo. You will notice a visible result of healthy, shiny and smooth long hair.

There are various almond oils are available in the market, we suggest you use Dabur almond oil. This particular oil is enriched with vitamin E and other nutrition which promotes healthy hair growth.

Dabur understands the benefits of almonds for hair and thus they thought to incorporate the amazing benefits of almond to their oil. Say goodbye to split ends with almonds. The antioxidant properties heal split ends of hair. You can either eat 4-5 raw almonds in the morning or have it as almond milk.

Benefits of eating almonds will give you inner strength. You can try using Dabur Almond Hair Oil or any hair mask. With regular usage of almonds, hair damage is minimized and it also protects your hair. This badam is so rich in minerals which are needed for strong root and shiny hair.
Many dermatologists and beauticians prefer almond in the form of oil making it a popular choice. Almonds are also widely known as a nourishing wonder and elixir for hair and skin. Having almonds in any form is beneficial to your health, skin and hair. Do keep them in your diet and beauty regime.
Read Also:
How to Use Beer for Hair & Skin
How to Remove Tan
*
Fields are required. Make some cool noise, please don't spam and your voice will be heard.
Was this Article helpful?