14 Amazing Beer Benefits For Hair & Skin: How To Use Beer For Hair & Skin
14 Amazing Beer Benefits For Hair & Skin: How To Use Beer For Hair & Skin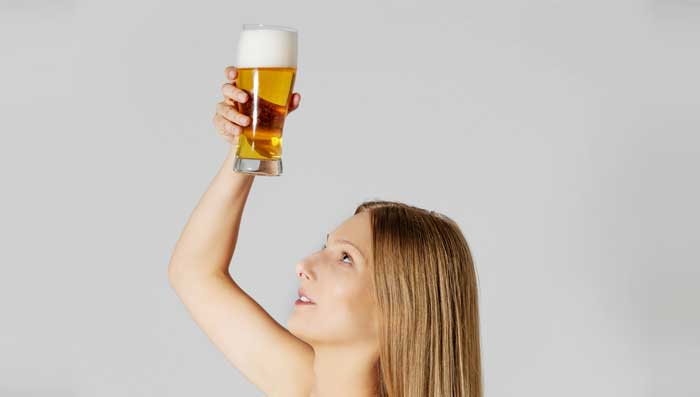 ​​There is nothing like a cold mug of beer on a hot Sunday afternoon or after a long day of work. Pop it open, pour it in a glass and unwind, taste of good times. But did you know that there is more to beer than relaxation and to be in high spirits, it is an excellent source of protein for your hair. Yes beer does wonders to your hair. B​eer generally consists of hops and malt, both of which are excellent sources of protein, which are needed to strengthen and repair dry damaged hair caused by a host of different reasons. In addition to protein, beer consists of many other amazing nutrients such as magnesium, potassium, phosphorous, Vitamins (particularly biotin) and maltose. Biotin prevents hair loss and helps promotes healthy hair growth and also keeps dandruff away, while maltose helps smoothen and tighten up hair cuticles so your locks appear more shiny and full of life. Come let's find out some of these amazing benefits of beer on hair.
Video:
Dabur Vatika Shampoo with Satt Poshan (Power of Seven Natural ingredients)
Beer Benefits For Hair

Makes Your Hair Shine

Beer is made with malt, which is a good source of protein. Malt helps to make your hair shine. If you have dull and lifeless hair, give a beer rinse a try and you will have the luster that you have always wanted.

Adds Volume

Beer consists of active yeast, which helps in plumping up the cuticles of hair that helps in adding the volume. It will add volume to your hair by making them bouncy.

Strengthens Your Hair

Being rich in protein, beer helps in repairing the hair damaged due to excessive use of chemicals, heat and styling. A simple rinse can strengthen the locks. Moreover, it nourishes the hair silently.

For Better Hair Growth

Beer is rich in Vitamin B12, copper, phosphorus, magnesium, iron and anti-oxidants. This nutritious concoction promotes hair growth. Not only this, alcohol is known to fasten the blood movement. As it improves the blood circulation of the scalp, it helps new hair to grow. Read more tips for growing long hair at our blog.

Helps In Getting Rid Oily Scalp

Beer has an acidic PH, which helps in getting rid of oily and greasy scalp. It controls the oil production of the scalp and removes extra pollutants from it.

For Gentle Cleansing

Beer is a great cleansing agent, as it isn't hard on the scalp and since it checks the oil build up, with regular use you will notice that your hair does not require shampooing as it used to.

For Conditioning The Hair

Beer is a great conditioner and helps to control the frizz in the hair by closing the hair shaft. After the shampoo, use a mixture of warm flat beer and some olive oil as a conditioner instead of your regular chemical-rich conditioner. It will make your hair soft!

How To Wash Hair With Beer

There are several ways to apply beer on hair depending on your hair type and needs. There are few steps that one should take while washing their hair with beer. Here are the steps to follow when washing hair with beer:

De-Carbonate Your Beer

Pour a bottle or can of beer into a jug or bowl and let it sit overnight or throughout the day. By doing this we release the carbon dioxide from the beer, this is important because the carbon dioxide combined with water can create hard water which can damage the hair and make your hair look tangle and tough. The presence of carbon dioxide can also hinder the effects of shampoo and make it harder for you to wash your hair effectively.

Massage Your Hair With Beer For 1 Minute

Pour the container or bottle of beer into your hair and lather it onto your scalp. Beer is also very beneficial for your skin as beer sediment or brewer's yeast helps reduce sebum production and control oily skin on your face or scalp. You can also try dipping the ends of your hair with beer first, letting it set in your hair for about 5 minutes before rinsing your entire head with beer.

Rinse The Beer Off With Shampoo

Shampoo your hair thoroughly. For best results use Dabur Vatika Health Shampoo. Beer acts as a conditioner instead. It's recommended you don't rinse the beer off completely to avoid frizziness. If your hair feels frizzy, take a few drops of Dabur Vatika Jasmine Coconut Hair Oil and rub it on the hair starting from top to the roots. It's non-sticky solution that aids in taming frizzy hair while adding shine & smoothness to the hair.

Towel dry your hair afterwards. It may take a few washes before you see you can feel and see results. It's best to only do the beer wash a few times a week as it can be quite drying for hair if used everyday.

Home Remedies Of Beer For Hair

Beer can be combined with different kitchen ingredients depending on your hair type. You can combine beer with apple cider vinegar and lemon juice to clarify oily hair; beer and egg for extra strengthening; beer and honey or avocado to deep condition; or just use beer alone. Always use beer on hair after shampooing, as it isn't a hair cleanser. For faster and better results we recommend you use Dabur Hair care range of shampoos. Here are few hair masks for different types of hair.

Beer, Apple Cider Vinegar And Lemon Hair Rinse For Oily Hair

If you have oily hair, this hair mask helps you get a smooth and shiny look. We recommend Dabur Health Shampoo for nourished hair.

Ingredients

Flat beer 1 can
Water 1 cup
Apple cider vinegar 2 teaspoons
Lemon (juice of 1 lemon)

Procedure

Mix 1 ounce water with 1 can flat beer.
Add 2 teaspoons cider vinegar and the juice of 1 lemon
Mix well
Apply onto hair after shampoo and gently massage your scalp for 2-3 minutes.
Rinse it out with lukewarm water.

Beer And Egg Hair Mask For Hair Strengthening

This hair mask helps to strengthen weak and dry hair. It is good for hair that lacks elasticity and shine. Malt and hops found in beer are loaded with protein, which nourish and strengthens the hair. For better results Apply Vatika Black Shine Shampoo along with the hair mask for thicker, stronger and shiner hair.

Ingredients

Flat beer 1 can
Egg yolk 1
Avocado oil 1 teaspoon

Procedure

Blend 1 egg yolk with about 1 ounce flat beer and 1 teaspoon of avocado oil
Mix well.
Massage onto clean, damp hair, and cover with a shower cap
Leave it on for 20-30 minutes.
Rinse it out with shampoo (dabur vatika black shine shampoo) and conditioner as usual.

Beer And Honey Hair Mask

A beer and honey hair mask leaves your hair smooth and silky and nicely conditioned. This recipe is especially good for dry and normal hair. Honey and beer are extremely useful as they have plenty of proteins and vitamins, which are beneficial for the hair. Bananas help in reducing flaking.

Ingredients

Flat beer half a cup
Honey 1 tablespoon
1 banana
1 egg yolk

Procedure

Fork-mash 1 ripe banana.
Add 1 egg and blend till smooth.
Pour ½ cup flat beer and add 1 tablespoon honey.
Blend to a creamy consistency.
Apply beer and honey conditioning mask onto hair and scalp.
Wait for some time, about 30 minutes or so, and
Wash it out with a mild shampoo. Use Dabur vatika health shampoo

If you don't happen to have bananas and eggs in your kitchen, just leave them out and increase the amount of honey to about 2 tablespoons.

Beer And Coconut Oil Hair Mask

This hair mask is very good for stimulating hair growth.

Ingredients

A cup of beer
1 onion
1 teaspoon of coconut oil

Procedure

Grind a onion in a juicer
Add coconut oil and beer to the onion to make a gelatinous paste
Massage the mixture into the scalp
Leave it on for 20-30 min
Rinse with water and shampoo.

Beer And Strawberry Hair Mask

Read to know on how to remove dandruff using beer. This hair mask is perfect for treatment of dull and brittle hair and also helps in getting rid of dandruff. Use dabur Vatika anti dandruff shampoo for hair fall and dandruff.

Ingredients

3 ripe strawberries
A cup of beer>

Procedure

Fork mash the strawberries and add the beer until you get a smooth paste
Rub the paste into the scalp in a circular motion
Leave it on for 20 minutes
Wash your hair with a mild shampoo for better results

Benefits Of Beer For Skin

Effective Detoxifier

Beer is an excellent source of vitamins and minerals, which help to fight against all the toxin that are built up in our body. Beer works as a wonderful detoxifier and helps in flushing the toxins out of our system greatly. As a result, we get flawless and naturally glowing skin.

Anti-Ageing Agent

Beer contains three major anti aging ingredients namely hops, barley and yeast, which are an excellent resource of antioxidants, that have a firming effect that helps tighten the skin and reduces the first signs of aging. Consequently, our skin becomes healthy, toned and young looking. In other words, beer can help us keep premature ageing at bay.

Treatment For Acne

Beer holds strong anti-bacterial properties that help in preventing and treating acne and other skin infections. The froth in beer has some antibacterial properties that help destroy acne causing germs plus the yeast in beer also helps control the skin's natural production of oil, one of the main causes of acne. So, include beer in your daily skin care routine and say 'good bye' to acne.

Good Skin pH Balancer

An imbalanced pH level of skin can lead to dry or oily skin that could lead to skin problems. Maintaining the correct pH level of skin is extremely necessary for keeping it neutral as well as beautiful shine. Beer is known to be a good pH balancer that keeps the acid-base levels of our skin up successfully so that we do not have to face issues caused by dry or oily skin.

Deep Moisturizer For Skin

Beer not only hydrates our skin cells by inducing moisture into them, but also restores the natural moisture of the skin by up keeping the water balance in it.

Great Skin Softener

It has already been stated that beer keeps our skin hydrated as well as moisturized from within. Therefore, we get soft, supple and radiant skin. Beer is a great source of vitamin B, which helps in maintaining the health and softness of our skin to a great extent.

Potent Pore Cleanser

Beer being alcoholic in nature, beer can work on our clogged skin pores and open them easily. It can draw out dirt, dust, bacteria and all other impurities present within the pores, make our skin clearer and give us a toned look almost instantly.

Homemade Beer Recipes For Skin

Here are some easy do it yourself beer face mask or home remedies for glowing skin that can help you get that glowing and flawless skin. For better results do you Dabur Skin Care Range of products along with these beer face masks.

Beer And Strawberry Facemask

This combination of strawberries and beer is super loaded with vitamin C that protects your skin from many disorders such as acne, blackheads and whiteheads.

Ingredients

Strawberries 3
Beer 2-3 drops

Procedure

Blend the strawberries along with the beer to form a fine paste
Dab it to the face gently
Leave it to sit for 20 mins
Rinse off with water
Apply a light moisturizer

Beer, Almond Extract And Egg White Facemask

This mask instantly revives tired skin and gives your skin a beautiful glow. Follow this beauty tips for face for glowing skin.

Ingredients

Beer 1 tablespoon
Egg 1
Almond extract 2-3 drops

Procedure

Mix the beer, egg and almond extract
Apply the mix to the face as a pack
Leave it on for 15 min
Rinse off with water
Apply a light moisturizer

Beer, Lemon, Honey And Olive Oil Facemask

This is a great facemask for people with oily skin and who have zits on their face. Regular application of this facemask helps in keeping your skin clear and glowing.

Ingredients

Beer 2-3 drops
Olive oil 2 tablespoons
Honey 2 tablespoons
Lemon juice 1 tablespoon

Procedure

Mix the beer, olive oil, honey and lemon juice in a bowl
Apply to the face gently
Leave it on for 15 minutes
Rinse off with water
Apply a light moisturizer

Beer, Egg And Honey Facemask

This is a acne clearing face mask. The yeast in the bear kills the bacteria and helps maintain the pH level of the skin. Honey acts like as an antiseptic that clears acne while egg white soothes the irritated skin and tighten the pores.

Ingredients

Beer 2-3 drops
1 Egg white
Honey 1 tablespoon

Procedure

Beat the egg white until frothy
Add the beer and the honey to the egg white
Apply the mixture with a cotton pad on acne effected area around the neck, face, back and chest
Leave it on for 15 minutes
Rinse off with water
Apply a light moisturizer

Beer lovers rejoice. The phrase "to soak yourself in beer" literally has its benefits for your hair and skin. Who knew that beer can give you more than just hangovers? The beauty benefits of beer can definitely give you all the nourishment that your hair and skin needs. So the next time you have some leftover beers or if you are in the market, pick up some extra beers and reap the benefits of it.

After application of various beer based hair and face pack / masks and get ready for complements galore for your gorgeous hair and skin!




Read Also:
How To Get Fair Skin
How To Use Rose Water
How To Prevent Hair Fall In Monsoon
​​​​
*
Fields are required. Make some cool noise, please don't spam and your voice will be heard.
Was this Article helpful?