When tanning is an issue Fem can help
When tanning is an issue Fem can help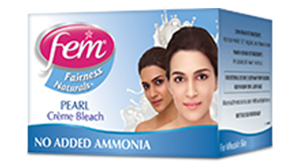 It's that time of the year where all of think twice before stepping out of the house...and we all fear the same. THE SCORCHING SUN!!!
Unlike people in some western countries, we, the people here in India don't prefer getting tanned!! Well the name itself gives us goose bumps and we keep wondering how to get our fair skin back.
As it's very well said, prevention is better than cure! It's always better to take precautions while out in the sun.
Yeah I know it's not always possible to stay away from getting tanned. And as much we may try sun does leave us tanned. But we can decrease the intensity by taking necessary precautions.
Here we are with the skin care tip that will help you deal with the tan. The easiest and quick method for removing tan is to de-tan your skin by bleaching! It is indeed a very simple method and you do it all by yourself at home! I personally prefer Fem's range of bleaches for de-tanning.
Many people don't prefer bleaching due to the fear of messing up in some way... If you are one of them, don't keep thinking how to get fair skin back. Here I am with a list of the dos and don'ts while using bleach.
DO's :
- There are different packs for different skin tone. Make sure you pick the one that suits your skin tone.
- Always read the instructions given properly.
- Do as it says on the leaflet you get with the product and I mean, AS IT SAYS.
- Wash your face with tap water before application of bleach
- Make sure to take only as much quantity of activator and bleach as it's mentioned.
- Never forget to do a patch test on your inner forearm or behind your ear to check for any reaction it may cause.
- Wash off the bleach thoroughly with running water.
- Always wear sunscreen after bleaching.

DON'Ts :
- Do not apply the bleach around the eyes, lips and nostrils.
- Do not use the product if the patch test shows any irritation till 48 hours.
- Do not use soap on your skin on the day you apply bleach.
- Do not use it very frequently;
- Do not keep the bleach on your skin for any longer than what is mentioned on the leaflet.
- Avoid direct exposure to sun on the day you apply bleach (and whenever possible)
- Do not panic if after washing your face you see MILD redness on your skin. It can happen at times if you have sensitive skin. Apply Aloe Vera gel over the area. It should usually go away by the next day.

Also read
Tomato Tan Remedies for Face & Skin
How To Remove Tan
How To Remove Tan From Hands And Legs
Home Remedies For Tan Removal On Face
---
Categories
Blogger Profile
Blog Archive
Was this Article helpful?