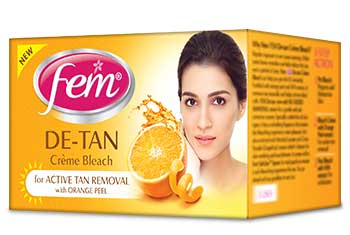 FEM De-Tan Crème Bleach
Lose that summer tan, naturally!
With Sun and Summers comes Sun Tan!  While it is difficult to avoid sun! It is no longer, difficult to get rid of sun tan! FEM brings its First Ever De-Tan Crème Bleach a complete cure from the sun's harmful rays, FEM brings you the first De-Tan Bleach. With FEM De-Tan Bleach, you can now step out for the day confidently. Enriched with the goodness of orange peel extracts which acts as an effective and safe solution to your tan problems. It helps to remove tan in just 15 minutes and gives you a confident and youthful skin.
Benefits
Specially crafted for all skin types, it helps you get rid of tan instantly with refreshing fragrance within 15 minutes.
Fortified with Orange Peel and AHA extracts, it removes tan naturally.
With No added ammonia, this De-tan makes for a gentle and self-corrective system
Enriched with menthol and citrus paradise (grapefruit) extracts known for soothing and nourishing skin.
Usage
Wash your face with a cleanser and pat dry
Apply pre-bleach evenly on the face creating a layer, do not massage the cream into the skin
Take a teaspoon of the bleach cream and mix it with ¼ of the bleach powder. Mix the bleach cream and powder for about a minute
Apply the bleach cream mix to the face and neck area, carefully avoiding eyes and eyebrows
Remove the bleach with a damp cloth /wet tissue and wash your face with cold water
Apply post Bleach Cream evenly on the face for enhanced look
Read More Tips On:
Beauty Tips For Fairness
Face Pack For Fairness & Glowing Skin
How To Get Glowing Skin Naturally
How to Remove Tan


​

---