FEM Gold Ultra Crème Bleach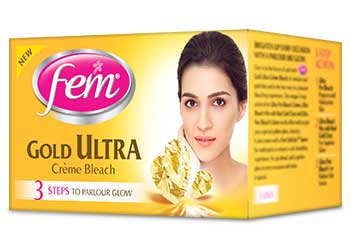 FEM Gold Ultra Crème Bleach
Add a golden glow to every occasion.
Unique 3-step action of its Ultra Pre-bleach Crème, Ultra Bleach Mix with Real Gold Dust and Ultra Post-bleach Crème gives instant radiance to your skin. Go ahead and make your special occasions a golden memory with parlour like glow in minutes.
Benefits
Instant radiance
Contains real gold dust
Pleasant bleaching experience
Ideal for special occasions
Usage:
Apply Pre-bleach Cream
Take 1 big spoon of crème and 1 small spoon of activator and mix thoroughly
Using a spatula, apply this mixture on the area to be bleached
Do not keep the bleach on for more than 15 minutes.
Remove using cold water and pat dry.

---