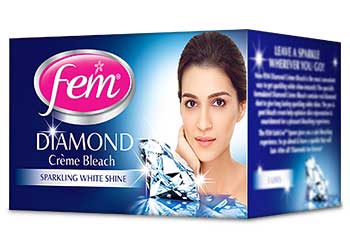 FEM Diamond Crème Bleach
FEM Diamond Crème Bleach
Long lasting radiance with a touch of diamond.
Experience the most convenient way to get a sparkling skin. With real diamond dust as an ingredient, FEM Diamond Crème Bleach ensures that your skin rejuvenates to the core. Its health restored, skin continues glowing even long after bleaching.
Benefits:
Lightens the skin tone
Gives sparkling radiance that lasts
Removes dead skin cells
Revives natural lustre
Usage:
Apply Pre-bleach Cream
Take 1 big spoon of crème and 1 small spoon of activator and mix thoroughly
Using a spatula, apply this mixture on the area to be bleached
Do not keep the bleach on for more than 15 minutes.
Remove using cold water and pat dry.
​​

---