What Is Your Skin Telling You Through Dark Circles & Acne
What Is Your Skin Telling You Through Dark Circles & Acne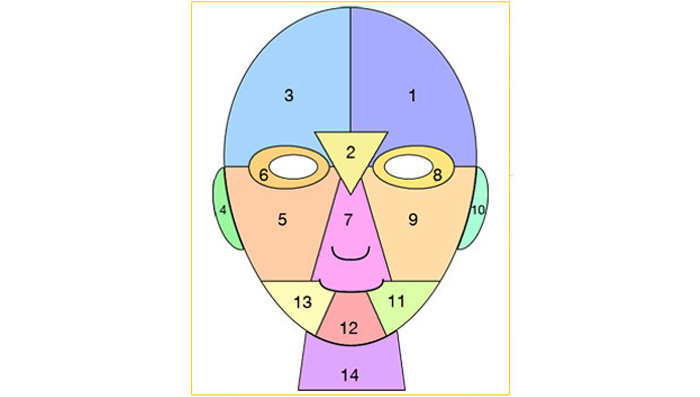 Your dark spots, pimples and blemishes are your body's ways of communicating. Yes, really! Think of it as a decoding game and you can ace the trick easily. Confused? We will solve this one for you with our latest
skin care tip
.
The ancient science of face mapping gives you deep insight into the skin's past and present. How you ask? This analysis allows you to figure out a targeted skin care regime that can shape up your skin's healthy future. It divides the facial landscape into 14 different zones that thoroughly examines your skin, inch by inch, and helps you identify the cause of skin issues, like a sudden break out or consistent dark circles.
Zone 1 & 3: Bladder Digestive System
This zone determines your bladder condition and the state of your digestive system. The simplest way to combat any problem that rises in this zone can be changed by improving your diet and drinking more water. Easy as that!
Zone 2: Liver
Alcohol and dairy products are mainly responsible for spots in this area. It can also indicate a food allergy. The easy remedy here is to cut the alcohol, greasy food and diary. Get a light dose of cardio every day and make sure you get adequate sleep to keep your liver in good shape!
Zone 4, 6, 8 & 10: Kidneys
These zones are most affected by dark circles which are usually a result of dehydration. Make sure you're keeping yourself hydrated with water and cut back on liquids that dehydrate you, i.e., alcohol.
Zone 5 & 9: Respiratory system
If you smoke then you are likely to have acne here. Go for long walks and increase your exposure to fresh air. If not due to smoking, it could also be a result of allergies.
Zone 7: Heart
Check your blood pressure and make sure you're not using makeup that irritates your skin. Keep your make up brushes or anything which you bring close to your skin clean. Wash your face with Dabur Gulabari Rose Water to moisturise and hydrate gently. Consult your doctor in case you have any heart related concerns.
Zone 12: Stomach
If you eat heavy fats then detox your body and add more fibres to your diet to help with digestion.
Zone 11 & 13: Hormones
Stress and hormonal changes can cause breakouts in this area. It also indicates your ovulation period. Try to hydrate your body with lots of water and add green leafy vegetables to your diet.
Zone 14: Illness
If your body is trying to fight off bacteria then you could have spots in this region. Intake of fluids and lots of water will help your body and give you a breather.
Read Also
:
Face Pack For Fair And Glowing Skin
​
---
*
Fields are required. Make some cool noise, please don't spam and your voice will be heard.
Was this Article helpful?