The Ultimate Natural Chemical Peels At Home for Healthy Glowing Skin
The Ultimate Natural Chemical Peels At Home for Healthy Glowing Skin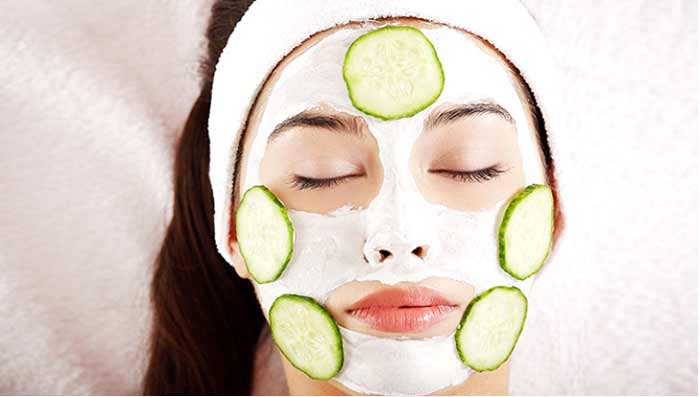 We all are born with naturally soft and supple skin. But as we grow, harsh surroundings, pollution and the various experiments that we indulge in using excessive chemicals robs our skin of its natural glory and what is left behind is dull, dry and damaged skin. To regain the skin's lost beauty & glow and to reveal a fresh layer of radiant and youthful skin, skin experts recommend chemical peel as an ideal treatment. But is it a safe option?
What is chemical peel?
Exposure to sun, harsh chemicals and pollutants can rob your skin of its natural glow and make it look dull, tiered and completely worn out. To regain the skin's natural glow and to rejuvenate it, one often restores to the chemical peel treatment. But what people forget is that what they are actually doing is exposing their skin to more chemical treatments and paving way for further skin damage.
A chemical peel is a treatment in which acid solution is used to remove the damaged outer layer of the skin. Administered as a facial peel, it does help in enhancing the smoothness and softness of the skin, reduction of blemishes and spots and adds radiance to the skin, but a chemical peel is not a long-term solution.
Why do chemical peel at home?
While chemical peel does benefit the skin, it is important to know that what most skin experts also recommend is making your own natural face peeling treatments at home. When your skin is already damaged, lathering it with more chemicals and products is definitely not a good idea.
Benefits of chemical peel at home include:
The ingredients are known to your so lesser risk of side effects is involved
Natural ingredients mean better and more effective results
No chemicals mean improved skin texture, even skin tone and glowing & healthy skin
So what are best skin peeling treatments at home that you can try and how can you make your own skin peel at home? Fret not. Here are some awesome DIY face peels at home that will not only give your skin the much needed makeover but also make you blush with compliments.
So read on and get started with making your own chemical peel for face at home right away!
Papaya & pineapple skin peel :

Both the fruits are loaded with fruit acids and also help in keeping the skin moisturized long after you have washed this peel off your face. To make this skin peel at home:

Take 4-5 cubes each of papaya & pineapple and blend in a mixer
Add 1 tablespoon of unflavoured gelatin to the mix & blend again
Add a pinch of cinnamon along with few drops of Dabur Gulabari Rose Water
Apply all over the face & leave it to dry for 30 mins
When completely dry, starting from your jaw line, slowly peel it off your face
Rinse with water

Aspirin face peel :

This peel is best suited for people with oily skin. Aspirin contains salicylic acid that help reduce secretion of excess of oil and prevention of acne and pimples. This peel is also an effective remedy for elimination of any blemishes or spots from the face. To make this face peel at home:

Mash 6-7 aspirin tablets in a bowl
Add few drops of freshly squeezed lemon juice & mix to form a paste
Apply the mix on the face and let it dry for 25 minutes
To take it off, mix in a cup of warm water 1 tsp of baking soda and apply it on the dried peel with the help of a cotton ball
Rinse your skin with cold water and apply Dabur Gulabari Moisturising Cream to neutralize the effects of acid on your skin

Citric-gelatin skin peel :

Citric acid and antioxidants present in lemon will protect and nourish the skin and when mixed with gelatin, this peel makes for an excellent skin exfoliator. Result—rejuvenated and glowing skin. To make this face peel at home:

Squeeze juice of a lemon & an orange
Add 2 tbsp of gelatin and stir until gelatin has completely dissolved
Spread the mix all over your face & leave it to dry for 10 minutes
Rinse with water

Apple cider skin peel :

Like lemons apple cider vinegar is one of the most versatile ingredients that can be used in multiple ways to enhance your beauty. Presence of a combination of acids like lactic, citric & malic makes it for an excellent exfoliator that aids in removing any impurities and dead cells from the skin thus giving you healthy and glowing skin. To make this face peel at home:

Add 1 tablespoon apple sauce to 1 tablespoon of apple cider vinegar
Apply on the face and leave it to dry for 10-15 minutes
Remove with cotton followed by water
Need more tips on how to make your own chemical peels for face at home? Follow our blog.
Click here to learn more on
how to get glowing skin at home
and
fairness face packs
.
---
*
Fields are required. Make some cool noise, please don't spam and your voice will be heard.
Was this Article helpful?