The Effects Of UV Rays On Hair & Skin
The Effects Of UV Rays On Hair & Skin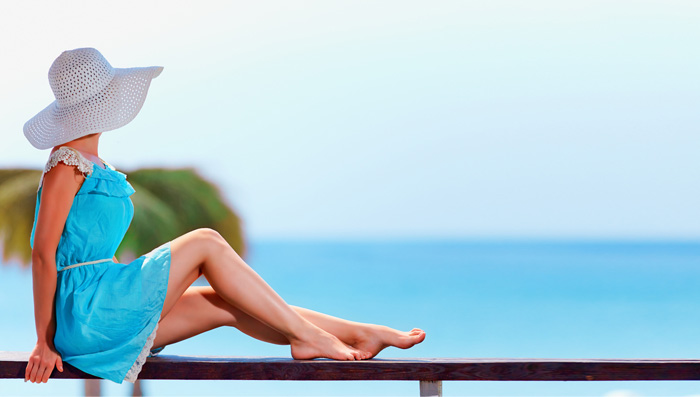 Sun is the source of all energy on earth but as they say, anything in excess is bad. Too much exposure to the sun can be very harmful for your skin and hair. UV rays often destroy the protein bonds in the hair, making damage irreversible. In fact, every time you expose your hair to the sun, UV radiation can destroy protein amino acids. While effects on your hair range from discolouring, dryness, and making it fragile or brittle, exposing the skin to UV rays can cause sunburn, tanning and even skin cancer! But we'll save you the trauma and share skin care tips on how to minimize the effect of UV rays and protect yourself from it. We will also teach you some hair care tips and how to get fair skin by removing tan.
Avoiding UV rays Apply sunscreen everyday even if you do not plan to go out in the sun. Sun's energy is omnipresent and affects you even when you are indoors. Use an SPF of 15 or higher.
Cover yourself by wearing full bodied clothes like pants, skirts and long sleeved shirts and tops. A good hair care tip here is to wear hats and scarves.
Avoid the sun when it gets too hot, especially between 10 am to 4 pm. If you are however out in the sun during these peak hours, then seek shade.
Reflective surfaces like water, snow and sand can reflect up to 85% of the sun's rays. So you need to be extra precautious while traveling in such terrains.
Skin cancer is becoming very common these days due to ozone depletion. Check with your dermatologist for regular skin cancer screenings.
How to get fair skin and remove tan Our skin gets tanned or darker when exposed to the sun. When UV rays hit the skin, Melanin is produced by cells called melanocytes, which travels up to the skin to give it a darker tone. To remove it, you should regularly bleach your skin using Oxy crème bleach, as it improves oxygen flow in your skin without which your skin may appear dull. Bleaching controls melanin concentration and aids in an even appearance of your complexion. Sunspots can be cured by bleaching your skin. What's more? Signs of ageing like freckles, wrinkles and moles can also be repaired through bleaching.
We hope that you are now equipped and know all you need to know about protecting yourself from the harmful effects of UV rays. These hair care tips will ensure naturally glamorous hair and knowing how to get fair skin by removing tan will help you glow this season. So bid a farewell to those pigmentation problems and say hello to great glowing skin!
---
*
Fields are required. Make some cool noise, please don't spam and your voice will be heard.
Was this Article helpful?