How to Use Rice Water for Skin Whitening - Amazing Benefits of Rice Water for Skin
How to Use Rice Water for Skin Whitening - Amazing Benefits of Rice Water for Skin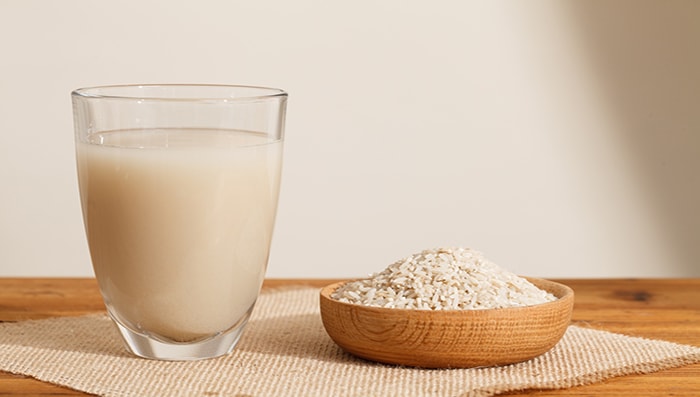 What is Rice water?
It's the milky water that's left after soaking or boiling rice in regular water. What makes rice water special is the Starch that is transferred from the rice to water. Rice water is rich in micronutrients like Vitamins (A, B, C and E), Amino acids (Niacin, Ferulic acid) and minerals that stimulate proper blood circulation and support cell regeneration for Skin.
Rice water has been around for centuries as a popular, effective yet frugal remedy for skin nourishments, so the water that you have been throwing out after making rice every time is in-fact a great solution to many of your skin ailments. Also, it's easy and straight forward to use rice water daily. Seriously all you need is a couple of cups of rice, any rice white, brown, jasmine any one that you have in your pantry would suffice. The best part about using rice water for skin is that it is natural, safe and has absolutely no side effects.
Benefits of Rice Water for Skin:

Benefits of rice water for skin are enormous as it contains vitamins, mineral and many essential amino acids, (Including ferulic acid, which gives rice water anti-oxidant and anti-inflammatory properties). Rice water can heal skin and hence it could be used to treat acne as well, additionally rice water has also been proven effective in treating eczema and sunburn.

Additionally, use cold rice water as a toner to soothe skin irritation. Below you find ways how to use rice water for skin care.

All these properties make rice water an ultimate beauty serum.

How to Make Rice Water for Skin:

Rice water is literally the water that has been left after soaking or boiling rice in it, there are two ways to make rice water:

Just soak a cup or two of cleaned, uncooked rice in clean water for 15-20 minutes. Swirl it around occasionally, until the water is cloudy. This will help the micronutrients from rice to seep into the water and make a nourishing cleanser for your skin.
Boil rice in water for a good 10-12 minutes, once you have strained the rice you would be left with milky water

Pro Tip: you can use ginger, orange peel, rose petals or any essential oil of your choice to lighten the smell of rice water.

Fermented Rice Water:

Even the smelly Fermented rice water contains vitamin B6 and Pitera, which is a natural by product and supports cell growth. These two miracle agents make fermented rice water an exceptionally great anti-aging cure. To avail the Benefits of Fermented rice water for skin, use fermented rice water for skin and face by using it as a base for you overnight face packs. Some studies have even shown that fermented rice water have enhanced levels of all the micronutrients that normal rice water has. Although since skin and hair types respond differently to different products, its best to try both and see what suits you best.

Fermenting the rice water lowers the pH levels of rice water making it like our hair's pH level. Balanced pH product helps to close your cuticles and making them lay flatter.

How to Make Fermented Rice Water:

You can easily make fermented rice water by first preparing the normal rice water by any one of the two methods discussed above. After you have your rice water just let it sit overnight at room temperature. Until next morning, it would have turned a little sour and started to give out a fermented smell.

How to Use Rice water for Skin care:

Rice Water for General Skin Care:

Regular usage of rice water stimulates blood circulation and keeps skin smooth and radiant.

Use Rice water for Skincare by dabbing some with a cotton swab or using it as a face mist for radiant supple skin.

Rice water can also help soothe sunburns, just dab some on the affected area, it helps the skin to recover faster.

Rice Water for Skin Whitening:

Ingredients:

Rice Water
Yoghurt
Honey
Cotton Ball

Method:

Rice water for skin whitening is a great remedy
Add Rice with 2 spoons of yoghurt and one tablespoon of honey
Dab a cotton ball, apply the concoction, and leave it until completely dries out
Repeat it few times a week for a brighter and clearer skin

Use rice water for skin brown spots as one of the prime benefits of rice water is that it can lighten pigmentation and hyperpigmentation spots on skin. Even Ayurveda mentions rice water as a natural skin-whitening agent. Follow our blog to read more instant fairness tips.

Rice Water for Acne, Zits, Pimples and Eczema:

Do you have sensitive skin, which is more prone to acne and pimples? Then it's your cue to cheer up as a 2002 study showed that rice water is a great natural astringent, which helps in combating with chronic acne and other skin conditions.

The starch present in rice water also helps in dealing with eczema.

Since rice water tighten skin pores and keeps dirt and impurities out, it's really helpful in battling skin infections.

It's An Effective Anti-Carcinogenic:

Be prepared to be blown away! Remember the anti-oxidant properties that rice water has? Turns out it helps in preventing skin cancer.

It Has Anti-Ageing Properties:

Applying rice water overnight could help in restoring elasticity especially for dry and dehydrated skin. Being rich in Vitamin A, C, E and phenolic compounds rice water can tighten skin and help you look younger overnight!

Rice Water Bath:

Ingredients: Three cups of rice water and regular bath water

Method:

Mix three cups of Rice water with regular bath water in the bathtub
Shower with it or you can even do it post shower to reap rice water benefits for skin.

Taking bath with Rice water could help you relax and rejuvenate apart from all the other health benefits.

Rice Powder Benefits:

It's not just the rice water that can help you achieve a naturally beautiful and radiant skin, even rice face packs go a long way for the same.

Ingredients:

Method:

Mix 2 tablespoons of rice powder with 4 tablespoons of coconut milk and apply it on your face.
After 30 minutes, wash it off with cold water.

Rice powder has unique oil absorbing properties making it an ideal supplement for people with oily skin. Also, read amazing benefits of coconut water for skin at our blog.

Dust your underarms with rice powder for fairer and odor free underarms.

The coarseness of rice powder makes it ideal for exfoliation purposes. Rice powder can exfoliate your skin leaving it soft and supple.

Ingredients:

Method:

Add a tablespoon of rice powder with honey
Gently massage on face and desired skin area
Rinse it off with cold water afterwards.

There is plethora of masks that could be made by mixing rice powder with other ingredients for enhanced cell regeneration and keeping the face moist.

To get natural overall glow you can try Dabur Gulabari moisturising lotion. It will not only make your skin soft and supple but with regular use, you can see a natural radiance on skin. The goodness of natural ingredients will benefit your skin in multiple ways by protecting you and providing the nourishment for your skin.
Read Also:
---
*
Fields are required. Make some cool noise, please don't spam and your voice will be heard.
Was this Article helpful?