Not Just Breakfast Try Oatmeal For Skin and Hair
Not Just Breakfast Try Oatmeal For Skin and Hair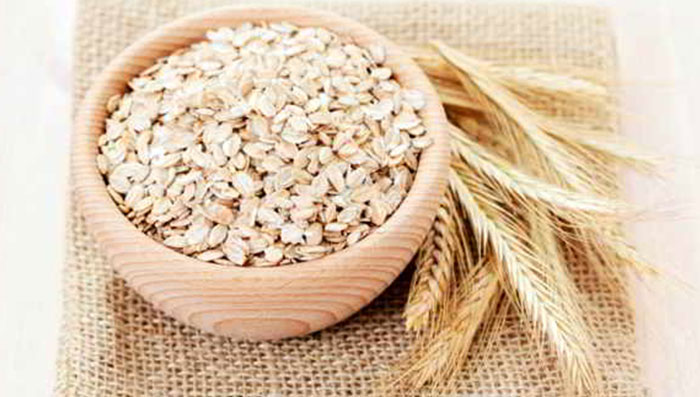 You probably start your day with a bowl of oatmeal, but did you know that the nutrient and fibre-rich oats could be a wonder ingredient for beauty remedies too? Read on for skin care tips,
hair care tips
and homemade beauty tips using oats.
Oatmeal is a great remedy for acne. How? All you have to do is take boiled oatmeal (after it cools down a bit) and apply it on the affected area and rinse after 10 minutes. You'll see the magic happen! Now isn't that a useful skin care tip to combat acne?
Oats is also a natural cleanser! It contains saponins that can remove dirt and oil from the pores, leaving behind soft and glowing skin. To make a cleanser, just follow this skin care tip – soak oatmeal in water to make oat milk, you can store it in the fridge and use it as a natural toner and cleanser. Just pour a few drops on some cotton wool and dab it over your face, whenever you use it!
If you have dry spots or naturally dry skin, oatmeal can help in removing dryness. Make a facial mask with some ground oats, a mashed banana and some lukewarm milk. Mix it to form a paste, let the oats soak up the moisture, and then apply it on your face. This mask will help exfoliate your skin by removing dryness and keeping it hydrated.
Oatmeal also acts as a natural moisturizer by penetrating deep into the skin, improving collagen deposition and removing the dead skin cells. Just go by this skin care tip – 1 part milk, 2 parts oats and a tablespoon of honey.
Did you know oatmeal can be used for skin lightening as well? Yes, oats can improve the texture of your skin by smoothening out dry areas, thereby making it lighter.
The exfoliating and anti-inflammatory properties of oats make it a great choice for dry and itchy skin. They are clinically effective in healing dry and itchy skin. Not just that, the proteins in oatmeal also act as a natural skin protector against harsh chemicals and UV rays.
Not just skin, oatmeal can prove to be a great hair care tip too. It acts as a natural moisturizer when applied on your hair and helps you get rid of dryness and itchiness in your scalp. Not just cleansing, oats can treat dandruff too. The exfoliating nature of oats makes it a good cleanser that removes excess oil, dirt and sebum. What's more, oatmeal can combat hair fall too! If you have hair loss occurring due to harsh chemical treatments or accumulation of products on your scalp, oats can sort it out in a jiffy. Rich in zinc, iron, magnesium, potassium, vitamin C and A, all of which promote hair growth, oats not only prevents hair fall, it helps in maintenance and also promotes growth. So the next time you buy a shampoo, watch out for the ingredient in your product.
And if you have queries on interesting ways to include oats in your diet, drop in a comment and we'll get back to you very soon!
---
*
Fields are required. Make some cool noise, please don't spam and your voice will be heard.
Was this Article helpful?