My Dabur Gulabari Moisturising Cold Cream Experience
My Dabur Gulabari Moisturising Cold Cream Experience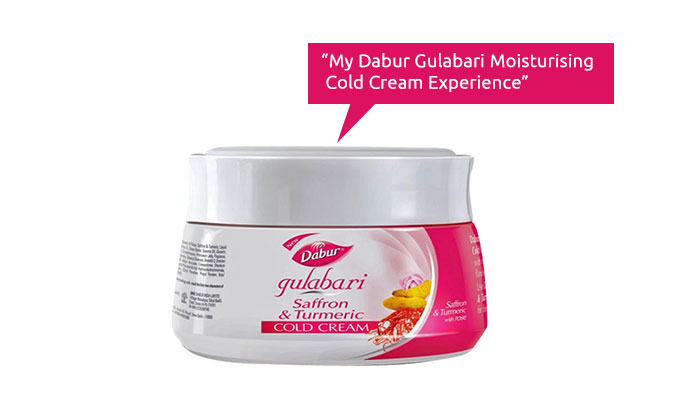 My skin tends to grow extremely dry and flaky in winters and despite trying many cold creams, the problem still persisted. But thankfully one of my friends who faced a similar problem, suggested
Dabur Gulabari Moisturising Cold Cream
to me.
Enclosed in a pretty pink packaging, the first thing that that swung me off my feet was its fragrance! As soon as you open the package a sweet aroma of fresh roses overtakes your senses, which makes you feel like you are surrounded by roses.
The texture of the product is like milk cream, very smooth. The skin also feels the same way as it gets blended well and penetrates deep into the skin. Soon after application of this product, my skin felt soft and lively. Besides the face, you can also apply this cream on your hands, elbows, neck etc. Besides that, I was least bothered about any side effects as it is made up of natural rose extracts that derives its goodness from Dabur Gulabari Rose Water. What's more, the product can be very easily applied onto your skin and you need not apply too much. The product isn't very heavy, so it can be easily applied or massaged on the body
Pros of Dabur Gulabari Moisturising Cold Cream
Makes skin soft and alive
The aroma of rose is breath-taking
Moisturizes the skin very well
Hydrates skin and makes it fresh, supple and radiant inside out
Lasting effect
Made up of natural extracts that are safe to use
Cost effective
Cons of Dabur Gulabari Moisturising Cold Cream
Can't really think of any!
But don't take my word for it, why don't you try it out for yourself?
---
*
Fields are required. Make some cool noise, please don't spam and your voice will be heard.
Was this Article helpful?