Must Follow Skin Care Routine & Tips for Monsoon
Must Follow Skin Care Routine & Tips for Monsoon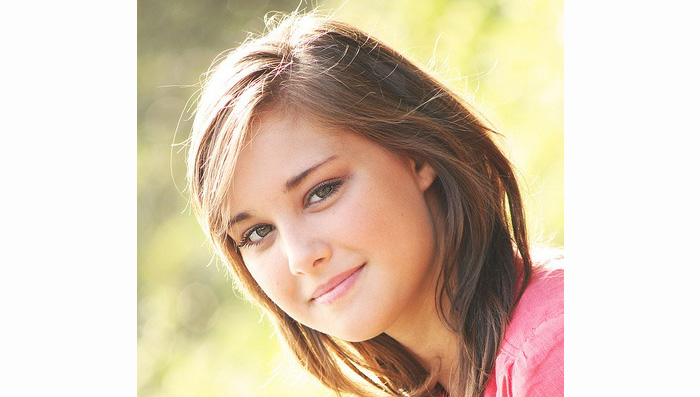 Does your skin's complain meter exceed the top limit during monsoon? Do problems like dryness, pimples and breakouts reach alarming levels in the rainy season? All this is because your everyday beauty regime is not enough to tackle skin related problems during rains. The rate of skin problems go up during monsoon mainly due to lack of skin repairing vitamins.
The first pimple or breakout during the season is a sign that your skin requires extra nourishment and ignoring it can result in long-term skin related problems. Monsoon skin care need not be an elaborate affair. Following simple and easy skin care tips on a daily basis can do wonders for you. Trust us when we say we have got you covered some of the easiest and most-effective skin care tips. These monsoon skin care tips will not only help you overcome the damage the rains would have caused your skin but also leave you with healthy, happy and glowing skin.
1) Honey Lemon & Yogurt Face Pack:
Natural is always better! Your must follow monsoon skin care tips should always include regular use of homemade face packs. Instead of going for expensive salon treatments, skin care at home using natural ingredients from your kitchen is the best skin care tip that you can ever follow. As an effective tip for glowing skin, make face packs and face washes using ingredients like turmeric, honey, yogurt, milk, almonds, cucumber, lemon juice, oats etc., as these ingredients naturally tone and hydrate the skin from within.
2) Replace normal water with rose water:
As a beauty tip for oily skin your monsoon skin care must include replacing regular water with
Dabur Gulabari Premium Rose Water
. It hydrates the skin, soothes any signs or irritation caused due to pimples and reduces the breakout of acne by removing excess oil from the skin. Just refrigerate a bottle of rose water and keep spraying your face with it through the day. When it comes to trying out tips for glowing skin, rose water is the best natural skin care tip that you can include in your routine to get glowing and beautiful looking skin.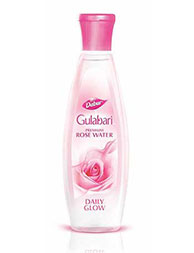 3) Healthy Cleansing, Toning & Moisturizing Routine:
Cleaning and toning is considered to be the holy grail of monsoon skin care. Skin care at home must include cleansing and toning as a mandate during monsoons. The high humidity levels cause sweating, creating a build-up for dirt, dust, grime and other toxins to settle on the surface of the skin. As a beauty tip for glowing skin, clean your face with rose water followed by a moisturiser for an effective skin care at home routine.
4) Keep your skin hydrated:
Investing in a good quality moisturizer is the best thing that you can do for your skin during monsoons. Downpours usually alternating with dry days and fluctuating humidity levels can take a toll on your skin. Therefore, applying
Dabur Gulabari Rose Glow Lotion
is the best beauty tip for dry skin that you can use this monsoon. Enriched with natural oils and rose extracts, the moisturizer conditions the skin from deep within, removes any signs of dullness or dryness from the surface while adding rose like glow to it. It is a natural skin care tip that can be used for every skin type.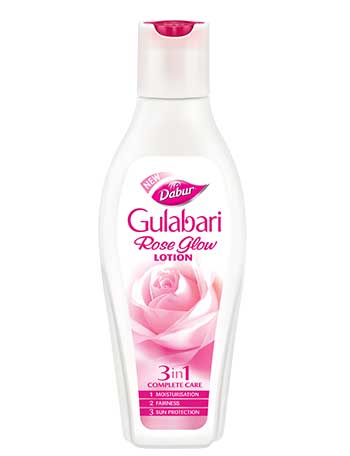 5) Exfoliate with an effective face wash:
A beauty tip for oily skin includes keeping it dry and cleansed at all times. Exfoliating it with a mild face wash is the best skin beauty tip to follow if you wish to achieve healthy and glowing skin. Face wash with oil combating properties help get rid of dead cells from the surface of the skin and gives an even complexion. It is effective in removing any impurities from the skin and stops further secretion of excess oil on the face. Come rain or shine, this face wash can be used as an essential oily skin beauty tip.
To keep your skin hydrated and supple, follow the face wash routine by applying moisturiser. The moisturiser lightens the skin tone, softens the skin, reduces spots and blemishes and adds a natural glow to the face. It is perhaps the best beauty tip for dry skin that you can make use of this monsoon sitting right in the comfort of your home.
Do not let monsoon dampen your spirits. Just follow these easy tips to a happy, healthy and glowing skin and throw caution to the wind. Want more such tips? Keep following our blog.
Read also
How to Become Fair Naturally at Home

---
*
Fields are required. Make some cool noise, please don't spam and your voice will be heard.
Was this Article helpful?