How To Make Body Butter? 6 Amazing Homemade Body Butter Recipes To Give That Soft And Supple Skin
How To Make Body Butter? 6 Amazing Homemade Body Butter Recipes To Give That Soft And Supple Skin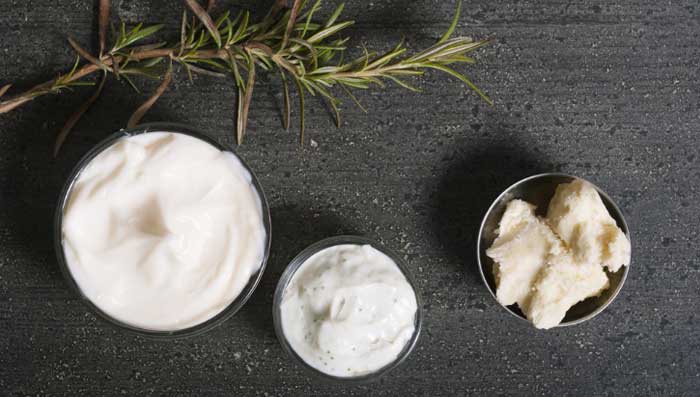 ​Skin being the biggest organ of the body needs extensive care due to extreme wear and tear. As we age, the skin texture and radiance withers away causing spots, blemishes, fine lines and wrinkles. There are many moisturizing creams and butters that help in increasing the skin elasticity and keeping them looking young and healthy. One among them is the body butter that is loaded with nutrients and moisturize the skin from within. Body butter is made from a number of natural components including fruits, vegetables and leaves and is healthy for the skin. The oils from these ingredients is cold pressed and mixed with various fatty acids to give thicker consistency in the cream form. Since it is natural oil of the fruits and vegetables, it is very easily absorbed by the skin and aids in providing hydration to the body for a longer duration.
Video:
Get Glowing Skin Naturally With Fem Fairness Naturals
How To Make Body Butter At Home:
Benefits Of Body Butter On The Skin:
Body butter is rich in various minerals like vitamins, proteins, magnesium, iron and contains antioxidants to fight off free radicals and promote a healthy growth of skin cells. Body butter has various benefits for the skin that includes moisturizing not only from the outside but inside as well. It also forms a protective layer outside the skin that helps in locking the moisture and keeping it hydrated. Since it does not let the skin dry, body butter reduces the chances of premature skin ageing, stretch marks and wrinkles. Body butter is also come handy in reduction of inflammation caused by pimples and acne.
How To Prepare Your Own Homemade Body Butter Remedy:
There are many kinds of DIY body butters that one can churn out using easy, simple and seasonal ingredients from the kitchen. So, if you are wondering how to make body butter at home, just follow these straightforward and uncomplicated steps and create your own awesome natural, side-effects free and inexpensive remedies.
Coconut Body Butter

Coconut is the best ingredient for skin care. Not only it moisturizes but also helps keep away the free radicals and harmful toxins from the surface of the skin. Coconut also aids in combating the risk of bacterial and fungal infections. This homemade body butter remedy is simple and easy to prepare and can be stored for up to a month.

Ingredients:

Two tablespoons coconut oil
One teaspoon vitamin E oil
Few drops of lemon essential oil

Method:

In a bowl, combine two tablespoons coconut oil (solid), one teaspoon vitamin E oil and few drops of lemon essential oil
Whisk the ingredients till they turn creamy and then transfer it into an airtight container
Apply the this coconut oil body butter all over face and arms everyday post bathing or before going to bed to make your skin feel soft and supple instantly

Mint, Chocolate & Shea Body Butter

This is a very decadent body butter and instantly gives you baby soft skin. Both chocolate and mint are known for their moistening and healing properties and with the application of this body butter remedy, any problem you are facing with regards to dry and flaky skin, will be addressed effectively. This body butter works best for dry skin in winter season.

Ingredients

One cup shea body butter
Half cup coconut oil (hard)
Few drops of peppermint oil
One teaspoon cocoa powder

Method:

In mixer whisk together one cup shea body butter along with half cup hardened coconut oil for 2-3 minutes
When it begins to turn fluffy and creamy, add few drops of peppermint oil and one teaspoon cocoa powder and whisk again till it turns creamy and fluffy. peppermint oil for skin is great for soothing the inflamed parts of the skin.
Scoop it into a glass container and store it in dry place
Use it daily post bath for soft, supple and glowing skin

Cocoa Body Butter

This cocoa body butter lotion smells awesome and works perfectly well for dry skin. It not only moisturizes the skin but the cocoa powder in it will help in keeping infection causing bacteria and germs away. Regular application of this cocoa body butter will also ensure making your skin glow with natural radiance.

Ingredients:

One tablespoon cocoa powder
One cup coconut oil
Few drops of chocolate essence

Method:

In a mixer, combine one tablespoon cocoa powder along with one cup melted coconut oil and whisk till it turns smooth
Add few drops of chocolate essence for fragrance
Due to its running consistency, make sure to pour into a bottle and store in a dry place.
Apply on knees and elbows daily for smooth and soft skin

Avocado Body Butter

Avocado has natural nourishing and moisturizing properties and applying it on the skin in any form is only going to enhance the texture and quality of the skin. Needless to say, this body butter recipe is the easiest yet most effective when it comes to moisturizing skin for longer period. For those who remain out for work for longer hours can use it daily as it keep skin soft for more than 10-12 hours.

Ingredients:

One cup shea body butter lotion
One avocado, peeled and pureed

Method:

In a mixer, add one cup shea body butter lotion along with one ripe avocado that has been peeled and pureed
Whisk the contents till they form a creamy and fluffy texture and store in an airtight jar to increase its longevity
This body butter with avocado can easily be stored for up to 15 days
This homemade body butter can be applied once a day to keep the skin moisturized throughout the day

Coconut & Rose Water Body Butter

Well, if you are thinking on how to make body butter at home using coconut and rose water, just simply follow these steps. Rose water, apart from its marvelous fragrance also helps in keeping the skin soft and smooth. It is a great natural toner that keeps impurities at bay and also makes the skin glow naturally.

Ingredients: Method:

In a mixer, churn together one cup hardened coconut oil along with crushed fresh rose petals
Then add few drops of Dabur Gulabari Rose Water for fragrance and keep whisking till it becomes soft and creamy
Store in an airtight container and massage it on your skin before going to bed every day
This body butter with rose water can be made and stored in a jar for up to a month for repetitive use

Cocoa And Mango Body Butter

This delicious mango and cocoa body butter smells so godly that you would want to eat it. After all it makes use of two of the most delectable ingredients you can think of. You can easily churn out this totally amazing body butter at home by following the step-by-step guide given below. Rest assured, your skin problems and woes will vanish easily and you'd be left with absolutely baby-soft and smooth skin.

Ingredients:

One tablespoon cocoa powder
Half cup hardened coconut oil
Few drops of mango essential oil

Method:

In a mixer, churn together one tablespoon cocoa powder and hardened coconut oil till it becomes soft
Add few drops of mango essential oil and mix again till a buttery consistency is formed
You can store this mango and cocoa body butter remedy into a glass container for up to a month
Use it daily after shower for a long-term effect and naturally glowing skin

These body butters are amazing for skin and are also very quick and easy to make at home. Because they make use of natural ingredients, they are safe, inexpensive and come without any side effects. Need more options and information on how to prepare your own body butter recipes at home? Keep following our blogs.
Read Also:
Homemade Face Pack For Fairness And Glowing Skin
Benefits of Mustard Oil for Skin
---
*
Fields are required. Make some cool noise, please don't spam and your voice will be heard.
Was this Article helpful?