How To Do A Face Massage At Home 14 Steps
How To Do A Face Massage At Home 14 Steps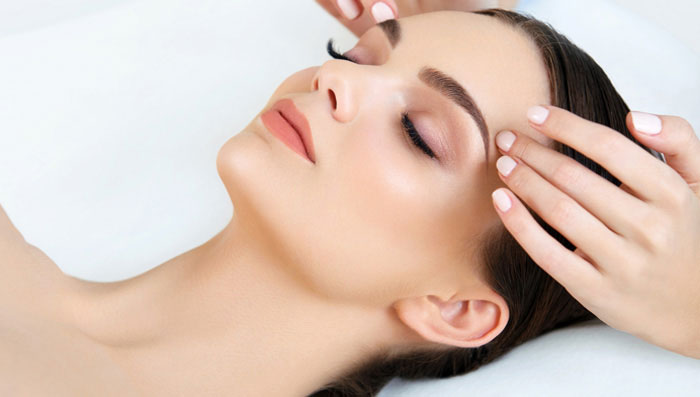 It reduces stress, it increases blood circulation, it detoxifies the face and it gives you glowing skin. Facial massages are a must for rejuvenating your face and the best part is that it's so easy, you can learn about it and do it at home! All you have to do is understand the following
tips for natural beauty
and steps on how to do a face massage at home :
First pick an oil that suits your skin type, like almond oil, olive oil or apricot oil.
Begin with a clean face before pampering yourself with a massage.
Then, rub the oil in, using a few drops at a time, warming it up between your fingertips. Spread it all over your face in gentle stroking movements. Start with the forehead area, and then move downwards.
The region above the eyebrows is where stress/tension resides. Concentrate on that part by pinching between your eyebrows and circling around the temples with your fingertips. Pull apart frown lines above the nose with your index fingers. Apply very light pressure under your eyes and work it outwards.
Move down to the cheeks with upward movements, from the chin area, away from the nose, towards the ears.
To wake up tired eyes, look up, down, left and right a couple times without moving your head.
Next, move to the nose, pushing the tip of your nose up with your index finger. Hold it firmly in place. With a gentle touch, make circular movements from the top of the nose bridge towards the nostrils.
Now pull your upper lip over your teeth, hold it for a few seconds and release. Repeat the procedure a couple of minutes.
Moving on to the jaw line, use your thumb to create a suction movement, from the inside of the face to the outside.
Your mouth muscles need a good amount of stretching too. Move your fingers with your mouth open slightly.
Next, it's over to your chin. Place both your thumbs under your chin for resistance and then push your chin down, moving from your lower lip and the area under your ears to the chin.
Pinch your jaw and cheeks to invigorate your face by giving it a small rush of blood and nutrients.
Finish off with some deep stroking movements all over your face to make your skin glow. Continue to the neck as well.
You can make your facial massage experience even more rejuvenating by adding a few extra elements like cucumber slices or cold tea bags over your eyes. So while the oil gets soaked up by the skin, the eyes get good rest.
Remember these glowing skin care tips - take a big deep breath in and breathe out, each time you apply pressure. This will help relieve your tension. Another important skin care tip to follow is to be gentle and firm at the same time. Putting too much pressure can damage your skin and cause breakouts and being too gentle, will not serve much of a purpose. If you have any more tips on how to do face massage at home do share it in the comments section and let others benefit from your knowledge.
---
*
Fields are required. Make some cool noise, please don't spam and your voice will be heard.
Was this Article helpful?