Homemade Skin Toners for Beautiful Skin
Homemade Skin Toners for Beautiful Skin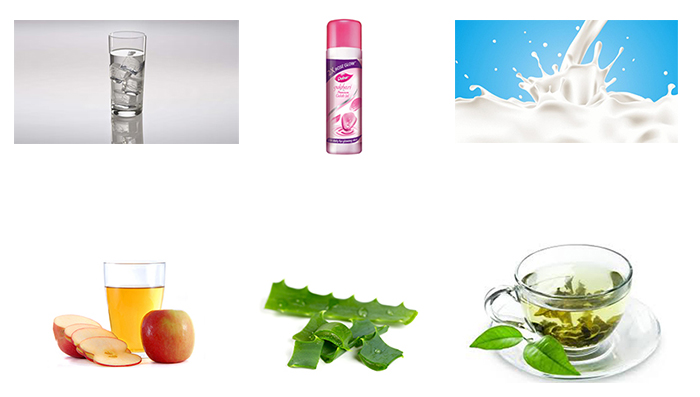 In this glaring heat and pollution, it is our skin that bears the brunt of an irregular skin care routine at the end of the day. If the skin on your face is not taken care of properly, it will break out and you will find pimples, marks and dullness on it. Toners are the best way to clean out your pores after a long day outside the house. It also restores the natural pH of your skin, making sure you break out less by relaxing and refreshing it. Here's a list of homemade skin toner that are definitely what your skin needs to survive this summer. Also, read more about
how to get white skin
in summer with these easy home remedies.
Aloe Vera

This plant is the base ingredient of almost every skin related product currently in the market. Well, cut out the unnecessary chemicals that those products have and use aloe vera juice mixed with water as a toner. It will work wonders in tightening your pores and bringing down any skin inflammation. It indeed is a miracle plant with all the skin solutions in it. Read more about how to remove tan using Aloe Vera in easy steps.
Green Tea

The high concentration of anti-oxidants in green tea makes for an excellent toner. So the next time your brew some green tea for yourself, remember this homemade beauty tip – just swipe in a cotton bud or pour some on a cotton pad and work it into your skin in circular motions for a cleaning and refreshing effect. Also, read more on how to use green tea for hair.
Apple Cider Vinegar

Mix a couple tablespoons of vinegar with water and some mint leaves and let it sit for a few days. Remove the mint leaves after a few days and use your new homemade toner as and when you want, with a cotton pad.Using mint leaves for face can help make your skin look fresh and supple.
Rose Water

Rose has antiseptic properties that cleanse your face like no other product can. The best part of this product (apart from the scent) is that you can use it as and when you feel that your face is feeling low and looking dull. Products like Dabur Gulabari Rose Water are easy to carry and apply. All you need is a cotton bud and you are good to go.
Milk

A great soothing agent for your skin, milk has been used since ages to cure many skin related problems naturally. You can use it individually or mix it with harsher ingredients like Apple Cider Vinegar or Witch Hazel to eliminate the threat of skin irritation. Milk is quite convenient as a toner as it is readily available.
Ice Water

Out of all these products, this specific one is definitely the easiest one to use. You should use ice cold water instead of warm water to wash your face. Try to make it a regular feature and watch as your skin comes to life.
Using any one or a combination of these products will help your skin stay on point even in this unpredictable weather. When you use these natural toner for face, do let us know what your experience was like in the comments section below!
---
*
Fields are required. Make some cool noise, please don't spam and your voice will be heard.
Was this Article helpful?