Dry Skin Around Eyes - 6 Home Remedies for Dryness Around Eyes
Dry Skin Around Eyes - 6 Home Remedies for Dryness Around Eyes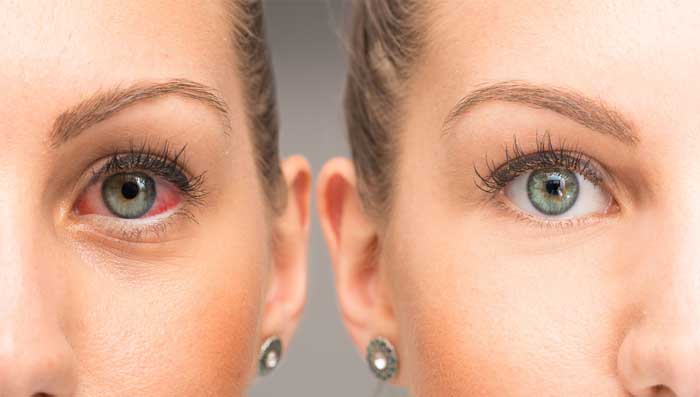 Let's face it, dry skin is no fun especially when it appears under your eyes. Not only is it unsightly, dry skin is uncomfortable, leaves your skin flaky which in turn can quickly become itchy, irritated, cracked, reddened or even discoloured. The skin around the eyes and on the eyelids is very sensitive compared to other part of our body. This is because this area does not have a lot of oil glands and is thinner than other parts of body. Due to this, it is able to retain its natural moisture, leaving it vulnerable to drying out. 
Video:
Get Glowing Skin Naturally With Fem Fairness Naturals
Dry skin under the eyes can affect anyone, at any time – although those with skin conditions like eczema or dryness are more likely to suffer from this. This condition seems to worsen in winters as the cold air dries out the skin. However, it doesn't have to be cold outside for flakiness to appear around the eyes. There are many other factors that cause dryness around the eyes; some of the most common causes of eye-area dryness and what needs to be done in order to treat them are given in the article below.
Causes Of Dry Skin Around The Eyes

How Weather And Climate Can Cause Dryness Around Eyes

The most common cause for dryness around the eyes is the weather or climate you live in. Dry air is your skin's enemy as it sucks up all the moisture from your skin, which is essential to keep your skin soft and supple. The harsh climate leaves the skin dry and chapped.

Using Harsh Products On Your Body Can Cause Dryness Around Eyes

The skin is thinner and more sensitive around the eye and it is naturally susceptible to this type of irritation from toxins and chemicals, this includes your make up as well as soaps that take away the moisture from the face and leave the skin on it feeling dry.

Skin Stress Around The Eyes

This can be due to excessively rubbing the skin around the eye or by using dirty towels with accumulated bacteria or applying concealer, which strips the sensitive skin under the eyes of its natural moisture.

Using Hot Water To Wash Your Face Or Washing Your Face Too Frequently

Frequent face wash and using hot water can leave your skin dry as hot water has the tendency to soak away the moisture from your skin can cause dryness around eyes.

How Pollution And Other Irritants Can Cause Dryness Around Eyes

Pollution is another major cause of irritation in and around the eyes. Particulate matters in the air not only sting the inner part of the eye, but also cause redness and puffiness around the eye not to mention causing itching and dryness.

Dry Skin Around Eyes Due To Medications

Some medications, such as those used for acne and high blood pressure can cause dry skin.

Dermatological Disorders Can Cause Dryness Around Eyes

There are a number of dermatological disorders which can cause dryness near the eyes, such as Eczema, perioral dermatitis, seborrheic dermatitis, diabetes, and hypothyroidism can all cause dry skin around your eyes.

Preventative Care For The Skin Around Your Eyes

The best way to avoid having dry skin around your eyes is to prevent it from happening in the first place! Here are some good general guidelines to improve skin health:

Be gentle to your eyes. Don't rub them, or use harsh products on them, or scrub them with any kind of loofah or abrasive. Avoid rubbing your face with unclean hands or towels.
Only use hypo-allergenic, fragrance-free, and gentle products like Dabur Gulabari Rose Water.
Wear sunscreen. Keep re-applying if you stay in the sun for longer periods.
Moisturize regularly, especially in the winter. Make sure you moisturize right after showering or washing your face and use a product that is gentle but also penetrative enough to actually keep the moisture. Regular application of creams like Dabur Gulabari Moisturising Lotion and Dabur Gulabari Moisturising Cold Cream on your face can not only make your skin feel soft and supple but also add a natural rose like glow to it.
Make sure you're using clean and soft brushes or makeup applicators. As much as possible, limit your exposure to makeup, including removing it before going to sleep.
Avoid smoking and drinking
Get plenty of rest and eat a healthy diet low in refined carbohydrates and sugar of any kind. Eat plenty o root vegetables (sweet potatoes, beets), dark leafy greens (spinach, cabbage), and healthy fats (like those found in tree nuts and olive oil).
Stay hydrated and don't drink any acidic or sugar laden beverage

Home Remedies To Treat The Dryness Around The Eyes

Due to the delicate skin surrounding your eyes, gentle and natural remedies should be your first option to relieve dry skin. First, it can avoid worsening the problem; second, it can save your money spending on drug-based treatments which can be expensive and even lead to side effects.

Natural Remedies For Dry Skin Around Eyes Due To Different Causes

To some extent, the natural remedies you use to treat dryness around eyes will depend on the cause.

Dryness Around Eyes Caused By Eczema:

Eat foods with high quantities of probiotics as probiotics boost good bacteria which may heal the dryness. You can apply plain yogurt as a treatment or increase your yogurt intake, also eat foods with potassium like kimchi, buttermilk, and cottage cheese.

Dryness Around Eyes Caused By Perioral Dermatitis:

Use pure warm water to wash your face and temporarily stop wearing make-up, at least that by your eyes.

Dryness Around Eyes Caused By Sunburn:

Try not to go outside between 10 and 4 as the sun will be strongest then. Also wear sunscreen and protective glasses.

General Home Remedies For Dryness Around Eyes

The following other natural remedies can also help reduce dry skin under eyes:

Rose Water For Dryness Around Eyes

Ingredients:

Use rose water by applying it topically around your eyes. The water hydrates the skin and prevents puffy eyes. It is also doubles up as coolant for the eyes.

Cucumber Juice For Dry Skin Around Eyes

Ingredients:

2 tbsp fresh cucumber juice

1 cotton ball

Method:

Use a cotton ball to apply cucumber juice. Leave it on for between 5 and 10 minutes and then wash it off using warm water. Pat the area dry.

Honey For Dry Skin Around Eyes

Ingredients:

1 tbsp honey

½ tsp milk cream

Method:

In a bowl, mix both the ingredients together and make a smooth cream like paste. Apply this paste around the eyes and gently massage for 2-3 minutes. Leave it there for 10 minutes before washing it off with lukewarm water.

Olive Oil For Dryness Around Eyes

Ingredients:

1/2 tsp olive oil

1 cotton ball

Method:

You can apply olive oil to your dry skin around the eye using a cotton ball or by simply massaging it into your skin with the help of your fingertips. Leave it there overnight. This method helps as the olive oil is known for its repairing properties as well as its usefulness as an anti-aging agent, taking care of fine lines.

Green Tea For Dry Skin Around Eyes

Ingredients:

1 green tea bag
1 cup cold water

Method:

Take a bag of green tea and dip it in cold water before resting it on top of your eyes. This not only soothes dryness, but also prevents wrinkle formation, get rid of puffiness and boosts cell regeneration due to its abilities as a repairing agent. Also, read more on how to use how to use green tea for hair.

Raw Milk Dry Skin Under Eyes

Ingredients:

1 tbsp raw milk

1 cotton ball

 

Method:

Simply apply raw milk underneath your eyes. Leave it on for a little bit before using water to wash it off with cold water. You can also leave it under the eyes overnight and wash it off next morning foe better results.

If taken proper care, eyes can become your natural ornament and enhance your beauty. Puffiness and dryness around the eyes gives a worn-out look. These beauty tips for face helps your skin to look young and glowing. Applying the above-mentioned techniques can help reduce and prevent further dryness around the eyes giving you a natural glow.
Read Also:
Face Packs For Glowing Skin
How To Get Fair Skin
Home Remedies For Glowing Skin
How To Remove Dandruff
---
*
Fields are required. Make some cool noise, please don't spam and your voice will be heard.
Was this Article helpful?