Fem Turmeric Herbal Fairness Creme Bleach Review
Fem Turmeric Herbal Fairness Creme Bleach Review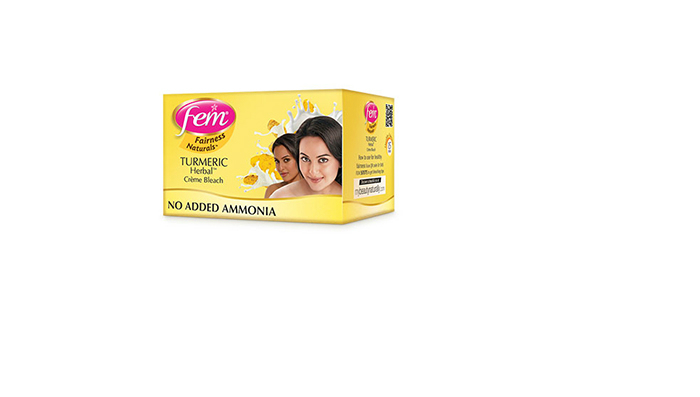 In order to combat this godforsaken sun and pollution, I am a huge fan of bleaching my skin, especially before getting a facial done. It has been my experience in the past that bleaching your face a day before getting a facial done actually makes the facial more effective. But that could just be me. (Does that happen for you too?)
Before I dive into the review of the Fem bleach for today, let me share a few tips first, as a way of a disclaimer, on how to get fair skin. Firstly, always do a patch test before fully applying the bleach at least a day in advance. This should be done to pre-empt a possible allergic reaction. Secondly, use your bleach at a gap of at least 21 days minimum. Thirdly, don't go out in the sun right after bleaching. Use these products in the evening. Finally, don't wash your face with soap for at least five hours after bleaching. Also, it is great to use turmeric for skin whitening and all of these fairness tips are important to follow to ensure that you don't have an unwanted reaction on your skin. So please, follow them as far as you can. Now without any further ado, here is Fem turmeric bleach review!
The Box – Inside and Out:
The box claims that the bleach is the best start for first time users, helping to remove tan and dead skin cells, restore a healthy fairness and eventually lightening skin tone. Well, we shall see about that, won't we? A convenient thing that they are offering is the Fem Safe Use spoon, aimed at helping you mix the right proportion of the crème and the activator powder.
My experience:
The Fem Turmeric Herbal fairness Crème Bleach is unique offering by Fem. I used to use another bleach earlier, but the no ammonia guarantee on the box drew me to it when I went shopping for bleach the other day. Already it felt like a good start for me, in my head at least. After a patch test (no reaction, yay!), I sat down to use this product on a free Friday night. I had a facial scheduled for Saturday morning and a reception on Sunday night to attend, so this was about the closest I could cut it. Right off the bat can I say, the SafeUse spoon is very helpful, even to a seasoned bleacher like me. So for all of you on the fringe, who are not quite whether you will be handle bleaching properly, this spoon is a heaven sent. The instructions booklet just said to wash your face with plain water before applying. So that is exactly what I said. The application was easy and yes, there was no tears. I can't tell you how happy that made me. There was no significant irritation that I experienced, so major props for that too. Fifteen minutes later, I washed it off with cold water and pat dry.
The result:
The bleach worked well on the tan I had managed to accumulate on my face. The facial hair was not too golden, which I don't like. It gave more of a natural look, unlike a lot of the products I have used before.
My verdict:
I would definitely recommend this product to all of you, especially those of you who have not used a bleach before/have had a bad experience with some other product. It is cost effective and fulfils all the promises stated on the box.
---
*
Fields are required. Make some cool noise, please don't spam and your voice will be heard.
Was this Article helpful?