Fem Oxylife Bleach Review
Fem Oxylife Bleach Review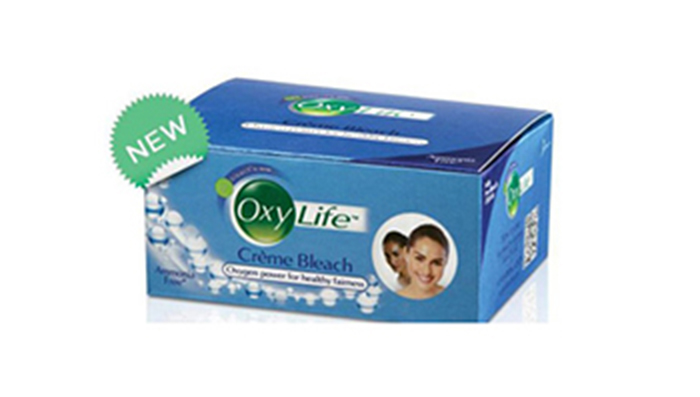 After my previous experiences of trying different bleaches, I was always too scared of bleaching my skin again. I attempted to bleach my whole face two to three times before but it always gave me bad reactions. But nonetheless, since bleaching is indispensable for me, I had to look for bleach that could do the job perfectly, and I did. While shopping for groceries in the supermarket I stumbled upon
OxyLife Women's bleach
and have been hooked on to it ever since.
My Experience with Oxylife Bleach
Available in the market under fancy tags such as fruit bleach, organic bleach, natural bleach, golden bleach, herbal bleach, all bleaches basically have hydrogen peroxide and pyrosulphates which work chemically to treat and bleach hair. But Oxybleach is available in varying quantities starting from one time use to multiple-use packs. It comes in a sky blue pack with a small tub containing the bleach cream, an even smaller container with the blue bleach powder, a spatula, and a sealed packet containing pre-bleach cream. This small pack for one-time use contains 7 g bleach cream, 1 g powder activator, and 1 g pre-bleach cream. There is an instruction leaflet, which comes along with this pack and contains details about doing a patch test and for how long to keep the bleach, fairness tips, etc. Since, I have really sensitive skin, I chose to keep the bleach on only for about 10 minutes.
How to Bleach Face with Oxylife
First, I applied and massaged the pre-bleach cream on to my upper lip area, which is supposed to enhance the bleaching process. I took two pinches of powder activator into the bleach cream as instructed and kept mixing it with the spatula for 2 minutes.
After mixing the cream and activator thoroughly, I applied the preparation on the upper lip area and kept it for 10 minutes. There is a slight tingling sensation as is usual with other bleaching creams. After cleaning the bleach, I noticed that not only did my facial hair get bleached to the perfect colour, but the area around the upper lip had lightened two to four shades lighter and had become tan free. I continued to bleach the rest of my face so that I don't get teased for having a moustache. This time, I kept the bleach for around 6 to 7 minutes as I was too scared of bleaching my face and I did notice that the skin tone had become at least 2 to 3 shades lighter. Unlike the other tried and tested bleaches, I did not see my skin react badly as it had with other bleaches. Overall, I think I will choose this bleach over the others for my once in a month facial bleaching. Also, the oxy bleach pack itself includes instructions on how to bleach face.
Benefits of Oxylife Bleach
Comes with a pre-bleach cream which conditions and enhances the bleaching effect.
Bleaches dark hair to a nice golden colour within 10 minutes flat. With other bleaches, dark skinned/dark hair people need to keep the bleach on for more than 10 minutes.
If you have tanned skin, this bleach effectively removes the tan and makes the skin tone lighter in 10 minutes.
I did not have any bad reaction to the bleach.
Will I buy it again:
Yes! After reading the oxy bleach review and trying myself I have found great results. Hence will definitely buy it again.
Will I recommend it to someone:
Yes, this fairness tip is suitable for all skin types!
---
*
Fields are required. Make some cool noise, please don't spam and your voice will be heard.
Was this Article helpful?