Fem Gold Bleach Review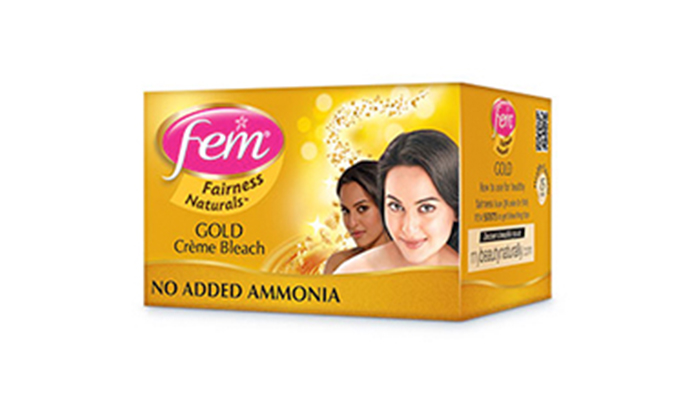 Events and parties never go out of fashion, but many a times they happen when we're least expecting them. Every season is a reason for celebration and no woman would ever want to miss a chance of dressing up. But if you want to look and feel as special as what you are planning to wear then nothing can be better than a good bleach to start with.
Fem Gold Bleach
is the perfect quick fix that rejuvenates dull skin, making the complexion fresh and radiant. One of the oldest and most trusted brands in fairness, it's very gentle and safe on skin and makes skin fairer. Unlike other bleaches it has a rejuvenating fragrance which makes the whole experience all the more pleasant. There are four variants available –
Fem saffron bleach
,
fem pearl bleach
,
fem gold bleach
and
fem turmeric bleach
. Though I'm not too regular with bleaching, I know lots of people who get it done monthly along with their regular facial routine. Till date I bleach only on special occasions like before a party or so. But when I came across
Fem Gold Bleach
, it said that it's free from ammonia which kind of made me feel safe while using it. The crème and the activator are packed separately in sturdy plastic jars with a spatula as well as a measuring spoon. There is a detailed instruction manual which has everything from the usage directions to precautions as well as a description on how safe it is.
How to use?
Using the measuring spoon one has to mix the crème and the activator just before using the bleach. Make sure that you clean and dry your skin before applying it on your face. Mix Crème equal to bigger side of the measuring spoon with activator equal to the smaller side of the measuring spoon. This is the simplest way of measuring the quantities that I have come across in any bleach that I have used so far. After the mixing is done Fem Gold Bleach is to be applied to the areas to be bleached. Keep it on your skin for maximum 15 minutes and take it off with moist cotton or cloth. Surprisingly, unlike other bleaches, the smell does not turn foul once applied which is usually a problem with other bleaches.
Ready for the result?
The skin looks radiant with a glow replacing the dullness. It lightens the skin to some extent and it looks fresh and nice. Fem Gold Bleach suited my skin and did not cause any rash or allergies post application. For first time users it is suggested to use the mixture at the back of the ear to test if it suits them or not. Also, avoid exposing your skin to direct sunlight immediately after using it. I prefer taking this treatment in the evening. Overall Fem Gold Bleach is an excellent crème bleach to rejuvenate dull complexion and look radiant and glowing. Being ammonia free, it is safe and gentle on the skin so I'd highly recommend it to bleach lovers.
Benefits
Bright complexion
Radiant skin
Lovely fragrance
Gentle on skin
Ammonia free
Comes with a measuring spoon
Doesn't cause irritation or allergies
Would I buy it again?
Yes.
Who would I suggest it to?
It's suitable for normal skin.
Read Also:
Masoor Dal For Skin
---
*
Fields are required. Make some cool noise, please don't spam and your voice will be heard.
Was this Article helpful?