Dos and Donts for Healthy Skin
Dos and Donts for Healthy Skin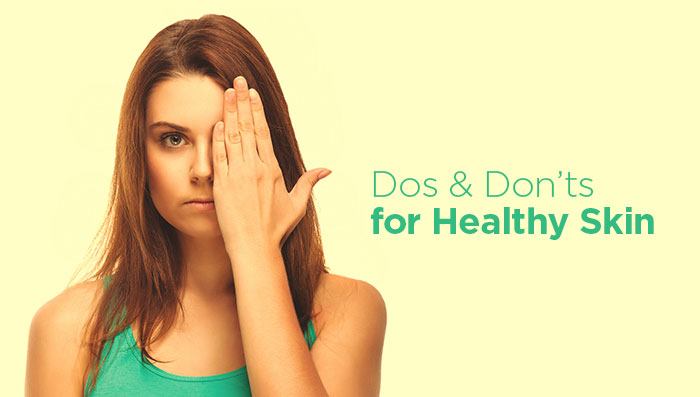 Unless you're one of those blessed individuals with naturally beautiful skin, your skin needs some extra care to keep it healthy. The first thing we notice about a beautiful woman is her skin - smooth, soft, clear and radiant. And no matter what your age is, your skin can still be gorgeous by following a simple skincare tips/regimen. Here's are a few skin care tips to guide your way to a beautiful glowing skin.
Video:
Get Glowing Skin Naturally With Fem Fairness Naturals
DO:
Wear makeup with the most natural ingredients possible. Mineral makeup provides flawless coverage while allowing your skin to breathe. Fewer ingredients often means the makeup's better for your skin.
DON'T:
Smoke. Smoking prematurely ages your skin at a rate second only to sun damage. Nicotine constricts blood vessels, blocking the flow of oxygen to your skin.
DO:
Cleanse and exfoliate regularly. Once a week works for most. No matter what your skin type is, use Dabur Gulabari Rose Water to rejuvenate your skin from the everyday stress and pollution.
DON'T:
Summer, winter, autumn or spring, the sun's UV rays never stop to cause damage to your skin. In order to protect your skin, don't forget to wear sunscreen! Make your moisturizer do double duty and wear one with an SPF of at least 30 before you step outside, even in winter.
DO:
Take care of the thin and sensitive skin around your eyes with Dabur Gulabari Moisturising Rose Lotion. Be sure to use it every day to keep the skin around your eyes from getting dark and wrinkly.
DON'T:
While taking care of the face, majority of women forget their neck, chest and hands. Though these women follow skin care tips that take care of their face, they don't realise that the rest of the areas age the fastest. Sunscreen, exfoliation and moisturization are just as important in these areas as they are on your face.
DO:
The more dehydrated you are, the worse your skin will look. Keep a reusable water bottle with you while you're on the go and when you're at home. You can also fill a glass pitcher with water, sliced cucumbers and lemon wedges that helps you to drink more water throughout the day.
DON'T:
Stay out in sun. When skin is stripped of all its natural oils, it produces even more sebum to make up for it. This substance is what clogs pores, causing pimples. A gentle cleanser and regular exfoliation is kind to your skin, yet effective enough for most women.
DO:
Take good care of your skin by following a regimen regularly. Caring for your skin should be a twice-daily occurrence. Don't be slapdash about your regimen or follow it only sporadically and expect to see any lasting results.
DON'T:
Forget that your skin is the largest organ in your body. Pamper it!
---
*
Fields are required. Make some cool noise, please don't spam and your voice will be heard.
Was this Article helpful?