20 Amazing Apple Cider Vinegar Benefits & Home Remedies for Skin
20 Amazing Apple Cider Vinegar Benefits & Home Remedies for Skin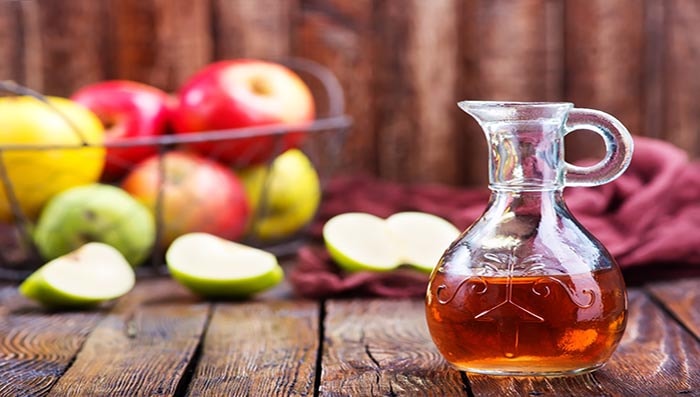 It's tangy with a pungent smell! It's sour in taste! It smells of Apple! It is Apple Cider Vinegar, an ingredient which is seen in all kitchens and is used actively in salads and other dietary foods.
Video:
Oxylife Crème Bleach works on 5 skin problems to give you flawless fairness
Apple cider vinegar is a magical ingredient, or you may call it a magical potion to a healthier and beautiful you, from inside as well as outside. Apple cider vinegar can really create wonders when it comes to taking care of your skin. For an all-natural astringent, you can apply a washcloth soaked in diluted apple cider vinegar to your face. After that, the protective acidic layer will make your skin feel smoother, suppler, absorb excess oil and reduce fine lines. This helps by restoring the proper pH levels to your skin, and beta-carotene helps to counter future skin damage. Plus, a dab of diluted apple cider vinegar left overnight on age spots, pimples or acne scars will help reduce their appearance. Apple cider is a magical potion that makes your skin look flawless.
One of the very important reminders is that apple cider vinegar is extremely acidic so should be diluted before you apply it on your face. Your skin has a delicate pH balance of around 5.5, which can be easily disrupted, particularly through skincare.
There are numerous suggestions on line as to what dilutions of apple cider vinegar to water should be used, ranging from using it neat to a 1:5 ratio.
Here's the composition of apple cider vinegar

Raw apple cider vinegar is made from organic apples and it goes through double fermentation process. During this time enzymes and other nutrients are preserved and work together to bring out therapeutic uses. Now as you know apple cider vinegar is making the rounds as a bit of a "miracle cure," but what exactly does it do to your skin and hair? Read below some of the proven benefits of apple cider

Here are some nutritional facts about this drink:

It contains pectin that keeps blood pressure regular and can reduce 'bad' cholesterol
It contains malic acid which is a good defense against virus, bacteria and fungus.
It contains calcium which keeps teeth and bones strong and healthy
It is helpful in normalizing the pH of our body
It reduces the speed at which sugar enters the blood after meal.
it is rich in vitamins such as A,B1, B2, B6, C and E

Let's find out the various helpful benefits and remedies of apple cider vinegar for skin

Skin Soother :

One of the major benefits of apple cider vinegar is its anti-inflammatory properties, which help in balancing the skin. So, here's beauty tips for your skin.

Ingredients:

Water
Apple cider vinegar

Method:

Add one teaspoon of water with half teaspoon of apple cider.
Take a cotton ball, dab it with the solution
Apply it on your face evenly.
Keep it overnight and wake up to a clean skin.

Facial Toner

: Apple Cider Vinegar has high level of antibacterial, antifungal and antiviral component, which is helpful in removing bacteria and pimple formation. Its excellent skin soothing ability helps in managing the pH of the skin and helps it to maintain the necessary moisture thereby avoiding any excess oil or dryness in the skin.

Ingredients:

Apple cider vinegar
Cotton ball

Method:

Dab a cotton ball in Apple Cider Vinegar and wipe your face and neck areas evenly.
No need to rinse off the solution will enhance your skin giving you a natural looking glow.

Sunburn Relief

: Apple cider vinegar is an ideal source for soothing the sunburnt skin. Its ability to restore pH of the skin makes it an ideal source for treating it.

Ingredients:

Apple cider vinegar
4 cups water
Wash cloth

Method:

Mix half cup of apple vinegar with 4 cups of water.
Take a washcloth, douse it in the solution
Apply it on the sun affected area.
This will make the skin feel soothing and calm.

An Ideal Source to Reduce Age Spots

: Apple Cider Vinegar contains hydroxy acids that will remove dead skin and help in revealing healthy and vibrant new skin. Here's what you need to do.

Ingredients:

Apple Cider
Vinegar Cotton Ball

Method:

Take some vinegar on a cotton ball
Apply it directly on the age spots.
Wait for about 30 minutes and the rinse it with water.
Do this exercise twice daily for six weeks and notice the difference.

Helps in Removing the Toxins from Face

: Benefits of apple cider vinegar on face are immense. The regular usage of it on skin will help in removing the toxins and keep the skin youthful and glowing.

For Whitening of Skin

: Apple cider vinegar helps in cleaning the skin deeply, which helps in making the skin clearer and fairer. Follow our blog to read more fairness tips .

A Must for Balancing the Oily Skin

: Apple Cider Vinegar helps in controlling the sebum production and remove excess oil from the skin; it also contains malic acid, which helps in giving additional spot prevention power.

Cellulite Removal

: Apple cider vinegar for skin has a number of qualities that help fight cellulite, the free-floating fat cells deposited just beneath it. It helps tone the skin, flush out toxins and improve skin elasticity. There are majorly 3 ways of fighting cellulite

Ingredients for Bath Soak- Apple cider Vinegar and Water

Method: Bath soak: pour 1 cup apple cider vinegar in your bath tub and soak yourself for 20 minutes

Ingredients for Body Massage – Apple cider vinegar and Olive oil

Method: Massage: Mix 1-part olive oil or warmed oil with 3 parts of apple vinegar. Massage it gently on the affected areas. Repeat twice weekly.

Ingredients for Regular Drink - Apple cider vinegar, honey and Water

Method: Drink: Mix 1 to 2 tablespoons of Apple cider vinegar add 1 teaspoon of honey in a glass of water and drink it twice daily. This drink can help in getting the unbalanced hormones balanced.

ACV Detox Toner for Oily Skin

: Another great apple cider vinegar benefit is that it naturally helps in balancing the sebum production on your skin and removes excess oil from the skin. For an extra helping hand on oily skin, here's is what you can follow:

Ingredients:

Apple cider vinegar
detoxifying ingredients like hazel and green tea

Method:

Replace some of the water in your toner
Blend with other astringent or detoxifying ingredients like hazel and green tea (you can brew up a bag of green tea and use entirely instead of the water). Read more about how to use how to use green tea for hair.
This is a great remedy as a regular treatment and you should follow it 3 times per week.
if you have the tendency of getting

breakouts, apple

cider vinegar also contains malic acid (antiseptic and antibacterial properties) which give additional spot prevention power. If you have combination skin, just apply to the apple cider vinegar t-zone.

Deep Pore Detoxifying Treatment Mask

: Apple Cider Vinegar benefits the skin via its A and B vitamins, enzymes, mineral salts and amino acids. It also contains powerful alpha hydroxy acids to help remove dead skin cells, increases blood flow to the skin and minimize pores, revealing a fresher and healthier complexion.

Ingredients:

Apple cider vinegar
Fuller's earth or green clay
Honey

Method:

By applying apple cider vinegar as a mask, you will get an extremely deep cleanse and gives your skin more of a chance to reap the beneficial nutrients.
Mix equal parts of apple cider vinegar and fuller's earth or green clay (less ACV if you have sensitive skin!)
Add 1 teaspoon of honey to it. Apply this on the skin and leave for 10 to 15 minutes. This detoxifying, deep pore treatment will cleanse your skin to remove dirt and bacteria.

Quick Apple Cider Vinegar Facemask

Ingredients:

Apple cider vinegar
Honey

Method:

Try combining 2 Table spoons of honey with 1 Tbsp apple cider vinegar.
Apply after cleansing and leave on your face for 20 minutes.
Rinse with tepid water followed by a cool rinse. This can be done three times a week

Apple Cider Vinegar for Acne

: The antibacterial, antifungal and antiviral properties of the malic acid in raw apple cider vinegar make it an excellent weapon against acne and acne-inducing bacteria. ACV's ability to unblock pores, regulate sebum production and skin pH are also key. As it is a liquid, Apple Cider Vinegar reaches deep into the skin's layers and hair follicles, where bacteria can hide. The naturally occurring alpha hydroxy acids can also help reduce the appearance of acne scars over time. Acne sufferers can increase the frequency of ACV toner applications

Apply apple cider vinegar twice a day and leave the toner for up to 10 minutes on the skin.
You can also intersperse the toner with an Apple Cider Vinegar mask 1-2 times per week

Breakouts / Pimples

: Apple cider vinegar can reach deep inside pores to kill spot bacteria within 3 minutes of contact.

Dip a damp q-tip or cotton bud into well-shaken ACV/water dilution
Apply directly onto a pimple.
Leave it on overnight and repeat until the pimple has gone. Because this is a more intense, 'on the spot' treatment, you can either use our dilution process, or make it slightly stronger, depending on how sensitive your skin is.

Foot Soak for Rough Skin

: Apple cider vinegar has great benefits for the feet. Its antifungal properties help tackle problems like athlete's foot and the alpha hydroxy acids can help soften rough skin.

Ingredients:

Apple cider vinegar
Water

Method:

Soak your feet in equal parts warm water mixed with apple cider vinegar to soften up dry tough skin.
Putting your feet in neat apple cider vinegar for up to an hour to soak off stubborn calluses, and then sloughing off with a buffer.

Smelly Feet Foot Soak

: Apple cider vinegar is an effective body odor remedy. It neutralizes odor-causing bacteria by adjusting the skin's pH level to be more acidic.

Ingredients:

Apple cider vinegar
Water

Method:

Soak your feet for 15 minutes in a bowl of one-part ACV and 4 parts water.
Rinse and dry and see the effective results for

Insect / Jelly Bites and Stings :

Dip a cotton ball or pad with diluted apple cider vinegar
Dab on bitten area for instant relief. The acids present in the vinegar neutralizes the itch, while its anti-inflammatory properties provide ease in swelling and pain.
Stings can be very painful to touch so applying Apple Cider Vinegar from a spray bottle (not onto face) may be more comforting and pain relieving.
This is particularly helpful for jellyfish stings where the sting might be widespread. Never ever, spray neat Apple Cider Vinegar on the face.

Antiseptic

: The acetic acid present in vinegar can help clean cuts and soothe razor burns. You can use a 50:50 blend of Apple Cider Vinegar and water. Fill an empty bottle or any other container with equal parts of apple cider vinegar and water.

Apple Cider Vinegar Face Pack for Skin

Ingredients:

Arrowroot
Dabur Gulabari Rose Water
Apple cider vinegar
Nutritional yeast
Ginger

Method:

Take one teaspoon of arrowroot (ararot)
1 teaspoon of rosewater, one fourth teaspoon of apple cider vinegar,
one fourth teaspoon of nutritional yeast
1 teaspoon ginger. Mix all such ingredients in a bowl
Apply it to your face.
Rinse with warm water and pat dry and say hello to beautiful skin and goodbye to dull skin

Facial Toner for Sensitive Skin

:

Ingredients:

Apple Cider Vinegar
Dabur Gulabari Rose Water

Method:

Mix 1-part apple vinegar with 4 parts of Dabur Gulabari Rose Water
For normal/ dry skin: Mix 1-part apple vinegar with 2 parts of Dabur Gulabari Rose Water
For oily skin: Mix 1-part apple vinegar with 1 part of Dabur Gulabari Rose Water

Facial Toner for All Skin Types

Wondering how to get fair skin with apple cider vinegar? Well, fear not because it has got bleaching properties which helps you to even your skin tone.

Ingredients:

Apple cider vinegar
Dabur Gulabari Rose Water
Essential oil like tea tree or lavender

Method:

Mix all the ingredients together
Apply it evenly on the face and neck depending upon the skin type that you have.
Leave it for 2 hours and then wash it off.
Notice your skin tone from the first time of usage itself.

Which type of apple cider vinegar is best?

The apple cider vinegar that you purchase should be unpasteurized.
Don't go for sparkly clean, shining vinegar, the rawer they are, the more better it is for health.
Avoid taking apple cider vinegar in plastic bottles as they may have more harmful material.

Other Health Benefits of Apple Cider Vinegar

Aids Weight Loss

: Good news for all young ladies! Apple cider vinegar is an ideal source for losing out weight. Just take one tablespoon of apple cider diluted with 250 ml of water and drink it before taking meals. The presence of acetic acid in vinegar helps in breaking down less amount of food into calories in the blood stream. This can surely have a positive impact on the weight management.

Maintains Blood Sugar Levels

: The anti-glycemic effects of apple cider can be linked to its ability to prevent some of the starch from getting digested and spiking blood sugar level.

Lowers Blood Pressure

: Apple cider is an ideal measure for balancing the pH level in the body. It reduces the fat and phlegm in the body which helps in better blood circulation and reduces pressure against the arteries wall.

Lowers Cholesterol

: Apples contain pectin, a fiber that has been found to lower cholesterol levels. Apple cider being made out of apple helps, in making the heart healthy

Rich in Antioxidant

: It is rich in bioactive compounds like acetic acid, catechin, gallic acid, caffeic acid etch, which gives it potent antioxidant properties.
So, give your health the goodness of apple cider vinegar and make your skin glow. Keep reading our blog to know more skin care tips on how to become fair, how to remove tan, and tips for glowing skin.
---
*
Fields are required. Make some cool noise, please don't spam and your voice will be heard.
Was this Article helpful?